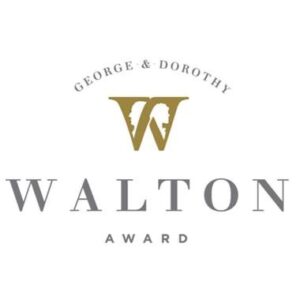 ANNOUNCING THE GEORGE & DOROTHY WALTON AWARD
Nominations Accepted October 1st – October 31st
The nomination period for The George & Dorothy Walton Award is October 1st – October 31st. The Walton Award is named for George & Dorothy Walton, a couple of the American Revolution. Their relentless efforts and generous service left a lasting mark on the state of Georgia and, more locally, the CSRA-area. They were lifelong public servants who humbly served their community, seeking no recognition or praise.
AP Wealth Management presents this award annually in February to a local couple who exemplify the legacy and values of George and Dorothy Walton. The winning couple will receive a physical award and are invited to choose a local 501(c)(3) organization to receive a substantial monetary donation given in honor of the winning couple.
How to submit a nomination:
Submissions accepted Oct 1 – Oct 31
Nomination Form ONLINE LINK *Preferred method*
PDF Fillable Form Attached (able to be filled out electronically and emailed to waltonaward@gmail.com)
PDF Form Attached (able to be printed and mailed for submission)
Nominators may RESUBMIT previous nominees. Simply state "View previous nomination information" in the form. 
Nomination Requirements
The George & Dorothy Walton Award recognizes a married couple who have contributed outstanding service to our community in the spirit of George and Dorothy Walton, expressly:
Their lifestyle exemplifies selflessness, hospitality, courage and devotion to the nation, to community and the health of family in our culture.
They both have a strong public service record (together or as individuals).
Their lives and volunteering have a significant impact on people in our community.
The candidates must be a living, married couple (or at least one surviving spouse).
Both husband and wife must have a record of community service.
The couple (or surviving spouse) must reside in Richmond, Columbia, Burke, McDuffie or Aiken counties.
The couple's community service must benefit more than one CSRA organization or cause.
Nomination Tips
When submitting a nomination, it significantly helps the selection committee if supplemental information is also submitted. This includes things like: 
Letters of endorsement from individuals who are familiar with the couple and their service
Photos, news clippings, articles, or video, etc. that illustrate the couples' community service.
Timeline
Nomination Form Opens: October 1st
Nomination Form Closes: October 31st
Committee meets and reviews nominations in November/December
Award selection will be made and recipients notified by January 2021
Award presentation event* February 2020.
*Event may be virtual. Details to be determined with health and safety in mind. 
Follow Us to stay up-to-date!
You can also follow AP Wealth Management on Social Media for reminders, tips, and news related to the Walton Award. We will post weekly throughout the Walton Award Season.
For more information, please contact the committee at WaltonAward@gmail.com.
The George & Dorothy Walton Award
Sponsored by AP Wealth Management
1100 Frazier Drive | Augusta, Georgia 30909
Phone: (706) 364-4281 | Fax: (706) 228-4082
Visit www.apwealth.com to learn more.