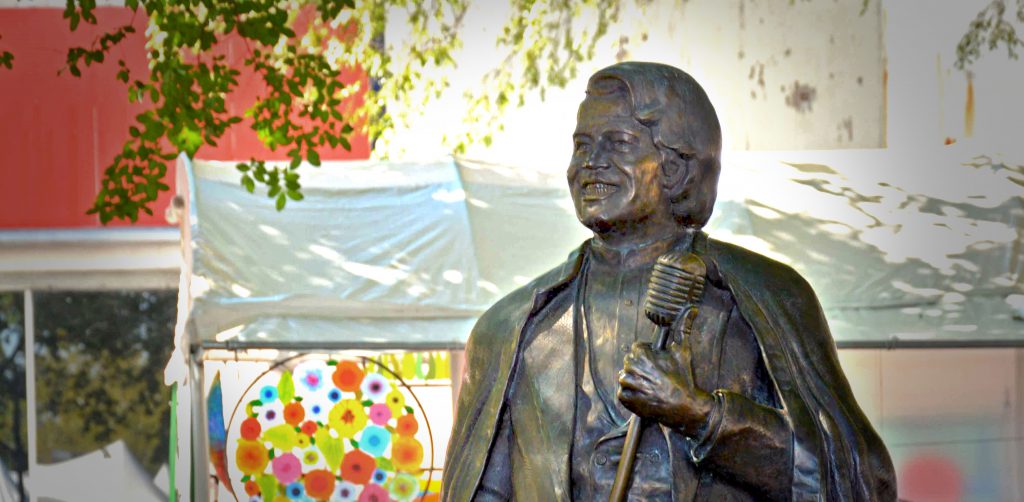 Have you taken a photo with the James Brown Statue in downtown Augusta, Georgia? Click on the frame below to view the full gallery and check out your photo! (Frame not showing right away? Give it a few seconds to load)
ABOUT JAMES BROWN
Courtesy of biography.com – "James Brown, the "Godfather of Soul," was a prolific singer, songwriter and bandleader, as well as one of the most iconic figures in funk and soul music… James Brown worked his way to the top of the funk and R&B music earning the moniker "The Godfather of Soul." …[He] was born James Joe Brown Jr. on May 3, 1933, in a one-room shack in the woods of Barnwell, South Carolina, a few miles east of the Georgia border. His parents split when he was very young, and at the age of 4, Brown was sent to Augusta, Georgia, to live with his Aunt Honey.
…[He] is unquestionably one of the most influential musical pioneers of the last half-century. The Godfather of Soul, the inventor of funk, the grandfather of hip-hop Brown is cited as a seminal influence by artists ranging from Mick Jagger to Michael Jackson to Afrika Bambaataa to Jay-Z." Click here to view full biography on biography.com
ABOUT THE JAMES BROWN TxT CAM
The James Brown Txt Cam was developed by John Stewart in collaboration with the Clubhou.se in downtown Augusta. All you need to do to take a self portrait with the "Godfather of Soul" is to text a number displayed on the instructions near the statue, pose, and check out this website!
As part of Augusta's rich musical history, we want you to feel connected to James Brown and create lasting memories of Augusta with his contributions to the community in mind. So next time you're in downtown Augusta, stop by and tell him hello!
WHILE YOU'RE HERE….
CONNECT WITH US!