Augusta Art Adventures: Westobou Gallery
By Brenda Durant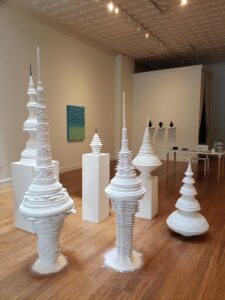 Last week I took a walk from my office in Sacred Heart to visit the Westobou Galley at 1129 Broad Street.  It recently re-opened with "A Lot of Things All at Once," a show by three Augusta-based artists – Raoul Pacheco, Brian McGrath, and Jennifer Onofrio Fornes.  I love the Westobou Gallery. The wide white room is peaceful, elegant, and the perfect space for every art installation to shine.  I was greeted by Kristi Jilson, the Executive Director of Westobou, who gave me a private tour of the show.
Keep in mind, I am definitely not an art critic and this is definitely not a review of the show. Rather, it's my impression of the creative installation in a space that made me feel safe to visit.  Usually, I try to visit a gallery opening before it is filled with people so I can get a feel for the work prior to listening to the artist talk about it.  When possible, I visit it again, armed with knowledge from the artist. It allows me to look at the show with new, informed eyes.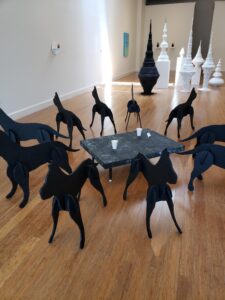 My visit to the Gallery last week was particularly special.  I had time to silently reflect, while Kristi added insider information that helped me see the work in context. Jennifer's vessels provided a meditative aspect to the gallery. The wood carved pieces with hollow interiors would work well as an installation in a peaceful garden or serve as a grand place to hold your revered ancestor's ashes.  Brian created a low table guarded by dogs, as a tribute to his Korean grandmother. Raoul's creation is a wall of gold-gilded shopping receipts with just the zeros peeking out like spying eyes.  I'm looking forward to my return to the gallery to see the art again with more knowledgeable eyes.  It's a great artistic lunch hour stop when visiting one of the many restaurants offering curbside pick-up.
As we slowly re-enter our beautiful city, mask on, and social distancing in place, I encourage you to visit the Westobou Gallery.  The show will be up until August 7.
Westobou Gallery is open to the public Monday-Thursday from 10 AM-5PM, Fridays from 10 AM-7 PM and Saturdays from Noon-4 PM.  http://westoboufestival.com/about/the-gallery/