Fun Things to Do in December 2020 – Week 1
Welcome to a special edition of Fun Things to Do! We often give our wonderful readers fun event options in and outside of the CSRA, but this time it's all about what's happening right here at home. It's the beginning of the holidays and we've got a massive lineup of local holiday events for you to enjoy!
Local Events
The 12 Days of Augusta Players Christmas! | Dec 1-12
Here are a few highlights of the 12 Day Extravaganza!
The Broadway Holiday Ball (Virtual) – Dec 4 | 7 – 10 PM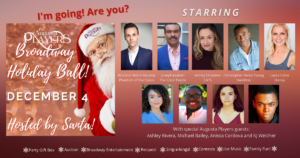 Join us December 4th starting at 7PM for the (virtual) BROADWAY HOLIDAY BALL HOLIDAY PARTY OF THE YEAR! Only $50 per viewing household! Link will be sent to you on the day of the event to enjoy online, on YouTube, on your smart TV or on our event page!
This event includes:
Entertainment from Broadway and National Tour Stars from Phantom of the Opera, Hamilton, CATS, Disney, Motown and The Color Purple
An Auction! (Goes LIVE at noon on November 26. Closes at 8:30PM on the night of the event)
Sneak peeks at upcoming broadcasts of shows including: "The Land of Forgotten Toys" AND "The Augusta Players Family Christmas Special – A JINGLE CHRISTMAS"
and much more!
The Land of The Forgotten Toys – Virtual Musical – Dec 5 | 7 – 9 PM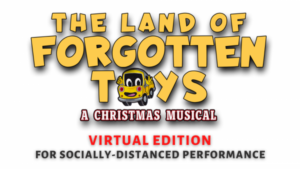 A New Holiday Musical! The Land of Forgotten Toys presented by The Augusta Jr. Players!
Broadcast directly to your living room, December 5 at 7PM and December 6 at 3PM and 7PM.
For the low cost of $20.00 reserve your pay per view now and before the broadcast a link to the private performance will be emailed to you for this special holiday event. Part of The Augusta Players 12 Days of Christmas!
Visit the Event Page HERE! 
A Christmas Carol: Link by Link LIVE! – Dec 8th | 7 – 9 PM | FREE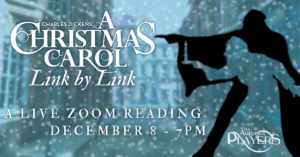 Join us in a new way for the heartwarming story of Scrooge, Bob Cratchit, and Tiny Tim as it's now told through the eyes of Jacob Marley in this brand new, WORLD PREMIER, play adaptation written specifically for The Augusta Players.
Brought to you as a LIVE Zoom play.
This production is directed by Rebecca Brune and stars many of your Augusta Players favorites as it is streamed directly to your living room on your Smart TV through The Augusta Players YouTube Channel on on Facebook for FREE!
Get your free ticket to the performance for your family or group today! An email will be sent to you with the "LINK" no later than 30 minutes before the performance.
The Augusta Players Family Christmas Special (Virtual) – Dec 11 | 7 – 9 PM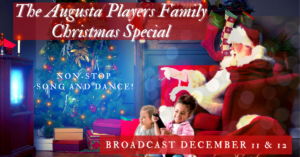 Don't miss this non-stop holiday extravaganza, a celebration of all of the joyful things that we look forward to during the holidays. You know… the fun things that happen during a "normal" family Christmas: decorating the house inside and out; Christmas parties; the anticipation of Santa arriving; wrapping (and putting together) Christmas presents. Except the Jingle family isn't very good at ANY of those things – especially Barry, the dad, who breaks almost everything, including himself. And worse yet, little Billy Jingle doesn't believe in Santa and to prove it, is being as bad as possible, thinking he'll get presents anyway.
The festive fun is framed by well known Christmas music standards loaded with wonderful musical surprises, all presented in new arrangements of big, swinging production numbers! Silliness and your favorite sounds of the season are all wrapped up in The Augusta Players Family Christmas Special!
It's Christmas craziness for the whole family broadcast to your Smart TV on The Augusta Players YouTube channel and our Facebook Page. Each ticket is a pay per view for your family or group. A link to the performance will be emailed to you no later than 2 hours before show time!
The Jingle Family and The Augusta Players can't wait to share a little of the holidays with you!
Tickets: $22

Dashing Through the Snow – presented by the Fort Gordon Dinner Theatre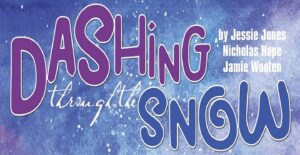 Dates: December 4-6, 11-13
Regular Show Time:
Dinner begins at 6 PM | Show 8 – 10 PM
Sunday Show Time:
Lunch begins at 1 PM | Show 3 PM – 5 PM
It's four days before Christmas in the tiny town of Tinsel, Texas, and a colorful parade of eccentric guests arrive at the Snowflake Inn and deck the halls with holiday hilarity. Trina, the harried yet upbeat innkeeper of this B&B, has more than she can handle coping with these nuttier-than-a-fruitcake lodgers. Hoyt and his sister, Donna Jo, make the mistake of trying to end a thirty-year feud between their curmudgeonly aunts, Ennis and Della, with sidesplitting results. Ainsley and Lenora, self-involved actors from a lower-than-low-budget touring production of A Christmas Carol, descend on the Inn to fulfill a promise, leaving comedic chaos in their wake. Add to this Yuletide mayhem an ill-advised romantic rendezvous between Mrs. Claus and one of Santa's elves, a demanding guest who refuses to leave, not to mention a tipsy housekeeper, and it's clear it will take more than a kiss under the mistletoe to keep Trina's spirits merry and bright. But a spur-of-the-moment Christmas Eve wedding that brings together the fabulous Futrelle sisters Honey Raye, Twink, Frankie and Rhonda Lynn and their best friend, Raynerd, takes a surprising and delightful turn that leads to a laugh-til-your-sides-ache climax, changing all their lives forever.
Doors open 2 hours before showtime, Dinner will be served when your party is complete. COVID-19 mitigation procedures include (but are not limited to) mandatory masks in all common areas, tables spaced six feet apart, only one "Family Group" per table, and new dinner procedures, as well as enhanced cleaning and sanitizing practices.
Tickets are on sale NOW! Get yours online HERE under the 'Ticket Prices' Tab.
Columbia County Christmas Parade – Dec 6 | 3:30 PM | Starting at the Columbia County Library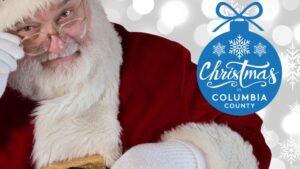 The Martinez-Evans Christmas Parade will be held at on Sunday, December 6th, 2020 at 3:30pm. New this year, the parade will proceed in reverse order, ending at the Evans Town Centre for the lighting of the annual Christmas Tree!!!!
The new route will start at the library, follow Belair to Evans to Locks. Then Town Center Blvd to the Lady A. This new route is just over a mile.
There will be trophies and prize money for the Best Overall, 1st and 2nd place in each of the four categories. Applications are now being accepted and can be found at the link below. The Merchants Association of Columbia County is involved with a number of local charities and also sponsors The Columbia County Fall Fair, The Miss Columbia County Fair Pageant, and many more community events.
The Parade is presented as a gift to the community and is a fun way to get your holidays off to a great start!
Columbia County Christmas Tree Lighting  – Dec 6 | 6 – 10 PM | Evans Towne Center Park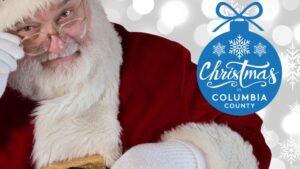 Following the Christmas Parade on Sunday, December 6th, please join us for Columbia County's annual Tree Lighting Celebration. Live entertainment on stage, Holiday Market, and a tree lighting by Santa himself!
A Festival of Nine Lessons & Carols at Sacred Heart Cultural Center – Dec 7 | 8 PM | Virtual Event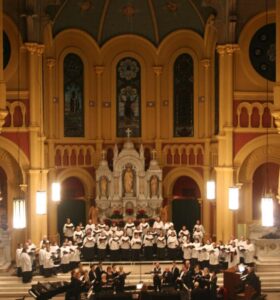 This year's event will feature the same inspiring readings and uplifting choral music that guests have enjoyed for the past 31 years, but in a different format. The traditional Christmas worship service will be pre-recorded in the magnificent Great Hall of Sacred Heart. With the purchase of a $30 support ticket, a link to the video will be emailed, allowing guests to watch the recording any time and as often as liked. Recording available by December 7.
The link will be sent out on December 7, but tickets to view this event can be purchased until December 31st.
To purchase your $30 support ticket, please call 706-826-4700, or
The 42nd Annual Singing Christmas Tree presented by Abilene Baptist Church! – Dec 10, 11, & 12 | 6 – 8:30 PM | Evans Towne Center Park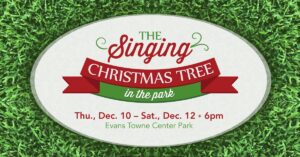 Your family is invited to an Augusta tradition – the 42nd Annual Singing Christmas Tree presented by Abilene Baptist Church! This year's presentations will take place at Evans Towne Center Park!
FREE tickets are now available!
– Sundays and Wednesday evenings at Abilene in the Middle Foyer
– Monday – Thursday from 9 AM – 5 PM as well as on Friday from 9 am to noon in the Abilene Main Campus church office
– Online at iTickets.com (for a $1 convenience fee) Click HERE!
Pre-Tree music will start at 6:00 p.m. and the presentation will begin at approximately 7:00 p.m. This event will take place weather permitting. Please bring your own chairs and blankets. We do ask that guests bring a new and unwrapped toy for Toys for Tots.
The Nutcracker by the Aiken Civic Ballet – Dec 18,19, & 20 USC Aiken Etherredge Center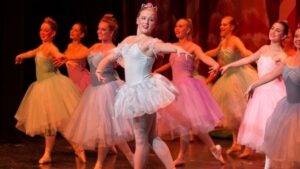 Dates & Times:
Friday, December 18, 2020 | 7 – 8 PM
Saturday, December 19th | 3 – 4 PM
Sunday, December 20th | 2 – 3 PM
This classic holiday tradition is sure to delight both young and old. Join Clara and the Nutcracker Prince for a magical sleigh ride through the snow to the Land of the Sweets for a whimsical and enchanting celebration with the Sugar Plum Fairy and her Cavalier.
Due to COVID-19 restrictions we are only performing Act 2, Land of the Sweets with no intermission. Seating in the Etherredge Center has been sectioned off to meet social distancing requirements for the state of South Carolina.
House opens 45 minutes before the show starts. Please arrive early to accommodate the increased time needed for our guest safety protocols. Temperature checks will be conducted at the door – please remember to wear your mask at all times (even when seated)! An electronic program will be provided this year – a link will be included with your ticket purchase.
Tickets: $21 – $26
Moscow Ballet's Great Russian Nutcracker: Christmas Stream! – Dec 19 | 8 PM | Virtual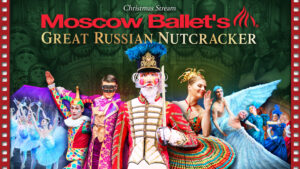 Go back to a simpler time and celebrate this Christmas tradition with the whole family! See Moscow Ballet's Great Russian Nutcracker from the best seat in the house; your living room! Take this opportunity to spend quality time with loved ones and experience the smash-hit Holiday tradition in this ground-breaking Video on Demand debut. Take a trip backstage with the cameras for a look at how the magic is made. Hear it first-hand from world-class artists, designers, and the creators of this cherished production. See the full performance as captured on stage plus an up close look at the behind-the-scenes action.
Make this Christmas special; don't miss this celebration!
Tickets: 
Livestream only: $24
3 Upgrade Packages Available – $40 – $100 (includes livestream)
Christmas with The Annie Moses Band – Dec 21 | 4 PM & 7:30 PM | Hardin Auditorium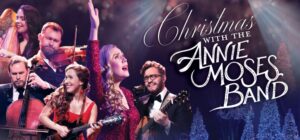 The Annie Moses Band performs a blend of folk and classical music. The band, comprised of extraordinary musicians from the same family, has a sound all its own. The siblings call their style "chamber pop" – a spicy blend of classical, jazz and pop, mixed with some good old-fashioned country.
Tickets: $49.95
Visit the Event Page HERE!
Holiday Pops! with the Augusta Symphony [Digital Concert] | Dec 3 – 27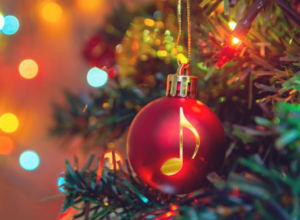 It wouldn't be the holidays without music! Enjoy classics like Winter Wonderland, Let It Snow, Rudolph the Red-Nosed Reindeer, The Nutcracker Suite, Sounds of Hanukkah, and – of course – Sleigh Ride in a video production to be watched on demand December 3 – 27.
Tickets: $10 per household
Distanced But Singing Together – The Augusta Choral Society | FREE

The Augusta Choral Society has been quiet for many months but today we want to SING for you! We identified a group of 20 of our singers to be our "Pandemic Chorus" and they spent several weeks rehearsing some music selections on their own. A couple of weeks ago these 20 singers met together in Sacred Heart Cultural Center to record some music selections to share with our Augusta community. As you will see in the videos, the singers wore special singer masks and were spaced 10 feet apart in the nave of Sacred Heart. After a brief run-through of the pieces the cameras and recorder started up and we recorded 5 pieces to share with the community.
2020 Holiday Tours of the Boyhood Home of President Woodrow Wilson – Wed, Thurs, & Fri in Dec | Closed Dec 24 & 25 | Tours every hour, 10 AM – 4 PM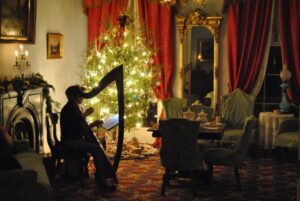 December tours of the Boyhood Home of President Woodrow are offered as usual on Wednesdays, Thursdays and Fridays except for December 24th and 25th when the museum will be closed. In addition, two Saturdays will be included on December 12th and 19th.
During the month of December, The Boyhood Home of President Woodrow Wilson will be decorated for Christmas in the style of 1920 with fresh evergreens and festive decorations. 1920 marks Wilson's last year as U.S. president, when women gained the right to vote.
"Tommy" Wilson (1856-1924) lived in the Manse from 1860 to 1870 while his father served as pastor of the First Presbyterian Church. Wilson spent the formative years of his childhood in Augusta, years that would affect him for the rest of his life. While living in Augusta, Wilson experienced the hardships of the Civil War and Reconstruction. He also began his education, tasted leadership as president of the Lightfoot Baseball Club and grounded his deep Presbyterian faith. In 1920 the Manse was occupied by the family of Rev. Joseph Ramsey Sevier, who hosted the future president for lunch there in November 1911.
The Boyhood Home of President Woodrow Wilson, an award-winning restoration by Historic Augusta, Inc., is a National Historic Landmark and has been designated an official "Save America's Treasures" site.
Reservations are required for the guided tours and are limited to six people to ensure social distancing. Tours begin on the hour from 10 am to 4 pm. Masks must be worn for the duration of the tour, and hand sanitizer will be available.
Admission price is $5 for adults, $4 for seniors, and $3 for students.
For more information, or to make a reservation, please call Historic Augusta, Inc. at 706-722-
9828, or
—
Shop Local Art!
These galleries and shops are the perfect place to pick up a gift or two!
Westobou – SEEDS | Nov 6th – Dec 19th | 10 AM – 5 PM
Westobou Gallery's sixth annual juried exhibition of small works priced at an affordable $300 or less.
Twelve local and regional artists, with a variety of artistic styles and backgrounds, come together in Westobou Gallery for a unique display of works. To stay true to Westobou's values, our 2020 juror, Karlota Contreras-Koterbay, chose artists based on quality, variety, creativity, craftsmanship and inclusivity.
Visit the Event Page HERE! 
Westo-boutique | The Westobou Gallery | Dec 7 – 19
Come shop from a curated selection of local + regional vendors at the Westobou Gallery from December 7th through the 19th. Event proceeds benefit Westobou + Augusta Handmade Fair. Event hours are Monday through Friday 10 AM to 5 PM and Saturday 10 AM to 4 PM.
Visit the Event Page HERE! 
4P Studios 6th Annual $200 & Under Art Sale | Begins on Sunday, Nov 15th
Join 4P Studios at our Martinez Gallery location to shop the 6th Annual $200 & Under Art Sale!
It's our BIGGEST sale of original works of art by some of Augusta's incredibly talented artists!
This is a PAY AND TAKE event! No need to wait until the end of the show! Find something you LOVE and take it home right away!
Purchase something for yourself or find something unique for that "hard to buy for" person in your life this holiday season!
Gift certificates are also available – redeemable towards the purchase of group classes, private lessons, or custom framing!
Visit the Event Page HERE!
Chad Cole Art Exhibition at Sacred Heart | Nov 19th – Dec 30th
Gallery Hours: Mon – Fri, 9 AM – 5 PM
Chad Cole is a contemporary painter who is inspired by his environment, the effects of time, and the themes of the Southern Gothic. Unique barns, overgrown farmhouses, abandoned textile mills, and rusty, roadside oddities are the subjects found on Chad's canvases, and his choice of subject matter conveys his fascination with history and economic change in the southeastern United States. His paintings are visual elegies about vanishing rural America, and they explore the tensions and forces that occur within and between agrarian culture and the natural landscape.
Find this and more Sacred Heart Events online HERE!
The Winter Art Sale at The City Gallery | Dec 1st – Jan 31st, 2020
Gallery Hours: Mon – Fri, 9 AM – 5 PM
The Winter Art Sale at the City Gallery will be available from December 1 to January 31, 2020 at the City Gallery in the Municipal Building on Telfair Street. This exhibit will also be available in an exciting, new 3D gallery space created and managed by the Greater Augusta Arts Council. The artworks are all available for sale with curbside pickup at the Municipal Building.
There are several local and regional artists who will be showcasing work. Traditionally the show featured only works under $200, but this year the show has been expanded to all price points for work big and small. Holiday shoppers now have the opportunity to purchase small works perfect for casual gifting, as well as the opportunity to buy larger pieces. Buying local art offers one-of-a-kind gift giving and supports our local artists!
Each piece is available for purchase and will be given to the buyer at the time of the sale to support holiday gift giving. The Arts Council is proud to offer curbside pickup at the Municipal Building after email or telephone arrangement. Patrons can purchase the pieces online at the Arts Council website or arrange payment via phone.
Visit the Event Page to see the virtual gallery HERE!
The Strong Female Lead | Augusta & Co Gallery
1010 Broad St, Augusta, GA 30901
Dec. 1, 2020 – Jan. 8, 2020
The Greater Augusta Arts Council has partnered with Augusta & Co to facilitate regular exhibits and showing in the Augusta & Co gallery space. The December 2020 show is an intimate exhibit titled "The Strong Female Lead" that aims to highlight exceptionally talented female artists from our community.
Members of the community are invited to visit the space in person or from the comfort of their homes! The gallery will be available in the coming days as a 3D digital gallery and online at the Augusta & Co website. We will update via social media and our website when those links are live.
The Frame Shoppe & Gallery
Hours: Mon – Fri, 9 AM – 5:30 PM
The Frame Shoppe has been in business since 1972 and is independently owned by Ed Durant. We are proud to offer the area's largest and most unique selection of frame moldings. Our original artwork collection includes works by local, regional and national artists.
The Frame Shoppe currently has work for sale by local artists Lillie Morris and Staci Swider!
Visit the Facebook Page HERE!
Art on Broad, Inc.
Art on Broad is a consignment gallery for local and regional artists. We carry a variety of works, including paintings, pottery, turned wood, blown glass, jewelry, and much more! Come see what's in the store today!
Visit the Facebook Page HERE!