Fun Things to Do in November 2020 – Week 2
Local Events
Holiday Market at Sacred Heart Cultural Center – Nov 19 | 10 AM – 2 PM | FREE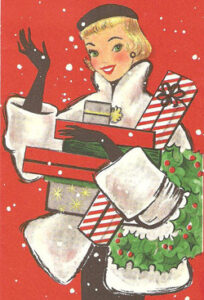 Bring a friend and plan to spend the day at Sacred Heart with so many fun activities! Shop unique vendors and from the Sacred Heart Gift Shop in the Great Hall. Enjoy three special guests speakers: caterer and floral designer Cal Berry will demonstrate holiday brunch ideas at 11:00 am, artist Chad Cole will lead a "Lunch and Learn" at 12:00 pm featuring his Art Hall exhibit, and floral and lifestyle designer, Mary Louise Hagler, will demonstrate how to create a memorable holiday centerpiece using garden organics and luxury florals at 1:00 pm. You'll be tempted by home-baked goodies in the Guild Bake Sale. Complimentary coffee will be provided by Buona Caffe. Call to place an order for a boxed lunch. 706-826-4700
FREE and OPEN TO THE PUBLIC. FREE gift wrapping and EASY parking! Masks and social distancing will be required.
Savannah River Site 70th Anniversary Exhibition Reception – Nov 19 | 5 – 8 PM | FREE
Exhibition Dates: November 6, 2020 – January 3, 2021
Gallery Hours: Monday- Friday 10 AM – 4 PM
Open first Sunday of each month from 1pm-3pm.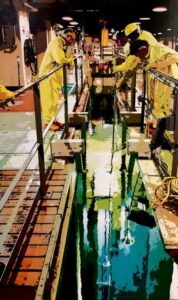 Please join us on November 19th from 5 to 8 PM for a reception for the SRS 70th Anniversary Exhibition. The reception is free and open to the public.
The Arts and Heritage Center of North Augusta (AHCNA) is proud to host an extraordinary exhibit showcasing past and present scenes from SRS as part of its 70th year celebration. The impact of SRS on our community over the last 70 years can't be overstated.
Prior to President Truman's announcement of the site's selection as part of a national defense complex, Aiken was best known as an agricultural community and a favorite retreat of wealthy 19th century equestrians. While they had stately homes known as the Winter Colony, their cultural impact was somewhat limited to their inner circle. With the advent of SRS, Aiken and North Augusta soon saw significant changes brought by these atomic age homesteaders from all over the United States. With families in tow, these engineers, scientists, construction workers and administrative staff brought diversity to our area and showed a keen interest in being engaged in our community. Site personnel brought with them a desire to recreate the very best of the arts and education they knew in their former communities. They sought ways to bring the arts to us through active volunteerism and their personal funds. All of the companies that have operated at SRS over the last 70 years have been very generous to the arts.
We hope you join us during this unique gallery exhibit, which showcases the accomplishments of the hundreds of thousands of men and women whose collective knowledge and intellectual capital have benefited not only Aiken but our nation.
The Allman Betts Band with Special Guest Tab Benoit – Nov 22 | 6 PM | Evans Towne Center Park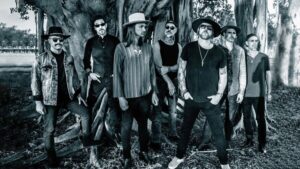 The sons of Gregg Allman (Devon Allman) and Dickey Betts (Duane Betts) have joined forces to form The Allman Betts Band. The show features new music, songs from their solo projects and classic Allman Brothers and Gregg Allman tunes in honor of the 50th Anniversary of The Allman Brothers Band. Their debut album, released on June 28, 2019, was recorded at the legendary Muscle Shoals Sound Studios and produced by Matt Ross-Spang (Jason Isbell, Margo Price, John Prine and Elvis Presley). Former Allman Brothers Band keyboardist and current Rolling Stones keyboardist, Chuck Leveall, and former Greg Allman Band Hammond B3 player, Peter Levin, both guested on the record. ABB's sophomore effort was also recorded at Muscle Shoals with Matt Ross-Spang producing and it is due out in the early summer of 2020.
Tickets: $26.50 – $66.50
Ben Bridwell & Ryan Monroe of Band of Horses – Nov 20 | 7 – 10 PM | North Augusta Amphitheater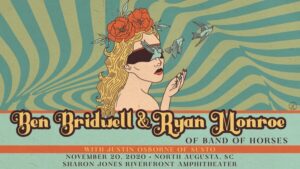 Friday, November 20th, Ben Bridwell & Ryan Monroe of Band of Horses will be joined by Justin Osbourne of Susto at The Sharon Jones Amphitheater in North Augusta!
No outside food or beverages allowed
Table and chairs provided with purchase of ticket
We will be following all state and federal guidelines and regulations in regards to COVID-19*
Tickets
4 seats: $200-$240
6 seats: $280-$300
1st Annual Night Under the Stars at the Columbia County Amphitheatre – Nov 25 | 6 – 10:30 PM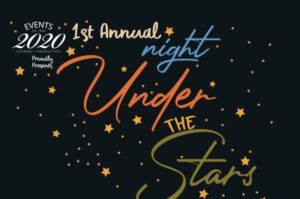 Events 2020 proudly presents the 1st Annual "A Night Under the Stars" with the Swingin' Medallions, Wednesday, November 25, 2020 at the Columbia County Amphitheatre. Bring a chair or a blanket for seating. Gates open at 6pm, Show starts at 7!
Tickets: $27.25
Non-Local Events
Writing Dialogue That Pops off the Page | Reedsy Live – Nov 18 | 2 – 3 PM | FREE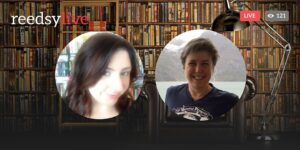 As any reader will tell you, a great story can quickly become undone by bad dialogue. You could create well-observed characters with compelling backstories — only for them to fall flat as soon as they open their mouths.
For this live online event, join Reedsy editors Kate Angelella and Jenn Bailey for a dialogue about dialogue. In their talk, they will discuss:
How to write engaging, realistic dialogue that glues the reader to the page;
Common pitfalls to avoid; and
Techniques that will help your dialogue sing off the page!
A live Q&A will follow after the presentation.
If your goal is to master the art of compelling dialogue, register now for instructions on how to tune in or watch the replay.
Ancient Cultures at the British Museum, A Virtual Tour – Nov 19 | 1 PM | $9.50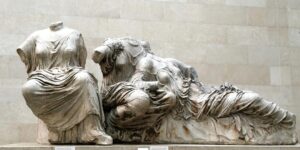 Not just blocks of stone… statues and temples from the Ancient world can tell us so much about the way cultures flourished and how they lived their lives.
We will look at the earliest cultures … Egyptians, Assyrians and the Greeks … you will be amazed at how advanced they were and both how similar and so different to today.
Ensuring we cover the most important pieces, I will also bring in a few less well-known items in order to explain how people lived, worshipped, and also their amazing art.
Seeing of course, the Rosetta Stone and the Parthenon Marbles and then bringing in a few surprises too. A fascinating journey over more than 2000 years BC.
Virtual: 2020 Pocahontas Reframed Film Festival – Nov 20-22 | FREE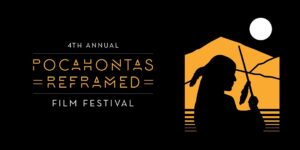 The Pocahontas Reframed Film Festival celebrates indigenous languages, cultures, and societies through the lens of cinema.
This year's Pocahontas Reframed Film Festival is November 20-22, 2020! While we are disappointed that we will not be holding our festival in person this November, we are excited to announce that we will be holding our 2020 festival virtually this year!
The Festival, now in its fourth year, stems from a passion and desire for indigenous languages, cultures, and societies to thrive, and strives to bring together artists, authors, filmmakers, and actors willing to share, teach, and explain their creativity and history.
The Festival includes Native American-affiliated classic and recently released films that have been official selections of world-renowned festivals including the Sundance Film Festival, the AIFF San Francisco, and the Toronto International Film Festival.
Tickets are Free, but donations help us keep our festival running!
The Great Italian Food Journey with Aldo Zilli – Nov 24 | 2 – 3 PM | FREE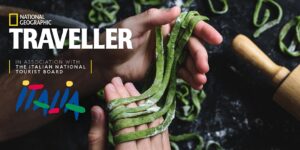 National Geographic Traveller, in association with the Italian National Tourist Board, is teaming up with Aldo Zilli for a fantastic live online event, taking place on Tuesday 24 November.
Get tips from Aldo Zilli, one of the masters of Italian cuisine, as we join him at home for a cooking demonstration showcasing dishes from around Italy. Learn about the very best produce and dishes — including where to try them — in a fascinating panel discussion, and discover the perfect wine pairings with our sommelier. You'll even have the chance to ask Aldo questions during the audience Q&A.We want you to join us in celebrating Italian food at this interactive live event. We'll be talking about why food is so central to socialising and family life in Italy, as well as discussing the amazing regional specialities around the country: the polenta dishes of Lombardy; the bread of Tuscany; the cured meats found in Emilia-Romagna; the famous pizza and luscious tomatoes of Campania; the abundant lemons, oranges, almonds and olives cultivated in the volcanic soil of Sicily; and the artichokes and porchetta of Lazio. A journey through Italy reveals an ever-changing roster of fantastic ingredients and the finest regional cooking — and we'll be taking our own tour from Aldo's kitchen.
Cinderella Story: The Fashion Fairytale on Screen with Nathalie Atkinson – Nov 25 | 7 – 8:30 PM | FREE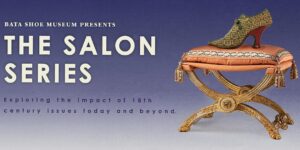 Exploring the impact of 18th century issues today and beyond, as featured in our exhibition "The Great Divide".
When Charles Perrault published his version of the fairytale Cinderella; or, The Little Glass Slipper in 1697, he added a famous footwear detail that continues to resonate in pop culture both figuratively and literally. Join culture journalist Nathalie Atkinson, host of film series Designing the Movies, columnist for The Globe and Mail, and contributor to Zoomer, BBC Culture, FASHION, and ELLE Canada, for an illustrated talk about how the screen has embraced and reinterpreted the folk tale and its fashion tropes. From silent film era stars and animation to urbane tales of social mobility and of course, Audrey Hepburn's many makeovers.