Fun Things to Do in October 2020 – Week 1
Local Events
Fall Wreath Workshop – Oct 1 | 10 – 11:30 AM OR 6 – 7:30 PM | $45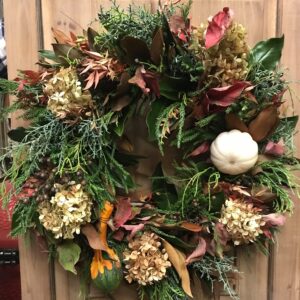 Join Cold Creek Nurseries for our Fall Wreath Workshop! This event will be outdoors, socially distanced, and limited to 10 participants per class. Pre-registration and payment is required. Please call 803.648.3592 to reserve your space and pre-pay.
The cost is $45 and includes all materials and instruction.
You may also schedule a private group party with us. Private groups must be comprised of a minimum of 6 participants and a maximum of 10.
Meaningful Nonsense 4: Art Exhibition by Augusta Tattoo Artists | 600 Broad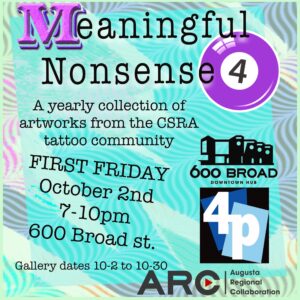 Show Dates: October 2nd – 30th
Gallery Hours: Mon – Fri, 12 PM – 4 PM
By appointment all other hours by contacting 4P Studios
Free Public Reception: First Friday, Oct 2nd, 7 – 10 PM
Join 4P Studios & The Augusta Regional Collaboration Project at the 600 Broad Gallery as we celebrate Augusta's talented tattoo artists during the month of October for an exhibition of their works on canvas, paper, glass, and more!
About the exhibition: In 2017, tattoo and fine artist Daniel James of Full Moon Tattoo and Regina L. Brejda of 4P Studios coordinated to bring Augusta its first showcase of original fine art created by a variety of local tattoo artists. The exhibition held in October of that year at the 600 Broad Gallery was widely received with positive reviews and much success. In 2019, 4P Studios was excited to add Charlie Baker of Mr. Tattoo to the planning committee for this annual event.
4P Studios continues to make this display of fine art an annual tradition within the tattoo and art communities. We hope you will join us in supporting and celebrating local talent.
Fall Artisan Market at Harlem Java House – Oct 3 | 10 AM – 2 PM | FREE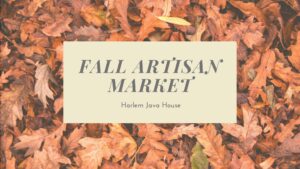 Come see the selection at Harlem Java House's Fall Artisan Market! Kick-off the holiday season with one of a kind handmade goods!
Current Vendor List:
1. Dawn's Designs
2. Swint + James
3. White Hills Farm
4. Grice-Usry Farms
5. Carissa Brunsting – Sloth Planters
6. Holly Hamilton- bath bombs
7. Nomadic Artistry Co.
8. The Crafted Rose Frippery For All Occasions (outside)
9. Healing Arts Designs
10. Deerly Southern Creations
11. Wood Creations by John Weigle
All vendors are unique, with no duplicates and all work is handmade! (No MLM or reselling)
Paint A Pumpkin – Oct 4, 11, & 18 | 30 min sessions | $6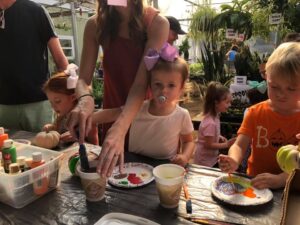 Join Cold Creek Nurseries for our Paint A Pumpkin Workshop! This event will be outdoors, socially distanced, and limited to 12 participants per class. Each session is 30 minutes. Pre-registration and payment is required. Please call 803.648.3592 to reserve your space and pre-pay. The cost is $6 and includes all materials and instruction. In case of inclement weather, classes will be rescheduled.
Story Time in the Gardens – Oct 6 | 4 – 4:30 PM | FREE
Location: The Rye Patch, Aiken, SC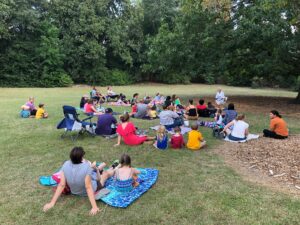 Story Time in the Gardens, a cherished reading program that promotes literacy in our community's youth, is free to attend and will be held on the grounds of Rye Patch, located at 100 Berrie Rd. We are also requiring that all attendees over the age of 5 wear a mask during the event and practice social distancing.
Snacks and drinks are welcome. Parents may want to bring a lawn chair or blanket. A free book is given to each family in attendance at every reading session. This program occurs every Tuesday afternoon in September and October.
Families are encouraged to bring used books from home to help stock the Little Free Library in Hopelands Gardens. The Little Free Library, installed in April 2017, is a free book exchange that further encourages the mission of Story Time.
Adult / Watercolor Beginner & Intermediate (Teens Welcome) – Oct 7 | 6 – 8 PM | $170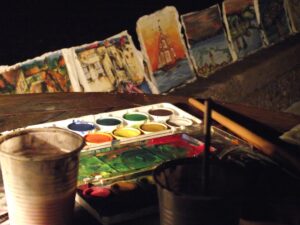 Join us for 4 Wednesday's ~ Starting October 7th
Other dates include: 10/14, 10/21, 10/28
This class is for the student who is ready to have fun and learn all about watercolor. Throughout the duration, this class will go over many different aspects of watercolor processes: Brush control, Paper quality, Paint application, Wash methods, Atmospheric techniques, and more! Grab some paint and get ready to have some fun as we learn this exciting medium. Beginning and more advanced / new and continuing students welcome to join in on the fun!
Non-Local Events
An Evening With Billy Collins – Oct 1 | 7:30 – 8:30 PM | FREE
Online Event | Presented by Winter Park Magazine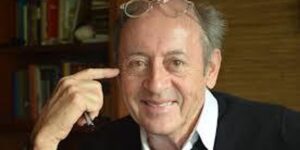 Enjoy an evening of wit and wisdom with Billy Collins, the former two-term U.S. Poet Laureate whose work has made him an international literary giant — and whose bestselling books and live presentations have cemented his place as the world's most-beloved contemporary poet. Billy will discuss and read selections from Whale Day (Random House), an eagerly anticipated new collection that will be released September 29. He'll also take live email questions.
Exterior Photography: Working with Sunlight – Oct 3 | 11 AM – 12 PM | FREE
Online Event | Presented by The Creator Space Mobile Digital Arts Lab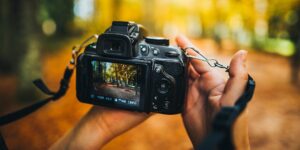 Learn about exterior digital photography techniques and how to work with sunlight to enhance your photography of the outdoors!
No experience required. No equipment required to watch the live demo. Recommended Age: Adults and Teens 13+.
Brought to you by The Creator Space Mobile Digital Arts Lab, in partnership with The Blue Mountains Public Library, the Collingwood Public Library and the Wasaga Beach Public Library.
A Virtual Street Art Experience in Brooklyn – Oct 4 | 1 – 2 PM | FREE
Online Event | Presented by Made&Spotted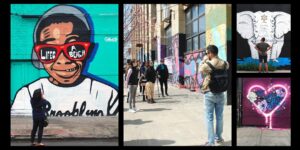 Join an interactive street art experience— right from your home! A special way for like-minded creatives, art-lovers, friends and family of all ages to experience Brooklyn's outdoor museum under a new lens.
WHAT WE'LL DO:
1) Take a Virtual Art Walk Featuring 40+ Artists
2) Discover the Largest Street Art Gallery in the USA
3) Tap into Brooklyn's Graffiti, Pour a Drink & Connect
ABOUT YOUR HOST: My name is Ariel (you can call me Ari). I'm a designer, mostly working in visual retail and store design, with a decade of experience shooting urban photography, studying graffiti styles, and connecting with Brooklyn's street art community.I'm usually on a bike searching for the next coffee spot with a savvy aesthetic. I'm thrilled to offer guests a dynamic street art experience that will indulge all the senses! Find me over @madeandspotted.
This event is FREE. If you choose to give a donation, 20% of the proceeds will help to support @NYCCares for COVID emergency funding and @M4BL pushing for racial equality.
Movie Makeup, Costumes, & Toupees in 1920s Chicago – Oct 7 | FREE
Online Event | Presented by Chicago Movie Tours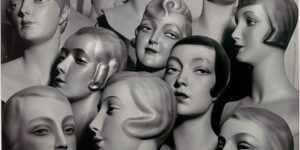 Join Chicago Movie Tours as we explore makeup and costumes from cinema's earliest days to the present.
This FREE virtual event features:
An overview of movie makeup and costumes, including the general purposes and functions of each
A peek into the life of Chicago's expert toupee maker in the 1920s and how he responded to trends in the movies and on the streets
Historic advertisements and photos from fan magazines and newspapers showcasing Hollywood's standards of male and female beauty
During Covid, most of our virtual tours and talks are free or PWYC (pay what you can). Your generous contributions ensure we can create more events like this one. Thank you!
Online Opening Reception: Fall Exhibitions at The Center for Book Arts, NYC – Oct 8 | 6:30 – 8 PM | FREE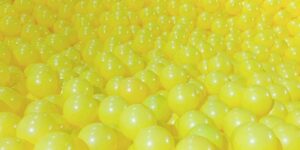 Join us for an online celebration for the opening of three new exhibitions at the Center for Book Arts!
The evening will include exclusive walkthroughs of each exhibition, alongside remarks by the artists and curators.
MAIN GALLERY: Americans Looking In
STUDIO GALLERIES: Morcos Key Makes/Reads
FOYER GALLERY: Construction Site, Viviane Rombaldi Seppey
About the Center for Book Arts: The Center for Book Arts promotes active explorations of both contemporary and traditional artistic practices related to the book as an art object. The Center seeks to facilitate communication between the book arts community and the larger spheres of contemporary visual and literary arts, while being a model organization locally, nationally, and internationally within the field. We achieve this through exhibitions, classes, public programming, literary presentations, opportunities for artists and writers, publications, and collecting.