Fun Things to Do in October 2020 – Week 4
Local Events
The Augusta Symphony presents Movie Music POPS! (Digital Concert) – Oct 22 | $10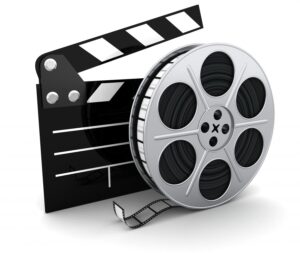 The Symphony performs spectacular music from your favorite movies, including E.T. The Extra Terrestrial, West Side Story, Star Trek Into Darkness, Frozen, and The Greatest Showman in a digital concert to be viewed on demand October 22 – 31. Tickets: $10
Historic Augusta presents: Walk with the Spirits – Oct 24 & 25, 2020 | 2 – 5 PM | Summerville Cemeteries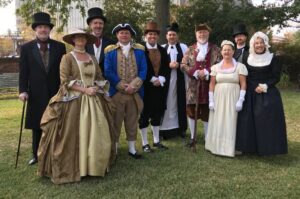 Join us for our 14th annual historic cemetery tour "Walk with the Spirits" on Saturday October 24 and Sunday October 25 from 2pm-5pm. Notable "spirits" come to life! " This event aims to increase awareness of Augusta's past by connecting current residents and visitors with the people and places that still influence us today by their contributions of Augusta's cultural legacy.
Tickets: Adults – $20, Children – $10. Tickets must be purchased in advance. Please call our office at (706) 724-0436. Tours take place every 20 minutes and must be reserved. You will not be able to purchase tickets online, and there will be no walk-ups. We look forward to seeing you there!
FREE Saturday Cinema at Gateway Park – Oct 24 | 6 – 9 PM

Join us for a FREE showing of Scoob! and Halloween Celebration, presented by Doctors Hospital of Augusta & REC TEC Grills! Blankets and chairs welcome. Vendors will be on site. Please practice safe social distancing.
Art Market Masquerade at 4P Studios – Oct 25 | 4  – 7 PM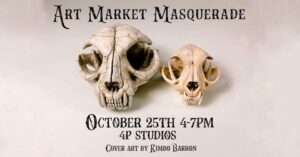 In tandem with The 4th Annual October Spooktacular, An Art Market Masquerade will be held Sunday, October 25th from 4-7pm.
Featuring original artworks, crafts, beauty, accessories and more created by local talents such as Kimbo Barron (banner art) Francie Klopotic, Pauline Trimor, Eva Creel, Emily Yates, Heather René Dunaway (curator) and more!
Not all works will be Halloween themed, but the event will have activities and experiences worthy of any spooky, scary skeleton. All are encouraged to bring non-perishable foods and/or canned items for the It's Spooky To Be Hungry food drive with The Golden Harvest Food Bank. Masks are required and costumes encouraged! Come get spooky with us!
Paine College Department of Humanities Celebrates the Centennial of the Harlem Renaissance – Oct 28 & 29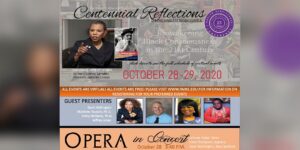 The Paine College Department of Humanities will celebrate the 23rd Anniversary of the Evelyn G. Etheridge Conference on the Harlem Renaissance on October 28 – 29, 2020 at Paine College in Augusta, Georgia.
This year's conference and celebration will be held virtually and is free to the public. This year's theme is "Centennial Reflections on the Harlem Renaissance: Reawakening Black Consciousness in the 21st Century".
The keynote speaker for this year's conference is Dr. Mary Schmidt Campbell, president of Spelman College, Atlanta, Georgia. Dr. Campbell's lecture will examine the life and legacy of Harlem Renaissance artist, Romare Bearden. Other notable events will include an opera concert featuring Indra Thomas, Johnnie Felder, and Washington Issac Holmes, a jazz concert featuring Karen Gordon and Garden City Jazz, and a town hall meeting with politicians, activists, religious leaders, curators, and artists who will examine the legacy of the Harlem Renaissance since its founding 100 years ago in 1919.
Non-Local Events
The Poster House Virtual Archives Tour – Oct 22 | 6:30 – 7:30 PM | $3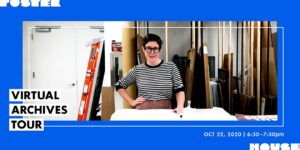 Join Poster House's Collections Manager, Melissa Walker, for a look behind the scenes at the museum's archives!
This freewheeling glimpse into the museum's permanent collection will cover everything from our Living Archive project to vintage posters; contemporary advertising campaigns to recent acquisitions. Come learn about the museum's collecting mission and ask Melissa about all things collections-related!  This event is free to Members and $3 for the general public.
About Poster House: Poster House is dedicated to presenting the impact, culture, and design of posters, both as historical documents and methods of contemporary visual communication. Through temporary exhibitions, a growing permanent collection, and events, Poster House explores the enormous impact of posters on society and culture, and how they continue to influence human behavior in the 21st Century.
'Speakeasies of NYC: A Tale of Crime, Creativity, and Celebration' Webinar – Oct 23 | 7 – 8:30 PM | $10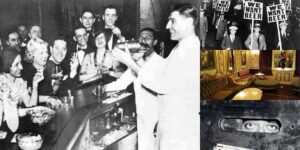 Exactly 100 years ago, the unimaginable happened: alcohol of every kind was effectively banned in America. But for cities like New York City, a little ol' constitutional ban wasn't going to stop people from continuing to have fun — rather than shut down, the city's nightlife simply moved underground (literally and figuratively). This is the story of how illicit drinking spots known as speakeasies were born, and how they not only defined the "Roaring 20s" in New York, but ushered in social changes that are still felt a century later.
Join New York Adventure Club as we explore the history of speakeasies in New York City, and how the strict men's only drinking clubs of pre-1920s America were replaced with cosmopolitan watering holes where the only rule was to have fun. Afterward, we'll have a Q&A with your host Sylvia — any and all questions about New York's speakeasies are welcomed and encouraged!
Can't make it live? Don't worry, you'll have access to the full replay for one week!
Online Lecture: Peggy Guggenheim: Visionary Woman Collector – Oct 25 | 3 – 4 PM | FREE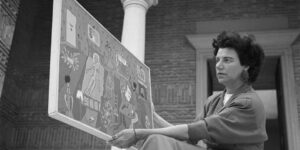 Join the Fairfield University Art Museum for our online lecture! This program is presented in collaboration with the Quick Center for the Arts.
Live from London, BBC broadcast personality, former co-host of 'Art Detectives', Jacky Klein covers British museum collections and co-authored 'What is Contemporary Art?' for New York's Museum of Modern Art. Join Jacky Klein on Sunday, October 25th at 3 p.m. as she discusses the history and success of the art collector Peggy Guggenheim.
Register for the link to the lecture!
[ONLINE] Guided Watercolour (Pencils/Crayons) Art Class – Oct 27 | 1 – 2 PM | FREE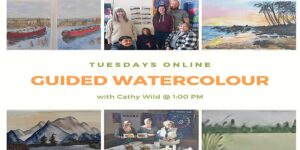 "When you can't go outside, go inside" and find a little distraction from the uncertainty of current world issues with this on-line art class featuring guided watercolour techniques. Bring your curiosity to a meaningful activity that includes a mixture of stimulation, reflection, thought provocation, peaceful calm, relaxation and mindfulness.
For the purpose and timing of this class, we will focus on a watercolor art piece. Examples shown are done with plain lead pencils, colored pencil crayons and watercolor, but, feel free to use whatever tools you have in your art bag.
Your guide will be Cathy Wild, a Barrie resident who began painting as therapy in April 2016 after her own journey through self discovery after brain surgery. Some of her art has been on display at The Edge Gallery and at The Barrie Art Club.
Cookbook Club by South San Francisco Public Library – Oct 28 | 9 – 10 PM | FREE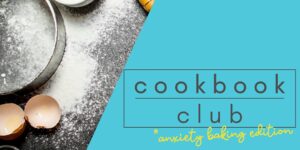 During stressful times, cooking and baking can help us be mindful and provide a small escape by forcing us to focus on the recipe in front of us, rather than a to-do list or any number of things we might need a distraction from. This special anxiety baking edition of Cookbook Club meets virtually on the last Wednesday of each month to talk about recipes, share tips and experiences, and enjoy each other's company.
Each month we have a theme, and October's theme is Halloween! You can interpret this however you'd like- treats you'd give out to trick or treaters, something you'd serve at a Halloween party, or just something festive for this time of year! The only thing we ask is that you make something you find soothing or comforting to make and/or eat. Find a recipe, bake it, and come to our meeting ready to talk about it.