A collection of media features on the Greater Augusta Arts Council, projects, and events.
Arts in the Heart of Augusta: Coverage of the 2020 Cancellation
"Art Council cancels Arts in the Heart of Augusta 2020 festival"
Published by WFXG, July 23, 2020
Report by Mary Klinger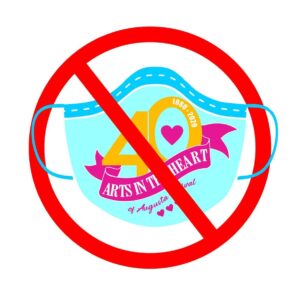 Via WFXG – The Greater Augusta Arts Council announced they are canceling the 2020 Arts in the Heart of Augusta festival due to COVID-19.
The council says "The recent surge in COVID-19 cases and unprecedented pandemic mandates precautions for the well-being of our community."
"Arts in the Heart canceled due to COVID-19 concerns"
Published by WRDW News 12, July 23, 2020
Report by Jeremy Turnage and Celeste Springer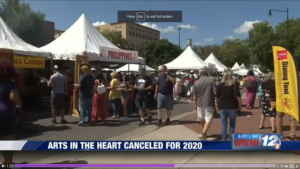 Via WRDW – "With fears of COVID-19 still causing many events to be canceled locally, statewide, and nationwide, festival organizers with Arts in the Heart say they are canceling their event, as well. Festival organizers say the recent spike in COVID-19 cases pushed them to make the decision."
"Artist relief fund distributes $50,000, completing its work"
Published by WRDW News 12, July 21, 2020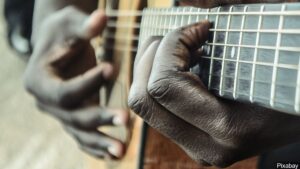 Via WRDW.com – " A pandemic relief fund for local artists has completed its work with the distribution of 114 grants totaling $50,000
The Artist Emergency Relief Awards have been overseen by the Augusta Arts Consortium and made possible by a grant from the Community Foundation of the CSRA and the United Way of the CSRA.
This effort was an emergency fund to help self-employed/contract artists of all disciplines in the CSRA to recover income lost from cancellations due to COVID-19 precautionary measures. "
"Laney-Walker mural unveiled as part of public art project"
Published by the Augusta Chronicle, August 4, 2019
Report By Charmain Brackett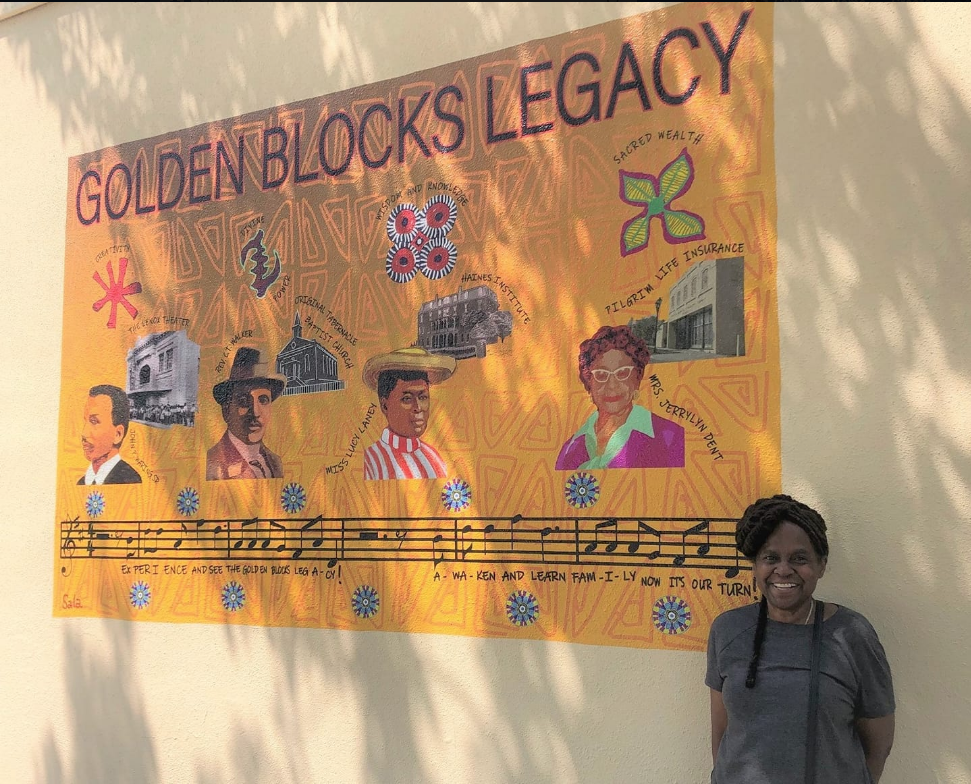 Via Augustachronicle.com – "The first phase of a new public art project was installed in Augusta's Laney-Walker historic district Wednesday.
'This is one of four works in the Golden Blocks project," said Brenda Durant, the executive director of the Greater Augusta Arts Council. "The four artists have chosen to work together."
Artist Sala Adenike created the mural, which highlights four African-Americans and their accomplishments. Its subjects are John P. Waring Sr. and the Lenox Theatre, the Rev. Charles Walker and Tabernacle Baptist Church, Lucy Craft Laney and the Haines Institute, and Jerrylyn Dent and the Pilgrim Health and Life Insurance Co."
"Plans for New Art Projects Abound in Augusta's Growing Economy"
Published by BuzzonBiz, May 25, 2019
Report by Wit Wells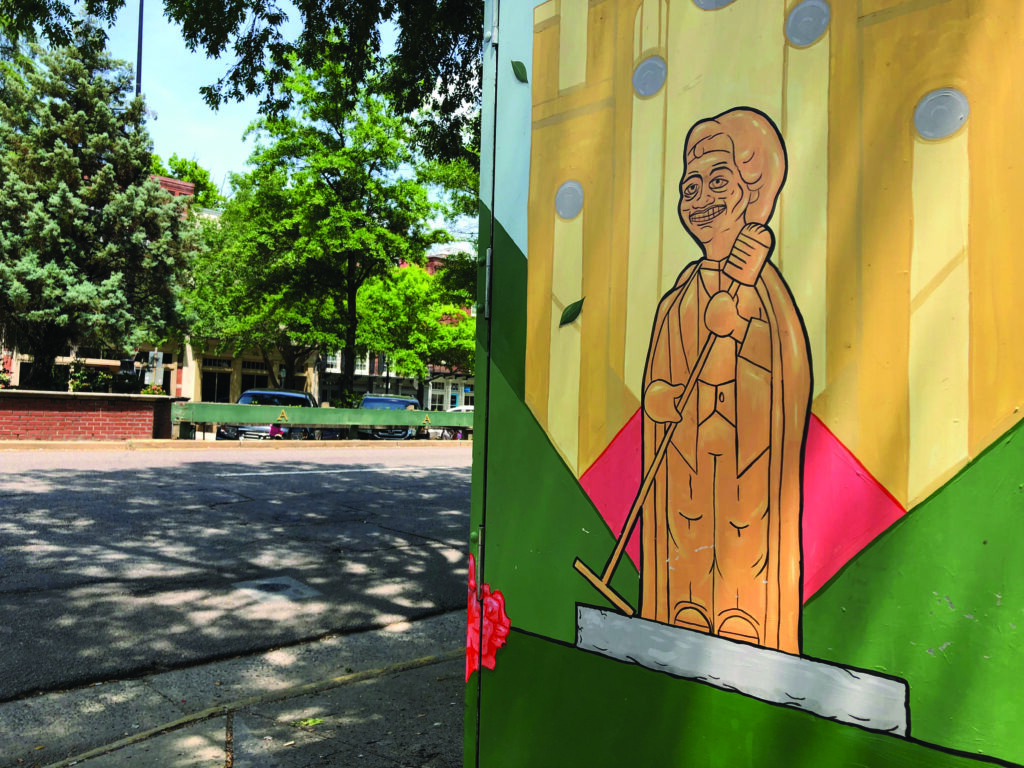 Via buzzonbiz.com -"…"What really inspired me is that arts really are an engine for economic prosperity, because people come out of their hiding holes and spend money on the arts," Bobrow said.
The council's ongoing effort to enliven the arts scene in Augusta stems from the same conclusion expressed in Arts and Economic Prosperity 5: that local economies benefit significantly from having a thriving arts scene.
According to the study, one-third of attendees of arts-focused festivals and events come from out of town, and they spend twice as much money at those events as locals do ($47.57 per person versus $23.44 per person)."
"Artist preserving Summerville's history on utility box"
Published by WRDW News 12, January 25, 2018
Report by Jason Raven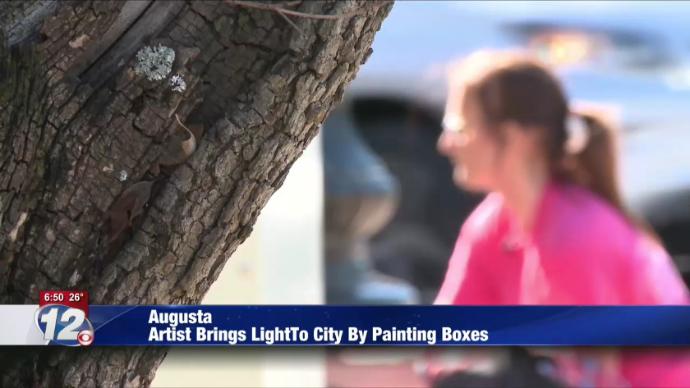 Via WRDW.com -"Neighbors and passerby's in one of Augusta's historic neighborhoods have been thanking artist Cyndy Epps."Typically you paint a painting and put it up on a wall. You'll hear some feedback but this has been a cool experience," Cyndy says. Cyndy is painting on a utility box on Gould's Corner (at the intersection of Walton Way and Milledge Road) in the Summerville neighborhood.
"The Artside: This call for artists will affect future art for Augusta"
Published by the Augusta Chronicle, January 17, 2018
Written By Charmain Z. Brackett
Via Augusta.chronicle.com -"The Greater Augusta Arts Council has been working with the city of Augusta and its officials to create more public art opportunities for artists. It's currently looking for nominations of local artists to serve on a public arts' advisory panel.
The panel is comprised of city leaders, artists and members of the community.
'Years of work have brought the desire for more expressive public art in Augusta to an all-time high," said Pax Bobrow, project manager with the Greater Augusta Arts Council, in a news release. "The Public Arts Advisory Panel will help us build a framework for the city to unleash that creative energy.'
"Comprehensive study details economic impact of Augusta's arts community"
Published by the Augusta Chronicle, November 18, 2017
Written By Joe Hotchkiss
Via Augusta.chronicle.com -"The arts don't just nourish the soul. They provide potent fuel for an economic engine.
The Greater Augusta Arts Council has known that for a while, but recently it learned the dollars-and-cents details: Arts and culture generate more than $57 million in direct economic activity for the greater Augusta area.
That was one of the biggest takeaways from the Arts and Economic Prosperity 5 survey project, described as the most comprehensive economic impact study of the nonprofit arts and culture industry in the United States.
" Editorial: For art's sake, Help define our community by embracing public art"
Published by the Augusta Chronicle, October 22, 2017
Written By the Augusta Chronicle Editorial Staff
Via Augusta.chronicle.com -"Why have public art?
 There have been many reasons. It's said that Ramesses II ordered the carving of the statues at Egypt's Abu Simbel to intimidate the neighboring Nubians. When Michelangelo's David was unveiled in Italy in 1504, it stood as a symbol of independence for the Florentine Republic.
The reasons for having public art in Augusta don't loom as large as all that – but that doesn't make public art any less important."
"Public art can help create community pride, unify residents, expert says"
Published by the Augusta Chronicle, October 17, 2017
Written By Damon Cline
Via Augusta.chronicle.com – With the last major installation of public art occurring nearly two decades ago, Augusta is a little behind the culture curve.
 But no more than the average community, one of the nation's top public art experts said Tuesday.
"One of the conversations that I always get from anywhere I visit is that 'We're so behind in public art…that everyone else is doing something awesome,' " said Patricia Walsh, public art program manager for Americans for the Arts. "No, you're not. It's OK, we're seeing growth across the country (in small- and mid-size markets)."
"Arts in the Heart a brilliant ray of sunshine after Irma"
Published by the Metro Spirit, September 23 2017
Written By Amanda Main and Stacey Eidson
Via Metrospirit.com -"A few days before Hurricane Irma brought tropical weather to the Augusta area, Arts in the Heart of Augusta Festival organizers were wary of what effects it might have on their festival, held the weekend after. The tropical storm blew through on Sept. 11, and the festival took place Sept. 15 through Sept. 17.
But thankfully, the weather cleared up a few days before, and despite losing a day of work to the storm, organizers, volunteers and other festival workers came together to put on a bigger, more successful festival in its 37th year."
"Have a Say About Public Art in Augusta"
Published by the Metro Spirit, September 23 2017
Written By The Insider
Via Metrospirit.com -"Calling all artists and everyone else in Augusta who cares about future public art in the Garden City. The Greater Augusta Arts Council will be hosting a community input session on public art on Tuesday, Aug. 8, in the Linda Beazley Conference Room at the Municipal Building starting at 5:30 p.m. Specifically, local Augusta artists are invited to share their thoughts and ideas about the city's future public art projects and provide the Greater Augusta Arts Council some much-needed input. If citizens and local artists show up, this could prove to be an interesting and beneficial meeting. This meeting could put the word "public" back into "public art."
"Plans in the works to bring more art to the Garden City"
Published by WJBF, May 8 2017
Via WJBF.com -"Augusta is home to the Savannah River, Augusta National, and multiple historic districts. Still, civic leaders say one thing is lacking– public art that distinguishes the Garden City.
A new Public Art Master Plan sets out to fulfill the missing component.
Thousands visit Chicago just to get a picture with the iconic "bean". Now, the city is working with the Greater Augusta Arts Council to create a piece that tells the story of Augusta."