January 2, 2018 – Volunteers, donations sought for "yarn bombing" projects in downtown Augusta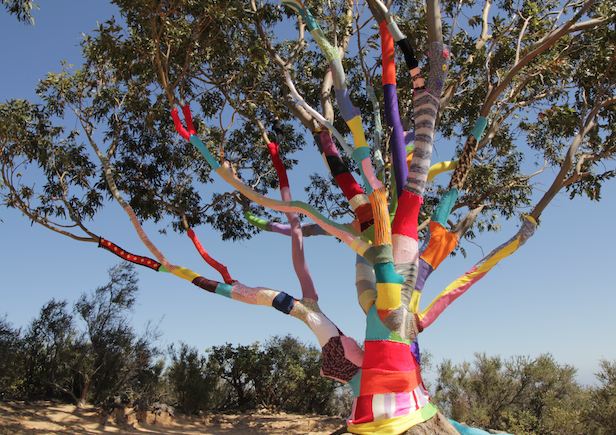 A new group of public artists is seeking volunteers to help make downtown Augusta a little more cozy & bright this winter – with "yarn bombing." Hooked on Augusta, a collection of crochet and knit artists, will bring this fun form of street art to the downtown area in partnership with the Greater Augusta Arts Council. Volunteers of any skill level are invited to add their knitted and crocheted creations to the project. Hooked on Augusta is also taking donations of yarn to defray the costs of producing these works of public art.
ABOUT YARN BOMBING: "Yarn bombing" uses knit and crochet to wrap every day streetscapes in bright, colorful yarn. Though it began in other cities as more of a guerrilla style of public art— being placed anonymously without prior approval— Hooked on Augusta's artworks will be welcomed by City officials.
"Yarn bombing" projects can be seen in Columbia, South Carolina, Atlanta, Georgia, and in cities across the world. The scale of the project can be as small as wrapping a single light post in yarn, or bundling larger objects such as cars. Even buildings have been the subject of these projects. The patterns and creativity are as varied as the artist that knits or crochets them.
Organizer Veronica Mulkey is very excited to create pieces that are unique to Augusta with her fellow textile artists. "We are looking for all skill levels," she said, "This project is a great way to get the community involved in a public art project… I can't wait to see what people create."
VOLUNTEER: Do you knit and/or crochet and would like to get involved with Hooked on Augusta? You can sign up online at https://goo.gl/forms/kWsBzoQ42jB0apVS2 or like "Hooked on Augusta" on Facebook to receive updates. Questions? Contact the Arts Council Project Manager Pax Bobrow at pax@augustaarts.com or call 706-826-4702.
HOW TO DONATE MATERIALS: Yarn and materials can be donated at the Greater Augusta Arts Council offices at 1301 Greene Street (Inside the Sacred Heart Cultural Center) or at the Visit Augusta offices at 1010 Broad Street. For guidance on recommended materials, contact the Arts Council – 706-826-4702 or email pax@augustaarts.com