25 Jun

2020 Augusta Arts Awards Winners Announced

2020 Augusta Arts Awards Winners Announced

The Greater Augusta Arts Council is pleased to announce the 2020 Augusta Arts Awards winners.
Artist Award: Karlton Clay
Arts Professional Award: Porter Stokes
Kath Girdler Engler Award for Public Art: Wesley Stewart and Colleen Beyer
Media Award: Velvet Perry, of Perry Broadcasting
Sponsor Award: Doctors Hospital of Augusta
Volunteer Award: Carol Rezzelle
President's Award: Larry Millard and Cheryl Goldsleger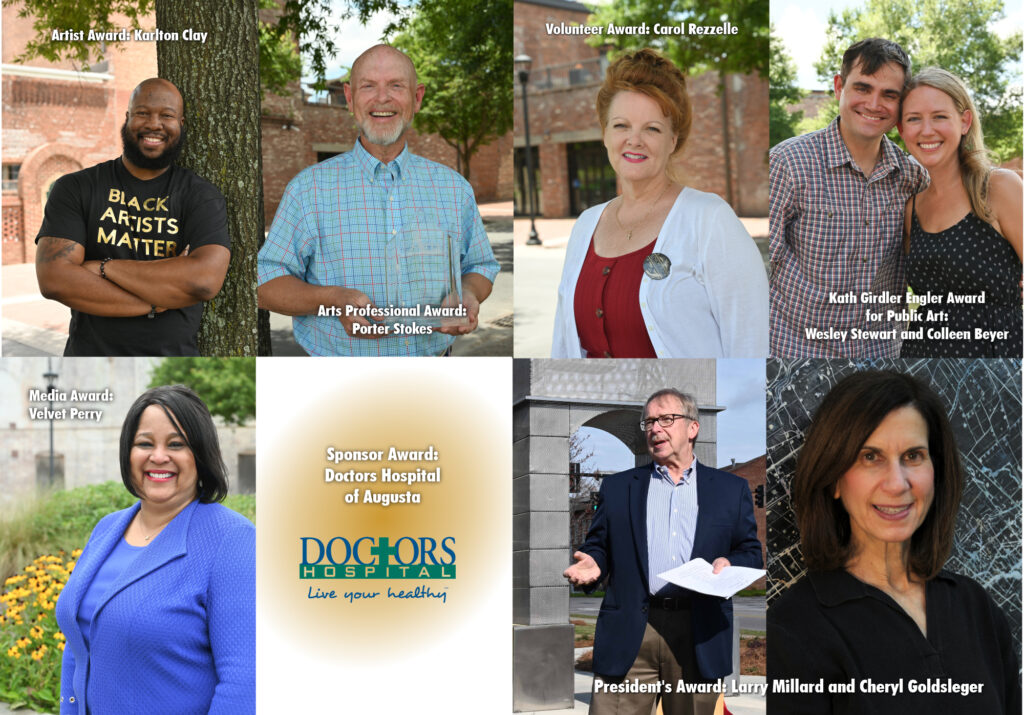 Nominations were submitted by the public and the finalists chosen by a panel of local arts community leaders. Due to COVID-19 precautions, the Annual Augusta Arts Awards dinner will not be held this year. Instead, the winners will be presented at the November Arts Day Luncheon.  A virtual celebration will be shared on social media and the winners will be published in Augusta Magazine.
 The Annual Arts Awards were established to recognize outstanding talent, exceptional initiative and leadership within Augusta's vibrant arts community. Six awards are distributed to winners for: Arts Professional, Individual Artist, the Kath Girdler Engler Public Art Award, Media, Sponsor, and Volunteer.
ARTIST AWARD: KARLTON CLAY
Karlton Clay has a passion for telling a good story on paper and film. He has been working as an artist in the Southeast for over 17 years and is a national and international award-winning writer, producer, and director.  He has written, produced, and directed many theatre productions, short films, and web serials.
ARTS PROFESSIONAL: PORTER STOKES
Dr. Porter Stokes has been the Artistic Director and Conductor of the Augusta Choral Society since 1999. During his years with the ACS, it performed a multitude of major choral works including pieces by Mozart, Brahms, Verdi, Faure, Vaughn Williams, Bach, Beethoven, Dvorak, Handel, Sousa, Vivaldi as well as many living composers. Over the years he has found ways to include diverse members of the community in the ACS concerts, including youth choirs, dancers, Irish musicians, professional soloists, first responders, military, narrators, and more.
KATH GIRDLER ENGLER AWARD FOR PUBLIC ART: WESLEY STEWART and COLLEEN BEYER
Wesley and Colleen are committed to Public Art.  They have several public art pieces completed around Augusta, as well as several in progress. They are currently creating the wonderful paintings on the underpasses on Eve and Crawford Ave.  They also installed the colorful "Put-in-Cups" public art at Hillside Park in Harrisburg. Wesley is also part of a team working on the Beacon Station Public Art Project.
MEDIA: VELVET PERRY
Velvet Perry, as the head of Perry Broadcasting in North Augusta, has promoted Augusta's local arts agenda for many years.  She is always ready and willing to use her radio station as a platform to help the local arts scene.
SPONSOR: DOCTORS HOSPITAL OF AUGUSTA
Doctors Hospital developed a robust and varied community engagement and patient experience centered around the Arts. They actively create arts programming like "Music for Monday Mornings," a collaboration with Garden City Jazz that brings live music into the lobby every month. Doctors Hospital's support of the Jessye Norman School of the Arts, Creative Impressions, Westobou Festival and other local arts entities reflects the connection between community, business art and wellbeing.
VOLUNTEER: CAROL REZZELLE
Since 1999, Carol has written, directed, produced more than a dozen original plays, musicals and dinner theatre productions for the Enopion Theatre Company. Her story is one of an underdog, starting out in churches and moving into theatres all over GA including Aiken Community Playhouse, the Imperial Theatre, and the Kroc Center.
PRESIDENT'S AWARD: LARRY MILLARD and CHERYL GOLDSLEGER
Larry Millard and Cheryl Goldsleger became an integral part of Augusta's arts community during their short time living here. They fell so much in love with our city and arts community that they continue to travel back here frequently, adding to the tremendous legacy they already created.
Larry has shown nationally and internationally throughout his career. He has had 25 solo exhibitions and his work has been included in over 210 group exhibitions and numerous public art venues. He has received several awards, grants, and commissions for his creative work and teaching. A recent piece is the Harrisburg Portal, a  sculptural work celebrating the history of Augusta's Harrisburg community.
Cheryl exhibits her work nationally and internationally with her most recent exhibition Vast Scale-Intimate Space included in the European Cultural Centre's 2019 Venice Art Biennale exhibition in Italy. Cheryl's work is represented in important museum collections including the Museum of Modern Art, NYC; the High Museum; Albright-Knox Gallery; The Fogg Museum at Harvard University; The Israel Museum; The New Orleans Museum; The Brooklyn Museum, The North Carolina Museum of Art; The Greenville County Museum; Yale University Art Gallery; the Tel Aviv Museum, as well as in private collections. Cheryl is the Morris Eminent Scholar in Art at Augusta University.
More information, past winners and the nomination form for the 2020 Annual Arts Awards can be found at augustaarts.com/annual-arts-awards.