14 Sep

Art Adventures: 523 Gallery

Art Adventures: 523 Gallery

By Brenda Durant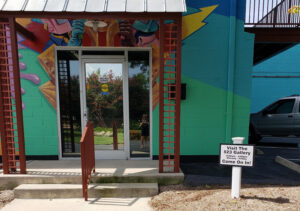 In early August I received an email from Dr. Dennis Skelley reminding me the 523 Gallery was open.  He asked to be included on our website and calendar listings to help spread the word that this jewel of a gallery is tucked away in downtown Augusta.  I realized this would make a wonderful art adventure and promised I would visit the gallery to check it out.  I dropped by recently and received a grand tour of this delightful gallery dedicated to Artists with Disabilities.
The Gallery is so welcoming! Located on 13th Street, nestled next to Andy Jordon's Bike Shop, the exterior greets visitors with the 'Love Where You Live' mural by Brian Stewart.  The outside is dotted with sculptures, some co-created by Dr. Skelley with his friend and collaborator Tommy Lyles.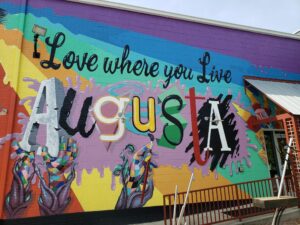 Entering the Gallery, I was greeted by two gorgeous dogs, mother and son labs and the unofficial tour guides of the space.  Dennis showed me around the gallery and explained that every painting has a story.  The Georgia Rehabilitation Institute (GRI) regularly purchased paintings from the Artist with Disability Show whenever the state-wide tour stopped at Walton Rehabilitation Hospital.  I loved them.  I was entranced by the bright colors in the paintings by Harry Teague. His acrylics 'Busy at Work" and "Cajun Dancers" brighten up a white brick wall in the front corner of the space.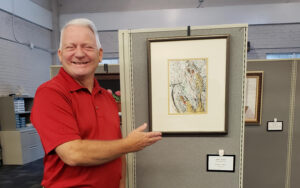 Dennis has been creating sculptures as both a collaborator and solo artist. Last year he took classes at Augusta University as part of the program for 'people of a certain age' and his creations are scattered throughout the gallery. Visitors will see a herd of skull animals, school projects celebrating Augusta University, wood totems created from salvaged beams from a building torn down so Davidson Magnet School could expand, and tabletop sculptures… always with a bit of metal, his signature mark.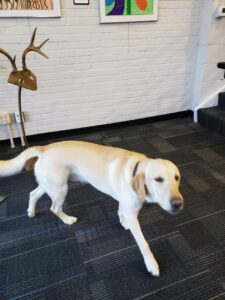 As you are looking for things to do in 'Augusta in the time of Covid', stop by the 523 Gallery.  There is plenty of parking, lots of art with a heart, and even a dog or two to pat.
523 Gallery
523 13th Street
Open: 9-4 Monday-Friday