24 Aug

Arts Adventures: A True Adventurer Remembered
Arts Adventures: A True Adventurer Remembered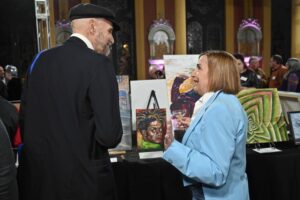 By Brenda Durant
Last week, Augusta lost a truly valuable treasure.  Gregger (Bluxome) Bass was not an official "celebrity." He didn't run for office and his name was not in the daily news. But… if you attended arts events, if you were a local artist, or if you hung out downtown, you would definitely recognize the tall, lanky man with a bag over his shoulder because Gregger was present.  He showed up all over Augusta, often in wildly creative suits, wearing his love of art on his sleeve. Gregger was a fixture at arts events.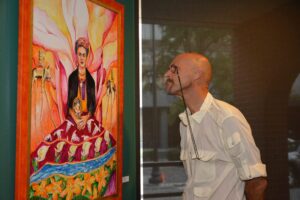 I believe Gregger was on the Heart Transplant waitlist from the first time I met him.  Every time we took time to catchup I would ask where he was on the waiting list.  It varied.  Sometimes he was at the bottom, sometimes at the top, then dropped back in the middle. Like the tinman, he waited patiently and with great anticipation for his heart. Recently he was moved to the top of the transplant list, so he sent up the bat signal with his go-team in place, for when he got the call.  Two weeks ago, Gregger received his much needed and long-awaited surgery …but sadly, he did not survive. He was so full of heart, so full of love, that no substitute heart could suffice.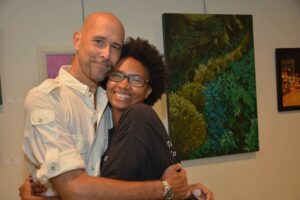 Gregger collected local art.  He collected a lot of local art.  His home was filled with paintings, photography, and ceramics that he purchased at local events and galleries.  Anyone who has been to his home gallery can testify that it was a glorious visual tribute to Augusta's arts. A gifted artist in his own right, he submitted a piece to the Greater Augusta Arts Council's Wet Paint Party a few years ago.  I bought it.  I'm glad I captured a piece of his wonderful creativity to call my own.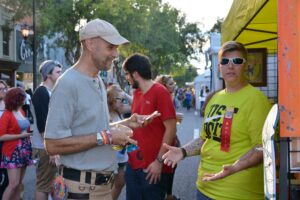 On First Friday in June 2017, Rhian Swain, Ed, and I had a magical art adventure downtown.  We were gallery hopping and it included a hop over to Sandie Crowley's ARTUS Gallery for the opening of "The Art of Supporting Local Arts and Artists: Gregger".  It was an inspiring showcase of his collection.  There are some who think you buy art at a retail store like you would a pillow or a rug.  There are some who buy art thinking they will sell it some day and retire on the returns.  Some people, like Gregger, buy art for the joy it brings them; to see it hanging in precise placement on the wall; for the memories of the event and the conversations with the artists who created the works.  Gregger collected art for the love of art, and his immense love for local artists.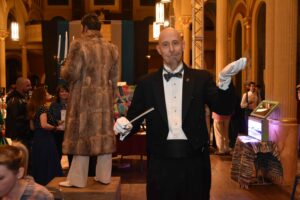 In addition to being an avid collector of visual art, Gregger attended events. I would catch a glimpse of him, heart pump in a bag at his side, loping thru Festivals, attending openings, and brightening our day by just being there. A couple of years ago Rhian and I attended the Westobou Festival on a weekday evening. We rode the Ferris wheel, attended shows at the Westobou Gallery and Sacred Heart, and visited the Metro Coffeehouse for a late night (past 10 PM for us older folks) performance.  We felt so lucky to spot Gregger and his roommate in a booth with space for us to slide in.  It was an unforgettable hour of listening to great music and chatting with two of my favorite people.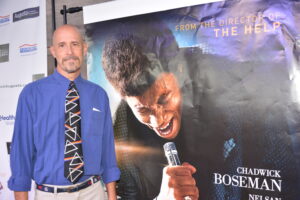 Augusta will miss this kind and generous man.  Augusta's artists will miss his encouragement and his support. So many artists have said he bought the first piece they sold. Thank you Gregger, for sharing your life with us and for showing us what it means to have a huge heart.