13 Oct

Arts Adventures: The Greater Augusta Arts Council
Arts Adventures: The Greater Augusta Arts Council
By Brenda Durant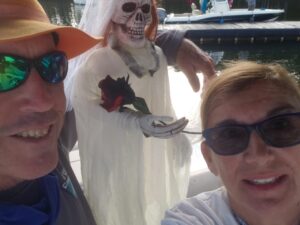 Last week I did not check out a gallery, discover a new mural, or tour a museum.  Instead, I buried myself in some interesting "Arts Council" adventures.
In January 2021 we will be working with the City of Augusta to install 10 sculptures in downtown Augusta for the Augusta Sculpture Trail.  This event, duplicated in cities across the U.S., is a great way for a City to start a sculpture collection.  We will pay 10 artists to 'rent' their creations for the next 2 years.
We listed our call on a national site that specializes in sculpture calls.  We had no idea what to expect—would we get 15 entries and have to eliminate 5? We would be happy with that! Or due to all the festivals on 'Covid Hold', would we receive a load of entries and have to jury and eliminate a zillion? Pick the 2nd option.  We are currently evaluating 120 entries for our inaugural Sculpture Walk.  Each artist was able to send 3 images, so part of my art adventure has been zinging thru over 300 images of sculptures.  The team, Public Art panel, and advisors are looking at abstract, steel, polished stainless, painted steel, busts, environmental tributes, celebrations of the sea turtle and more.  Once the panel votes, we will reveal the winners and the Sculpture map on November 5 at our Arts Day Meeting. Stay tuned for updates!
Another Project for the Arts Council team is our participation in the Georgia Center for Non-Profits Resiliency Cohort.  We signed up to be sure the Arts Council would be armed and ready for whatever the next 3 Years would bring. Our core team is our President Mary Schroer, our Treasurer Paige Tom, our Special Projects Manager (Concentration on Grants and Public Art) Pax Bobrow, and Brenda Durant… a.k.a. me. We gathered a slew of documents and promised to attend all the meetings and do our homework each week.  The first week we concentrated on our strengths and the upcoming risks.  We are working on a form that helps accurately project how our budget may change in this challenging environment.  Each week we meet with a facilitator who specializes in Change, along with 4 other Arts non-profits from across the state.  I love that one topic our first week was called "Reality Check-in".  Indeed.  Six more weeks to go.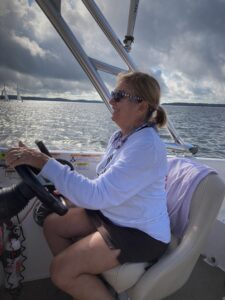 My husband Edward loves art. He joins me on all our adventures, gallery tours, openings, festivals, arts and craft shows, concerts, and shows.  His other love is sailing.  I join him in sailing adventures as much as I can.  Last weekend was the Augusta Sailing Club's Halloween Regatta.  The most Covid-Friendly job for the regatta is running the Safety Boat.  We are alone, out in the breeze, working in hailing distance of the sailboats and the committee boats.  We towed some late boats to the race course, rescued a sailor who turned over, towed a boat with a broken line, went back to the dock to retrieve an extra mark (floating buoy that the racers go around) and watch the boats round a mark and throw up their spinnakers (large sail that fills with air on the downwind leg) routing for our friends and commenting on everyone's sailing skills.  There's definitely an art to sailing and running the safety boat. It was a great break while jurying in the Sculpture Trail.
Onward,
Brenda Durant