29 Sep

Augusta Art Adventures at the City Gallery Municipal Building: Grady Abrams Art Show
Augusta Art Adventures at the City Gallery Municipal Building: Grady Abrams Art Show
By Brenda Durant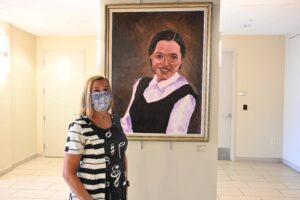 This week I visited our Gallery in the Municipal Building.  Last week, while I was packing up a tent next to a trout stream in North Georgia, my crew was installing our first gallery show since February – a retrospective of works by the late Grady Abrams.  The Arts Council visited Mr. Abrams home studio for a tour in 2015 and I was eager to see his paintings again. His works of art are hung in the large open space on the first floor in our City Gallery. Rhian with RedWolf joined me to preview the show since she will be photographing it so we can create a virtual gallery experience on our website www.AugustaArts.com.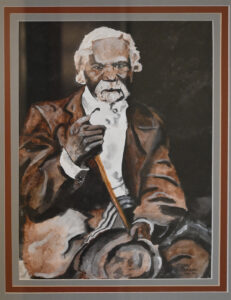 Mr. Abrams had a dynamic and impactful life. He grew up in Augusta, taught at Laney, sold insurance, worked for Xerox and retired from Bechtel Savannah River as Labor Relations Manager.  At the age of 29, he won a seat as a  Augusta City Councilman in the 1970's. He was a member of the Committee of 10, which was an influential group of 10 black men who kept a close eye on civil rights issues in the late 1960's and early 1970's.
The show is extremely interesting and gloriously diverse.  Mr. Abrams painted in watercolor, acrylic and oils.  His subjects range from a shotgun house to famous people like James Brown meeting President Nixon and Strom Thurmond with Essie Mae Washington.  All the paintings are for sale and can be purchased by calling the Arts Council office.
City Gallery
Augusta Municipal Building
535 Telfair Street
Hours 9-5
Screening upon arrival and masks inside
Information for this article from:
https://www.augustachronicle.com/news/20180417/committee-of-ten-member-activist-abrams-passes-away
Grady Abrams Civil Rights Talk: https://youtu.be/ARinVeo8sFg