17 Aug

Augusta Art Adventures: Beacon Station 

Augusta Art Adventures: Beacon Station

By Brenda Durant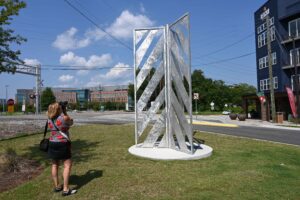 Last week my friend and Marketing guru Rhian Swain went to Beacon Station to photograph the new Sculpture by Wesley Stewart and Mat Thomas. I asked to tag along because… public art!  I love Augusta's public art. Beacon Station is the newest apartment complex on Wrightsboro Road, located near the AU Dental Building in the Laney Walker neighborhood. The owners commissioned a large sculpture as part of the grand opening of the apartment complex.
We arrived at Beacon Station at 4 PM on a scorching hot Sunday afternoon.  Rhian and I were meeting local artists Wesley and Mat to take publicity photos and gather information for a Press Release.  Wes was promised the opportunity to take a shot from the roof, so I was especially excited about this week's adventure and the chance to get a bird's eye view of the new piece of public art.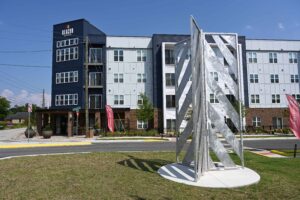 We took a few close-up shots waiting for the artists to arrive.  The sculpture, named "Pitch Tree", stands at a busy corner with railroad tracks and strings of power lines filling the view.  When Wes and Mat arrived we headed indoors to talk to the maintenance manager.  Much to our disappointment he couldn't take us to the roof. It may be that Rhian's reputation for falling and tripping during photoshoots may have preceded us and he decided it was too risky. So instead, he brought us to an empty apartment on the first floor to shoot from above. Not exactly a stellar bird's eye view but the apartment was beautiful. The complex has a pool, dog walking area, a coffee shop, and a cool shared work/hangout space in the lobby. I swear it even has a "new" smell.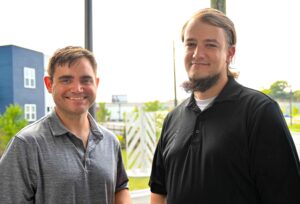 After we left the apartment, we went back outside to shoot more photos with Wes and Mat.  Just as we were leaving, the maintenance manager called us and invited us into an apartment on the fourth floor – a much higher view of the sculpture.  We trekked back inside (oh the blissful air-conditioning) and headed upstairs. As Rhian hung off the balcony, photographing the sculpture, I chatted with the tenant – a student at Augusta University.  She had just started classes so we talked about school with masks and social distancing.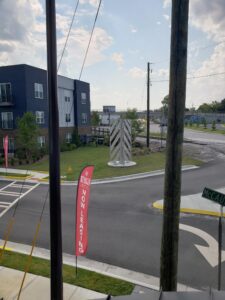 While we chatted, she mentioned she wanted to climb the sculpture.  Good lord. I asked her not to climb it, but if she had a monkey – she could send him up. As it turned out, she did not have a pet monkey, so no sculpture climbing for anyone. (Thank goodness.)
It was a fun afternoon adventure.  I really love visiting our Public Art installations around town. If you are downtown – take a few minutes to drive by Beacon Station and see "Pitch Tree", our newest addition to Public Art in Augusta.  If you time your visit right, you can check out all the intricate shadows the sculpture creates.