18 Sep

Beacon Station's "PitchTree" Public Art Sculpture Completed
Beacon Station's "PitchTree" Public Art Sculpture Completed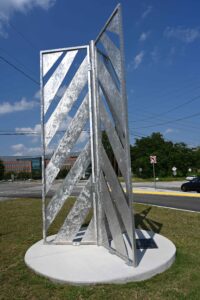 Columbia Ventures, LLC and the City of Augusta in association with the Greater Augusta Arts Council is pleased to announce the completion of a new piece public art sculpture at Beacon Station.
The sculpture was created by local artists Wesley L. Stewart and Mat Thomas. The sculpture is located at the entrance to Beacon Station Apartments, across the street from the Augusta University School of Dentistry on Wrightsboro Road in Augusta, GA.
Titled "PitchTree" the three-sided, metal sculpture was fabricated into the shape of a triangular pillar that stands on top of a concrete base. Cutout of sheet metal, it displays a chevron pattern, referencing Beacon Station's icon. A key visual component is the pattern design that plays with light during the day and night, constantly changing the static artwork. The overall triangular shape of the sculpture refers to the area's rich history in railway, strength, luck, caution, and biblical themes that are reflective of the strong faith community of the area since 1880. The three sides also represent the three families who started the area: the Jacksons, Steiners, and Picquets.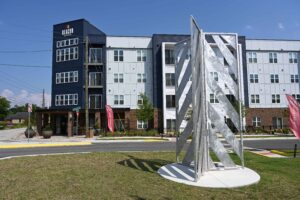 The mission of the project is to unite Augusta's rich cultural traditions with an optimistic new future for this newly redeveloped area and welcome visitors into the Laney Walker and Bethlehem Neighborhoods. Mr. Stewart and Mr. Thomas have constructed a work of art that will contribute to the positive reinvestment and redevelopment of the emerging Laney Walker/Bethlehem Revitalization Area. The sculpture supports the brand and character of Beacon Station and enhances awareness of public art throughout Augusta. Their winning design was selected from a 2019 public vote of finalists.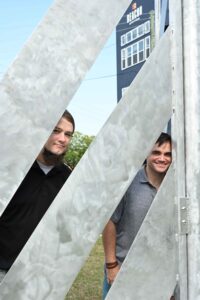 Team Lead, Wesley Stewart was born and raised in Augusta, Georgia. Primarily a three-dimensional artist, he also creates art across many disciplines. His interest in sculpture, especially metalwork, began when working for the family business – Stewart Sheet Metal. Wesley currently teaches at Georgia Military College. He earned a Bachelor of Fine Arts from Augusta State University and a Master of Fine Arts at Georgia Southern University. His outdoor, public art can be seen in the Harrisburg area of Augusta, on the campus of the University of North Georgia, Dahlonega, GA, and in the downtown areas of Lakeland and Kissimmee, FL. His work encompasses both linear and planar aspects, incorporating color to accentuate specific areas of the work or to the surrounding area where it is placed.
Mat Thomas is a graduate of the College of Architecture at Georgia Tech and holds a Bachelor of Science in Industrial Design. He believes in connecting the dots within the creative fields of art, photography, graphic design, music, industrial design, and architecture. Creativity, simplicity, and quality define his artistic philosophy, while a dedication to community involvement and improvement define his actions.