20 Sep

Featured Member Artist: Abstract Alexandra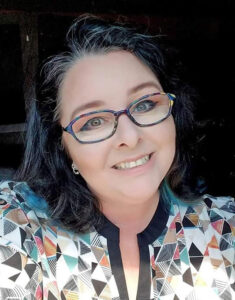 Featured Member Artist: Abstract Alexandra
When Fred Rogers said "look for the helpers" in times of trouble, he meant people like Abstract Alexandra. 
Alexandra didn't set out to be an art hero in the face of a global pandemic, but some would say that she is, definitely, a hero without a cape. We spoke with Alexandra via Zoom in her studio. Alexandra is a visual artist who works in a broad range of mediums. She's been a professional, full-time artist for years including a world tour and many national tours. 
As a full-time artist she plans out her showings, exhibits and traveling show schedule typically 3-4 months in advance. So, she told us, in March when the closure notices started flooding in from festivals around the country she was a bit stuck. In many ways. She told us about the art that was filling her studio, primed for those events, that now had almost no way to get into the hands of people who might have been at those shows. She said this was a point of pain emotionally as well. 
"Not only were all my shows cancelled and that meant that my income was cancelled, but I had to sit on it and not create more work," Alexandra said. "And how do you do that when your mind is gobbed with art and I just can't sit still? My mind wants me to constantly create work."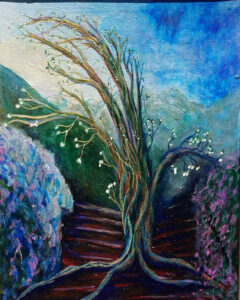 Alexandra told us about the loneliness that set in after a while and how much she missed her community. In this desire to connect, she told us she created a challenge for herself and fellow visual artists. She encouraged her artist friends to pick up pieces that lay unfinished or stalled in the corners and closets in their homes and finish those pieces. This, she told us, blossomed into an online gallery at South Carolina Artists SCA where several member artists could display their work. She said she was surprised and delighted when people called her and said they'd seen her work on the site and wanted to purchase it.
Alexandra also recently took part in Whisper to a Shout exhibit group that featured several artists whose work tackled social issues. Her paintings and pieces for this exhibit addressed sexual assault and the #MeToo movement. Alexandra also hosts an annual event, SheFestival, to highlight women in the arts. Her work currently features portraits of eyes, sometimes one or both eyes.
When asked what her vision for the future included, Alexandra told us that she wants to get her art out into the world but remain connected to the artistic community in a meaningful way. 
"I want to spread my art further and further from where I am," said Alexandra. "My goal is to remain humble and remain connected with people."