13 Jul

Featured Member Artist: Christina Berkshire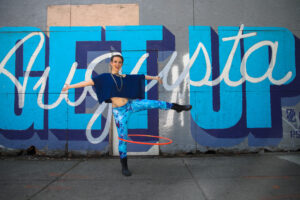 Featured Member Artist: Christina Berkshire
If you took a bright ball of energy then gave it an attractive lipstick and a hula hoop you could call it Christina Berkshire. 
Berkshire is known around town for her hula hoop performances and her role as hostess, in pre-quarantine times, to the monthly Dr. Sketchy's drawing session at Le Chat Noir. 
"Dance of all styles inspires me in my own hoop dance practice," Berkshire said. "I take classes from a variety of teachers in order to express myself more fully as a hoop dancer."
The past few months have been easy, in Berkshire's own words, and incredibly hard. When quarantine measures were introduced she said her "secretly introverted heart was pleased." She talked about finding a rhythm with working from home in which she found joy in her art. She even said she experienced a creative boost that enabled her to work on performance costumes, creating self-portraits and writing.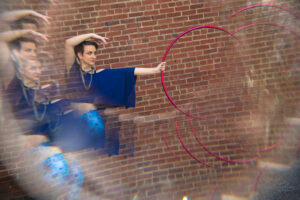 But she also spoke about the heartbreaking loss of one of her best friends to suicide on Easter Sunday. This caused an emotional ripple in her life that she is actively working through. She's currently stepped back from her full-time graphic design job and is taking stock of what she wants professionally and artistically moving forward. She told us that she's  determined to honor her friend's memory. 
"I'm still processing through the grief, and haven't felt very inspired to create art of my own since then," Berkshire said. "One thing he told me a few months before he died was that he wanted to inspire others through his story. I've been thinking hard about how I can honor his memory and help others through the skills I have."
One way she's using her skills? The corner store on 5th and Telfair Street is the luthier shop that the Berkshires own. Since Easter Sunday, there are many days you'll see Berkshire out in the large side yard digging, trimming and plowing.
"Right now the piece of 'public art' that I'm most proud of is the start of a garden in our side yard," Berkshire said. "I'm looking forward to making it into a welcoming sight on the downtown street I live on. Sometimes, you just have to start with where you're at." 
In the future, she's more than ready to get back to being able to perform with other hoopers and dancers.

"There's an energy exchange when you perform live between the audience and the performer that can't be replaced," Berkshire said. " I do really miss high fiving people while I'm hooping, just to see them smile."