29 Jun

Featured Member Artist: Christina Rice
Featured Member Artist: Christina Rice
By Jamie Jackson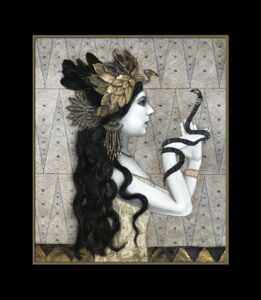 While many people might struggle to recall intricate details, Christina Rice is the type of person that will really look and see your dimples, the color of your eyes or the way your grin forms at the corners of your mouth. Her hyperrealist portraits are a tribute to her keen attention to detail.
Rice herself has a wide, beautiful smile. Before COVID-19 stay-at-home orders she was a frequent visitor at gallery openings, exhibits, award shows and other art events around Augusta. We spoke with her via Zoom and not even the distance between our screens could dim her.
COVID-19 has kept Rice, and a large portion of the entire visual arts community, from gathering for gallery shows and exhibits.
"I've been spending more time on art," Rice said. "My retirement gig is web design and I love it, but a lot of that market has dried up. That first month of COVID you wander around the house and you're like 'What do I do? I have so much time!'"
As her "retirement gig," Rice runs Avenue One Web Design where she designs websites for legal-sector and music-industry clients. She says work comes from word of mouth referrals, mostly. The impetus for web design, though, was born out of a desire to create.
"I wanted to do something creative and technical," Rice said. "Something always got in the way. It finally got to where I could break away. I asked for a sign—one more thing—and that one thing came along; someone asked me to build a website. Then I quit my job to launch this freelance career. It was meant to be."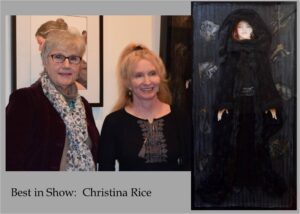 Rice went on to say that web design feels similar to solving a puzzle for her clients. She uses her creative skills to showcase the things her clients want and need in a website.
Currently, Rice is using some of her available time on new projects. This includes a silent movie star portrait series that she's working on with her colleague, Francie Klopotic. Rice says that each of her pieces usually take about 60-100 hours to complete. She prefers mostly to work at her home studio, even before stay-at-home orders were put in place.
Rice draws inspiration from artists like Gustav Klimpt and William Waterhouse but also draws from the use of color in fairy tale illustrations by artists like Elenore Abbot and John Bauer. Many of her works include mythical references and posing, as she strives to make ordinary moments feel extraordinary.