20 Jul

Featured Member Artist: Don Carter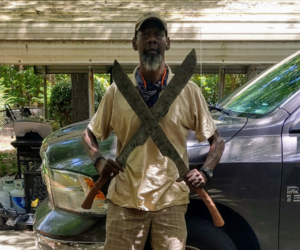 Featured Member Artist: Don Carter
Don Carter, also known as Baba Carter, is a retired military veteran who took up wood carving, metal smithing and other artistic endeavors. 
Carter is highly creative and says he tackles any medium and art form that he puts his sights on. He sets intent for his art and holds himself to a high standard. Retirement allows him creative flexibility and, when asked, he said he works mostly at his home in his carport. This is where he brings his wood carvings and bladed weapons artwork to life. Most of his pieces, he said, started as a vision or an image in his head that he then makes real. 
"I prefer wood as my medium, but I'll distort anything I can," Carter said. "With that saying, I set my own limitations and will attempt anything. […] I enjoy giving wood a second chance at life. I have a multitude of tools and materials. My favorite tool(s) would be my markers, some handmade carving blades and a Dremel."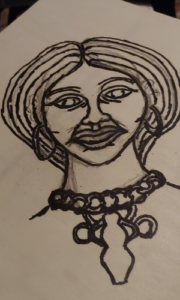 COVID-19 quarantine measures have allowed Carter more time to be creative. He says he looks forward to displaying his work once the pandemic has lifted. Currently his work is on display at Humanitree House, alongside Baruti Tucker's art who Carter says he draws much inspiration from.
"[Humanitree House] is a great place for healthy eating, conversational enlightenment and refreshing libation," Carter said. "It's my favorite place downtown."
You can find Carter's work on his Facebook page, Carter's Creative Cuttins'. He said he hopes one day to have his art on display in the Augusta Airport in a permanent exhibition like those in the Hartsfield-Jackson Atlanta International Airport.