06 Sep

Featured Member Artist: Jason Craig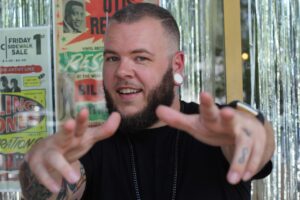 Featured Member Artist: Jason Craig
Without being too cheesy, I think it's fair to say that Jason Craig is literally out here painting the town. 
His murals are all over Augusta and are some of the most photogenic walls within the city. His "Get Up Augusta" mural on the side of Pineapple Ink Tavern is a hot Instagram commodity as is the co-created "Keep Downtown Augusta Funky" mural on the corner of 8th and Broad Street. 
That mural was finished in 2017 with Leonard "Porkchop" Zimmerman and April Henry King. Notably, Craig said that he brought King in to help work on the Funky mural and it was one of King's first large-scale mural projects. She's since gone on to complete several other murals around town. 
"Before millennials it was 'hoard knowledge to keep your job,'" Craig said. "It's all of our responsibilities and grab the next generation and show them what you know and that things are possible."
Craig went on to say that King's work around town is admirable and while they both create murals their styles are different enough that it doesn't feel like a competition. 
One of Craig's successes is the studio that he and several other creatives work out of, called Pink Slips. You've probably seen it and maybe never known what it is. That building on Jones Street that's bright pink on one side and camouflage on the other? That's Pink Slips. It's a co-working studio  Craig works in with Matt Porter, Ashton Maya and CC Calloway. When I asked him about it, Craig was very happy that it has a somewhat mysterious presence that people want to replicate for its quintessentially cool vibes. The secret? Craig said "It's not the building, it's the life inside that matters."
While Craig is in the middle of leading a creative career, crafting inspirational public art and being a full time stand-up guy, he's also a podcast co-host. He described it as a "silly thing I do with a buddy from Sweden" where he and his co-host, Emir Ayouni, talk about notable designers and artists from all over the world. It's called The King's Cheese and it's available wherever you listen to podcasts. You can also find Craig's work on Instagram —@jasonthe29th — and on his website, jasonthe29th.com. 
When asked to talk about Augusta's public art Craig is a very vocal supporter of more art all over town. 
"The art scene in Augusta and the community as I've known it has changed a lot and we're on the beginning of the new whatever it is," Craig said. "It's not paintings hung in bars, it's painting on walls. We have to innovate."