27 Aug

Featured Member Artist: Kigg Cherry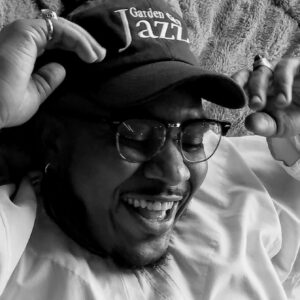 Featured Member Artist: Kigg Cherry
By day Kigwana "Kigg" Cherry is a construction engineer and project manager and in between those tasks he's busy creating a beautiful Augusta.
As a self-described Renaissance Man, Kigg has a hand in multiple endeavors throughout the community. With business partner and friend Karen Gordon, he has successfully launched a pop-up event company—aptly named Pop-Up Augusta—where his team dreams up impressive events and Kigg is the main project manager that organizes the details for each event.
Kigg hinted to us about a Labor Day jazz event that Pop-Up Augusta may or may not host during the upcoming Labor Day Weekend. If you're not already on the Pop-Up Augusta mailing list, that's the first way to know about and to buy tickets for the pop-up events. Kigg said that typically after that list has first-dibs at events any tickets that are left, if there are any, are promoted on Pop-Up Augusta's social media pages. Previous events included the incredibly popular mimosa crawls, burlesque nights and murder mystery parties.
He also spends time with his hands deep down in the soil at his house with Karen while they're building Growing Augusta. This residential farming co-op that they've created aims to help bring attention to regular citizens raising gardens, planting and harvesting some, or all, of their own food. Growing Augusta recently had a plant giveaway and plans on many more plant giveaways and produce box giveaway events in the future.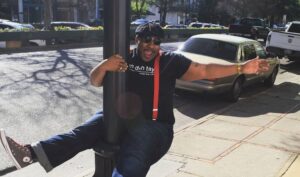 If you don't know Kigg's name from his event or his growing efforts, you may know him for his music. Kigg is a classically trained musician who currently gives performances with Lady & the Gents in Augusta and takes part in regional and national performing groups as well. COVID-19 and shut downs associated with the pandemic have reached everyone, including Kigg. 
"March 18 is the exact date that Augusta shut down, on the brink of Masters Week," Kigg said. "Karen and I cancelled more than 70 events, bookings and gigs collectively from March 18  to May 1, plus everything we had planned with Masters Week, too. So after that, what did we do? That's when I took a leap forward and said 'my living room and dining room are a rehearsal space' and 'Overhead Augusta' was born."
Overhead Augusta is a live-recorded performance series that gives Augusta locals and listeners all over the world the chance to tune in to live performances from Kigg's house. Originally the goal was to raise money for out-of-work artists and performers based in Augusta. Kigg and his team got sponsors involved to get noticeable funds flowing to artists who needed support. The series was incredibly successful for the first several performances but participation has dwindled in the recent weeks. Kigg is very vocal about the talent in Augusta and Augustans abilities.
"We have talent beyond belief," Kigg said. "What we as Augustans, and those who have the funding to support artists in Augusta, need to do is to give that support. There are visual artists, dance, music artists that are here in Augusta that I feel would and can measure up to many artists that are A and B list artists if given the opportunity."