30 Sep

Featured Member Artist: Lillie Morris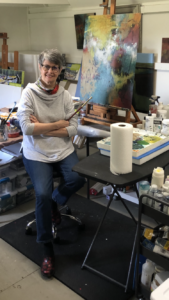 Featured Member Artist: Lillie Morris
Lillie Morris joined our video call for this interview in a perfectly gorgeous grey vest with an understated, classy pin on the lapel. Her hair looked immaculate and her makeup was stunning. Most impressively, behind her beautiful smile is a brain that's sharp as a tack and keen to detail. 
Morris grew up in Augusta, and recalls many fond stories from her childhood where her talents were fostered and encouraged by teachers and her parents. Even though art education didn't come about until she was in high school Morris said she enjoyed praise and encouragement from several teachers including tasks like being asked to help decorate bulletin boards and being given time to draw. 
She currently lives on her farm with her husband, four cats, 16 goats, five chickens and two donkeys. Her idyllic home setting isn't quite the path she said that her 20 year old self envisioned, though. When she entered Augusta College she decided to study art and music, but soon after she decided to transition to nursing school. Morris said she thought that she might move away from Augusta and wanted to be able to have a job anywhere she wanted to go.
During the interview, she walked away from the camera briefly to bring back and show me a sculpture that she made as part of the "Stallings Island Revisited" series. She talked about the pieces of the sculpture in great detail and how they referenced back to the tools discovered on the Stallings Island archeological site. She has done a tremendous amount of research on site and her brief explanation of her sculpture hinted at a vast knowledge of the findings from the site. 
Morris has had many formal training opportunities in her collage, acrylic and sculpture crafting. It's fair to say she's had quite an interesting life for the last 20 years. 
She studied music and played violin as a child and throughout her college career but she said she didn't "have the chops to make it as a classical musician" which seemed to suit her just fine. In the early 1990s she said she heard Celtic music being played at MerleFest and she was hooked. Morris said she took home some recordings and some music and played a while until she joined a band that met at the King George pub in Augusta. It was through that group that she was able to take the first of many trips to Ireland. 
Morris has made annual and sometimes bi-annual trips to Ireland since 2000. That first trip was in the company of two of her bandmates where she fell in love with Listowel, Ireland. She has had multiple artist residency tenures in Listowel and at the Cill Rialaig Arts Centre in Co. Kerry, Ireland.  
COVID-19 has halted Morris's travel plans but she says she is currently busier than she's ever been with commission deadlines one after another. When asked why she thought that might be Morris responded and said that people were more than likely spending a lot more time in their homes and wanted to see more artwork on their walls.
Overall Morris said that she loves being able to paint and connect with people through her art. Specifically, her love of abstract is partially due to what she says is the viewer's participation in the work. Abstract, especially for landscapes like the rolling hills of Ireland, can convey a lot of different things to a lot of different people. For the foreseeable future Morris is excited to continue exploring her abstraction and collage practices. 
There will be two upcoming shows where the public will have a chance to see Morris's work up close. A 2019 series titled "Water Works" will be on display at the Morris Museum of Art from November 2020 to January 31, 2021. She is also participating in a group exhibit at the North Augusta Heritage Center from November 12 to December 18, 2020.