06 Jul

Featured Member Artist: Melanie Wade Larsen
Featured Member Artist: Melanie Wade Larsen
In 2003, Melanie Wade Larsen looked up from her solid, steady nursing job that she'd been at for 18 years and made the decision to leave it all behind for music.
She is well aware that it might sound like a flight of fancy, but Larsen is the type of person who commits to something and follows it through all the way, even through serpentine twists and turns, to get to the finish line. Larsen completed her undergraduate at Augusta University and in pursuit of her graduate degree she attended University of South Carolina in Columbia. She never waivered, even when she suffered a heart attack in 2016. During recovery she started planning "Opera Out and About," her outreach program that brings opera into elementary school classrooms.
Through her entire musical education experience, Larsen told us that she kept herself motivated partially by staying true to expectations and "realistic" goals that she set for herself. "I knew that I wouldn't be singing in large opera houses or gracing the stages as a soloist with the best symphonies, but I was ok with that," Larsen said. "I thought about what I could do. […] Fortunately, I have been able to do those things. The saying, 'Grow where you are planted' sums it up."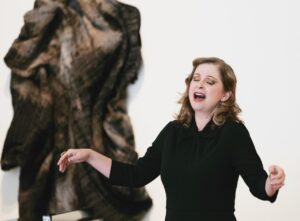 Today, Larsen is a testament of that saying and has achieved many, if not all, of the things she set out to do. She has graduated from both programs and owns MWLarsen Studio di Canto. Her studio takes on vocal students and is the hub for "Opera Out and About." Larsen also recently joined the board at the Jessye Norman School of the Arts.  While she is incredibly upbeat, COVID-19 has touched her life like it has for a majority of Americans. She told us she is looking forward to the days where in-person vocal lessons can resume and went on to say that while technology has been the crux of continuing lessons, it isn't without its hiccups. Lag time and tech issues affect the ability to have complete instruction.
"At this point I feel that remote lessons are a reasonable secondary medium for voice lessons, but don't compare to in-person instruction," Larsen said. "All the above being said, I think virtual lessons are here to stay and every teacher will have to decide how much of this type of teaching they are willing to do." In the future, Larsen hopes to continue her outreach program's work and bring opera into the classroom for as many students as early as possible. She told us that her work on the JSNA board is deeply connected to her desire to further arts education.
"One thing that I know for sure: I want to give back and have more community involvement," Larsen said. "In February I began my term as a board member with the Jessye Norman School of the Arts, which is a great start. I want to do the best job in that role as I can because that school and its mission is an important one and I believe in it."