10 Aug

Featured Member Artist: Rhian Swain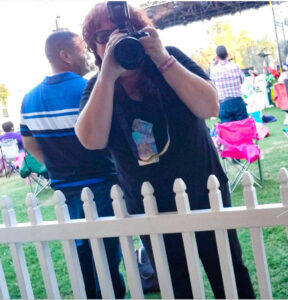 Featured Member Artist: Rhian Swain
Rhian Swain is a jack of all trades. As an artist, she swirls multimedia pieces together that include digital art, watercolor, acrylics and more. She can be found around town, pre-quarantine, at art events all over the city. She normally has a big camera and a bigger lens framed by her curly red hair. 
Quarantine has made Swain look at art and creative impulses differently than she previously thought. She created the Pandemic Art Collective Facebook group to help support creatives early on in the pandemic to help with stay-at-home orders isolation. 
"At first the extra free time during lockdown was awesome for painting and writing," Swain said. "But the longer quarantine dragged on, the less creative I felt. I think I've discovered that I require stimulus from social activities and people in order to be my creative best. No input equals no output. Being an introvert, I totally did not expect that! I figured I'd be a productive hermit, happily tucked away in my creative cave."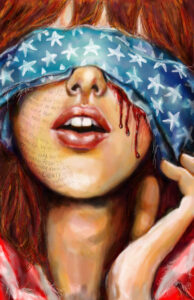 When Swain is tucked away, happily working in her studio, she's creating custom commissions and using her art commercially to fuel RedWolf Advertising. The advertising agency allows her and her team to use their art, marketing and web design skills to help businesses design excellent branding and assets. She says that the work her marketing agency has brought in has helped keep her afloat while COVID-19 has halted all event and in-person work for the rest of the year.
A central theme to Swain's work is people in their day to day lives, and recent events didn't go unnoticed in her pieces. 
"I spent several years making pieces that were an outcry against police brutality, injustices in our society and the desperate need for change," Swain said. "I've been going back to those pieces and seeing how they are even more relevant today. Rage, despair, desperation are all powerful catalysts for artwork that usually isn't pretty, isn't easy to look at, but is always impactful. I can see creative pieces in my head that are digging their way out, as soon as I can conquer the COVID Blues."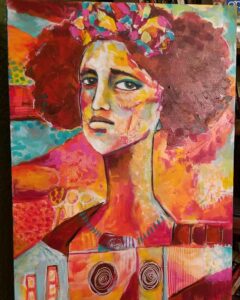 Swain is currently working on ghostwriting a nonfiction book with a scheduled release in 2021 in addition to several of her own e-books. She told us she's almost finished with two large commissions that she's been working on for two years. In the future she hopes to work on a large-scale public art piece, have her work shown in international galleries and see several of her books published.
She told us that she's incredibly proud of the arts community in Augusta and the recent growth the community has seen. 
"I love how the arts community in Augusta has flourished," Swain said. "I love that there are now so many artists living and working here that I don't know most of them. Twenty years ago that wasn't the case. We have something special here in our creative community and it seems in the last five years that it is being supported, embraced, and nurtured by Augustans. That's something to be very proud of."