27 Jul

Featured Member Artist: Wayne Hoey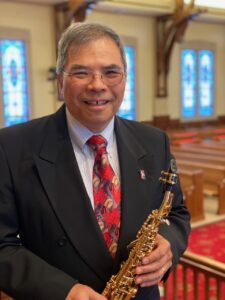 Featured Member Artist: Wayne Hoey
Wayne Hoey is a musician through and through. His life is dedicated to live music and bringing joy to listeners through his saxophone playing.
Hoey started his music career straight out of high school. He signed up for the U.S. Army while the Vietnam War was raging and the army needed musicians to help boost morale. Because of his musicianship he said he was able to travel the world and play with outstanding musicians during his 20 years of service. 
"My career is filled with milestones, some planned and most not," Hoey said. "My years in Army Bands shaped my musical attributes and prepared me to continue well after I hung up my Army uniform. I've now have been retired 28 years." After leaving the Army, Hoey relocated to Colorado Springs, Colorado, and got his undergraduate and masters degrees in music education. He got a job that he loved as a middle school band director and spent years teaching kids the art of loving music and musicianship. 
He retired from the job—and Colorado Springs—in 2018 when he relocated to Augusta, Georgia. Since settling in Augusta, Hoey has transferred his teaching credentials to Georgia and South Carolina, allowing him the ability to substitute teach. He's also an active member of the arts community in Augusta. Many people know him around town from church performances and live events. The pandemic has cancelled many of these live music outlets but Hoey has a fun, positive outlook on the private practice sessions he's gained.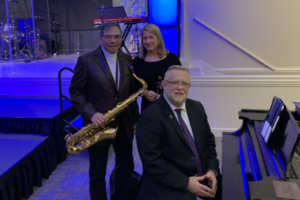 "I've spent many an evening serenading to birds and the neighbors with hours of ballads and Swing tunes," Hoey said. "As many of my musician friends are in the same situation, we are catching up on lots of individual practice sessions."