21 Aug

Featured Member Organization: Imperial Theatre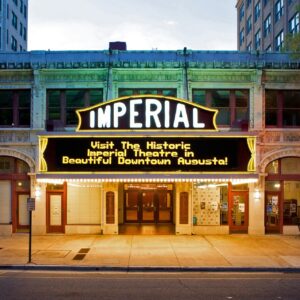 Featured Member Organization: Imperial Theatre
The Imperial Theatre has been one of Augusta's best-known venues for live entertainment for more than 100 years. Names like Charlie Chaplin and Anna Pavlova graced the stage in its early years. 
Throughout the decades the theatre has been home to hundreds of live performances for local, regional, national and international groups. Robust spring and fall performance seasons are scheduled months and sometimes more than a year in advance. The summer sees many indoor movies and music performances as a respite from the brutal Southern heat. 
The current pandemic is not the first in the Imperial's history. Shortly after the original opening the Spanish Flu and subsequent quarantine closed the theatre doors for a short time. The COVID-19 pandemic has had similar closures and the Imperial has had to cancel events from March-August 2020. Charles Scavullo, the Executive Director, said that there are some performances that are tentatively scheduled for September and the beginning of the 2021 spring season. 
But the theatre hasn't been quiet since patrons departed. Scavullo and the Imperial's board of directors used this time to complete large-scale capital improvement projects. 
The current renovations include refurbishment to the first and second balcony including reupholstering seats and repainting the floors. Scavullo also told us he'd just returned from a 1,200-mile round trip to source new seats and parts for some of the existing seats that desperately needed upgrading and repairs. 
These renovations  were performed from the capital improvement funds available to the organization and there is a current fundraising campaign to cover the costs of these renovations. Visit the Imperial Theatre website for more information on the fundraising campaign, membership details and upcoming events.