12 Sep

Featured Member Organization: The Augusta Choral Society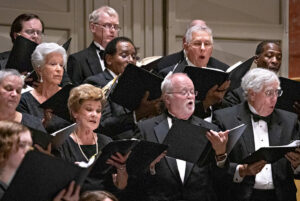 Featured Member Organization: The Augusta Choral Society
The annual holiday performance by the Augusta Choral Society marks the beginning of the holiday calendar for many Augustans. 
The beautiful choral performance, typically in concert with Lyra Vivace chamber orchestra, is always a gorgeous and stirring experience. Add in the monumental settings—typically either St. Paul's Church on the river or the expansive great hall at Sacred Heart Cultural Center—and you have a truly unique event. 
The pandemic has dramatically changed the way the Choral Society performs and interacts with the public. The Choral Society's performance calendar was cancelled, wiped clean, from March until the October concert and that concert has since been cancelled. The annual holiday performance remains on the calendar, hopeful for the chance to safely gather and enjoy music together. 
"We are working to create two virtual performance events that we can post on our Facebook page, website and other social media," said Carolyn Dolan, executive director of the Augusta Choral Society. "Any interested new singers will be invited to participate in our online efforts while we wait until we can have in person rehearsals again."
Interested performers can find information on joining the Augusta Choral Society on the organization's audition page and on its social media platforms.