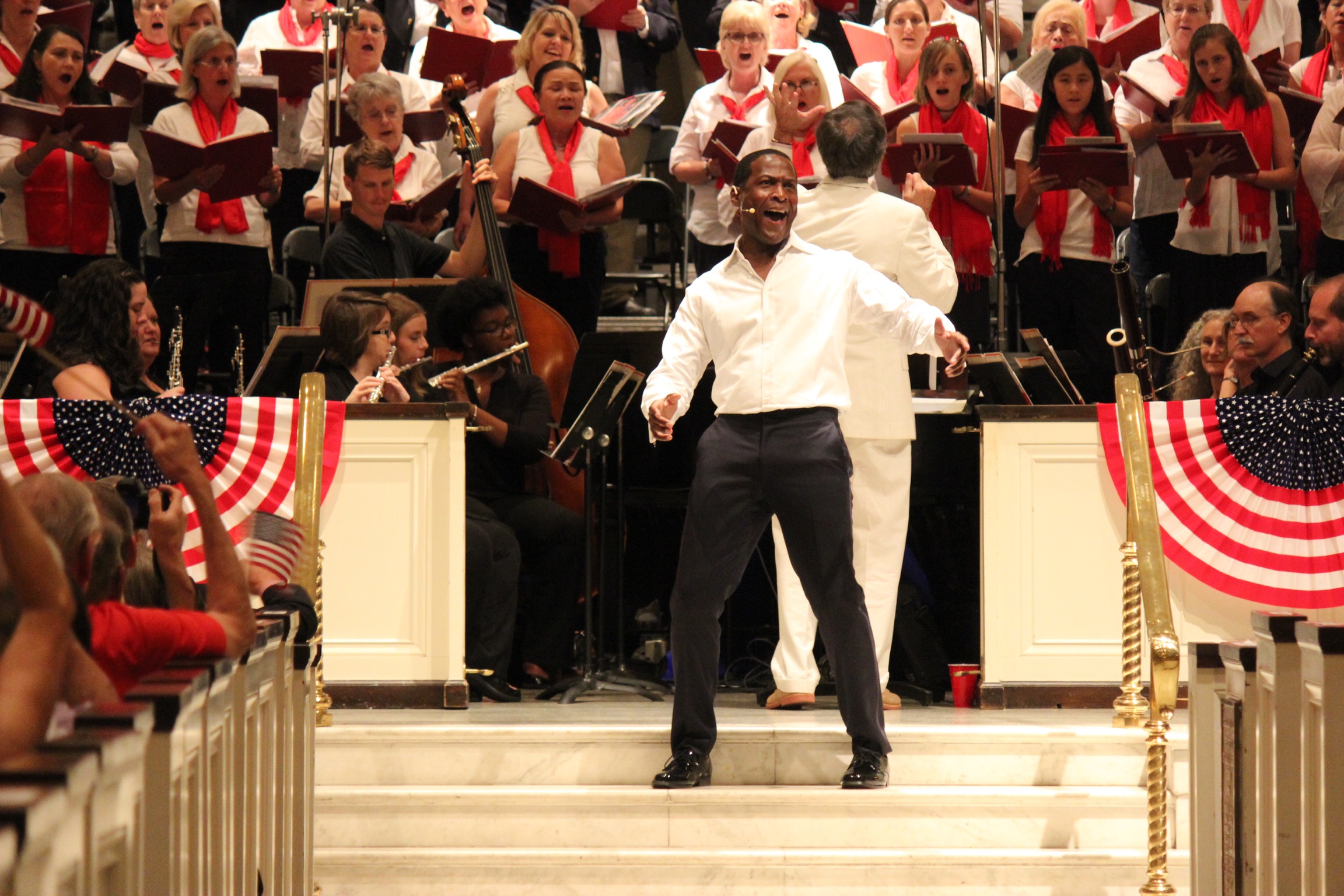 07 Jan

Member Artist Interview: Russell Joel Brown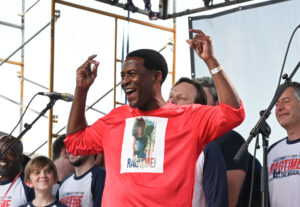 As far as local heroes go, Augusta is in luck that Russell Joel Brown decided to don his cape and make Augusta a better place.
Russell Joel Brown attended Episcopal Day School—and studied with his first music teacher there—Immaculate Conception Catholic School and Aquinas High School before moving on to Atlanta to attend college. He went on to spend 27 years in New York City performing in productions like "The Lion King," "The Scarlet Pimpernel," and "Big River," among others.
In 2001 he said he returned home to visit his father, who was ill, and decided that he couldn't return to NYC as his father's health was much worse than he originally thought. He stayed in Augusta 2001-2005 to help his family after the death of his father. Russell talks about his time in Augusta during that first year as a chance to do things creatively that he might not have been able to in NYC.
"With all this extra time I had I could put on a concert," Russell said. "I'd sing all the songs that they don't let me sing in New York City. While New York City is a very open and vibrant town, they can be very narrow in their thinking even though they're very open and creative. In New York, I'm not going to be able to walk into an audition and sing 'Somewhere over the rainbow' and be taken seriously. […] I'm a bass baritone. But in Augusta, it's my concert. I can do whatever I want."
Russell went on to explain that this snowballed from the humble idea of him and one piano singing tunes he really wanted to perform. Over time during the planning phases it morphed into a full concert and show, complete with a full-concert band and a grand piano on the stage.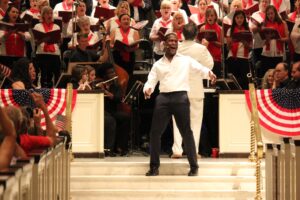 This series is called "From Mozart to Motown" and includes music from 10 different styles: classical, spirituals, Broadway, jazz, blues, country, African, R & B, rock, and gospel.
"It was able to be turned into a big thing because fo Peter Knox," Russell said. "Because of his financial support and moral support I was able to dream big. That was in 2002. We sold out the Imperial Theater and turned away 200 people at the door, because we all know Augusta is a last-minute town!" 
Click Here: Tickets "From Mozart to Motown" February 18, 2022,
Russell went on to say that the first "From Mozart to Motown" sold out the Imperial Theater five times, including "A Mozart to Motown Christmas" show. The last show ran in 2004. From 2005-2017 Russell tour with "The Lion King" on Broadway.
He returned to Augusta in 2017 and has taken up many different leadership roles in our community, including the director of Boys With A Future, an after-school program of Good Neighbor Ministries, that Russell helped create. Each performance of "From Mozart to Motown" is a fundraiser for Boys With a Future.
"It's 18 years later and I'm revising the show," said Russell. "It's the same format but we're doing about 90% new music that I've never sung in Augusta. The 15-member high school band, back up singers and dancers, plus a choir that will open the show."
Boys With a Future is a testament to the determination Russell and his team has to make Augusta a better place.
"When I came home in 2017 my ultimate goal was to open my own school," Russell said. "I met Rebecca Wallace and she said 'You have to meet Gloria Norwood and Marsha Jones because they've been talking about (opening a school) in Harrisburg.' I met with them and that first meeting with Gloria and Marsha ran two and a half hours."
Russell recounted listening to, and exchanging ideas with, Gloria and Marsha about the needs of students in Harrisburg. 
"There was a young man named Cameron who was murdered in front of four or five of his friends by another boy in the neighborhood that they all knew," Russell said. "Marsha and Gloria felt like they had not had the space to grieve and process that trauma. They asked me to design a summer camp to help them process that trauma.
I said that I wasn't qualified to help anyone process any trauma but that I could design a summer camp program that would give them the license and tools to express themselves creatively. I also said that we would have mental health counselors at the camp there every hour of the day to address trauma that came up. The kids didn't have to know that they were mental health counselors, they could just be adult counselors in the program."
The program began as a summer camp and was so successful that Russell and his team were asked to turn it into an after-school program through St. Luke United Methodist's Good Neighbor Ministries. Boys With a Future has been in operation for the last two and half years as part of Good Neighbor Ministries, which has operated in Harrisburg for the last 14 years. 
Before the COVID-19 pandemic, students would receive after school tutoring with one-on-one instruction three times a week. They would also receive  art instruction that rotated on six-week modules that Russell crafted; six weeks of dance, six weeks of music and six weeks of art instruction. During every meeting the students also received a hot meal.
During the COVID-19 pandemic, and currently, Boys With a Future has had to shift its operations to minimize the spread of the virus. The students still receive one-on-one tutoring at the nearby Silvan Learning Center. While in-person art instruction has not resumed at this time, field trips are being planned.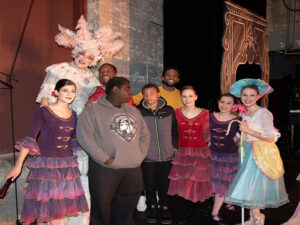 "We had to stop field trips, which were a big part of the program," Russell said. "Things like going to 'The Nutcracker,' "Mamma Mia,' and to see 'Ragtime.' The goal with field trips is to get them out of a place that's hard to dream. You can't dream if you've only seen your immediate surroundings. We want to expose them to as much as we can."
Russell went on to describe the trip they were able to go on recently, a Civil Rights tour with several stops in Alabama.
"None of them had ever left Augusta," Russell said "including the two adult chaperones. This year, God willing, we'll take them 9 days 8 nights to NYC and Washington DC."
Other than field trips and tutoring, the group has just recently been able to resume weekly basketball practice. Their only other meeting times are to work on the lawn care business.
Russell and his team started a lawn care business that pays all the students a fair wage to work on landscaping jobs. Russell described an ideal job for the lawn care business as one-off clean up jobs and special lawn projects. This is a full-scale project for Russell and his team. During a job Russell will meet with the client, quote the job, pick up the boys, direct the work and clean up and get the boys back home afterward.
"I started a lawn care business last year to teach them that money doesn't grow on trees," Russell said. "And to teach them that it's not necessarily that the harder you work but the smarter you work."
Russell went on to say that lawn care is a skill that teaches the students a valuable skill that can be used on to make extra money if needed.
"I want to teach them how to work but also how to be a responsible and dependable employee," said Russell. "And I also want them to understand the work involved in pushing a lawn mower under the hot sun and how much work that is. Maybe, hopefully, if they understand that they will work harder in school and be successful." 
When asked what he would most want Augusta's artistic community to know, Russell had this to say.
"There's no way that 'From Mozart to Motown' could have happened without the Arts Council. I really didn't know anything when I came home about producing a show. Through many conversations with Brenda [Durant] and Erin Jacobs Dennis I started getting a clearer picture of how something goes from an idea to getting on the stage to being profitable.
With the connections that I was able to make through Brenda, I was able to get a contact at Comcast who became a major sponsor. It's not necessarily how I got to Peter [Knox] but I made a sponsorship package that I could then, later, present to Peter. My hat is off to the Arts Council. It's important for local artists to rely on the Arts Council to help as a resource to fulfill their dreams."