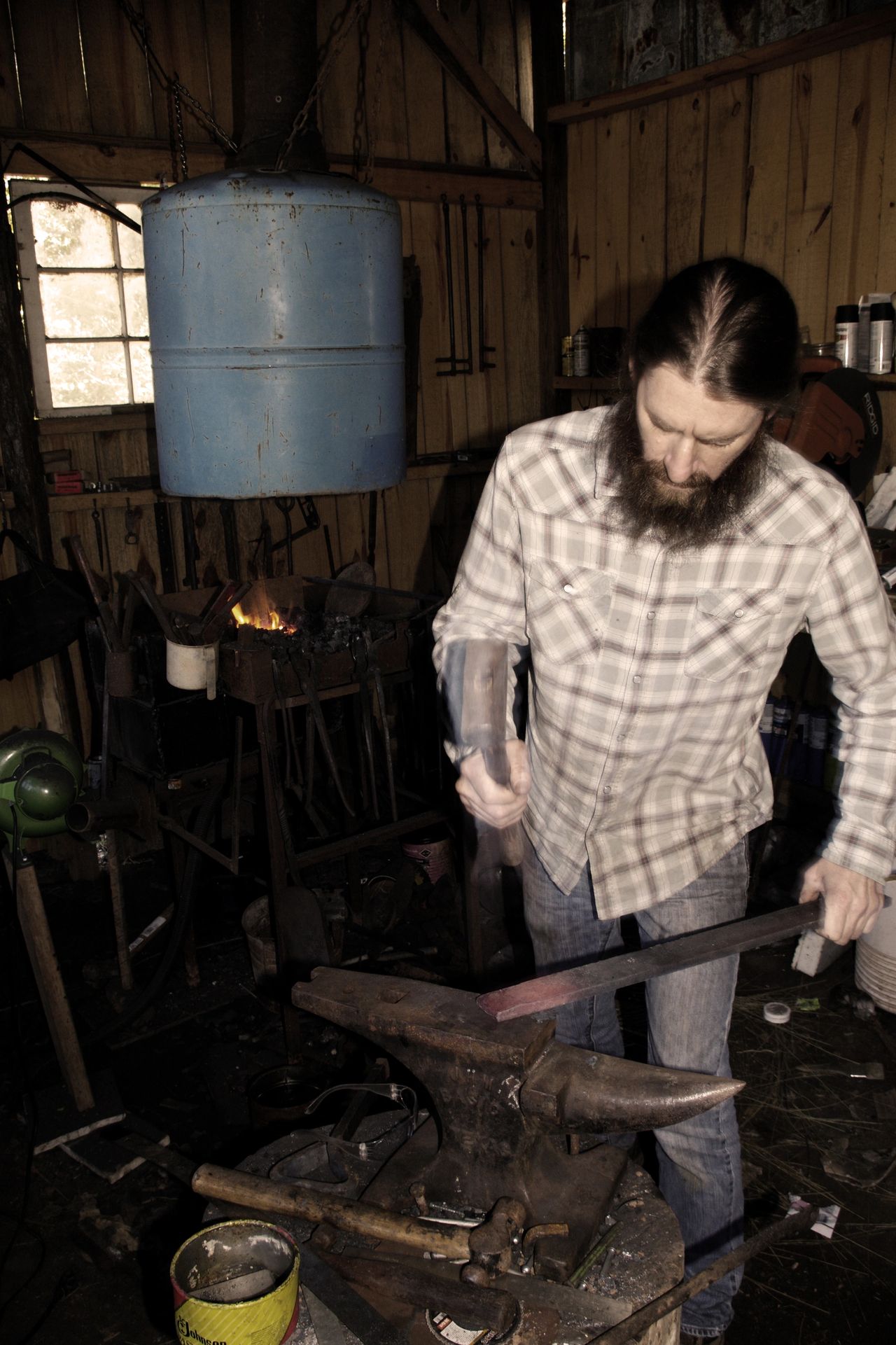 29 Oct

Member Artists Interview: Patrick & Leye Blount, Greenhow School Founders

There is a new school for blacksmithing, metalwork, and craft coming to the CSRA. Patrick and Leye Blount are a brilliant and fearless artist duo who have purchased a historic building in Wilkes County and are bringing it from a state of condemned decay back to use. The building at 123 North Jefferson Street, Washington, Georgia dates back to 1892 and was once a livery, a mule sales business, and a blacksmith shop. They are excited to be restoring the old building that will be an active blacksmith and craft school.

Patrick and Leye are no strangers to such a daunting task. The house that they live in now was scheduled for demolition when they "bought" it for free and then restored it. I've been watching the progress as they restore 123 North Jefferson on their dedicated YouTube channel, and watching them work is awe-inspiring
---
Click Here to watch a Youtube Series of Videos of the Restoration Process: https://www.youtube.com/channel/UCrNFwYC2k5198JZpY51IR3g
---
Patrick worked as a free-lance photographer for 12 years in the area around Athens. He and Leye bought a farm along the way and had mules. When the mules needed to be shoed, Patrick (a seriously D-I-Y kind of guy) decided to learn how to do it himself. Much like the children's book series, "If You Give a Pig a Pancake", if you give Patrick Blount a mule to be shoed, he will go to Farrier School, and if he goes to Farrier School, he will start making decorative pieces, which will lead to larger, architectural pieces, and then… Patrick went all the way to training with master smith, Dale Morse, for a year at the Virginia Institute of Blacksmithing. Patrick is now the only certified artist blacksmith in the state of Georgia. He says it was amazing to study under a master smith who had studied in Germany and Italy, and passed so much knowledge on to him.
Now, he wants to share that knowledge. When we talked the other day, he said he wants to "pass it forward so the craft doesn't die", and that he loves to teach. Thus the purchase of 123 North Jefferson Street, and the birth of the Greenhow School of blacksmithing, metalwork, and craft.
The Greenhow School will open in February 2022. It will start off with one-day, project-based classes on Saturdays—students will leave the class with a completed project they take home plus the basic skills that help develop everything a blacksmith needs to learn.
The Greenhow School will also be his workshop, and he and Leye plan to expand the class offerings to include a variety of crafts. They are hoping to have a small foundry for bas relief castings, a glassblowing space, and kilns for potters all on the first floor with the blacksmithing. Upstairs will house Leye's expertise areas of chair caning, broom tying, and basket weaving, as well as a dark room in which Patrick will teach folks the dying art of developing film.
They anticipate a creative flow, multi-craft learning space where different disciplines inspire each other with class sizes of 7-10 students at a time.
The Blount's know that there are so many talented artists in the area, they are confident that artists will seek to contract with them as teachers at the school, simply because the space will now exist.
The vision is big. The space is big.
Artists seeking to teach at the Greenhow School should send Patrick an email at [email protected] introducing themselves with a few sentences describing their work, their background, and discipline.
If people like the idea of this project, either for historic preservation, or to support an arts & crafts school, they can support the effort in a variety of ways.
Find out more at www.greenhowhandmade.com, just click on the Washington shop tab to learn more.
How to Follow Patrick and Leye on Instagram: