27 Oct

WATCH: The Making of The Spirit of Funk Mural

WATCH: The Making of The Spirit of Funk Mural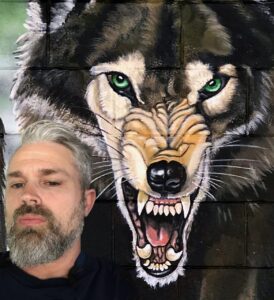 Cole Phail is a local artist who has created dozens of murals throughout the CSRA, including many local high schools and public gathering places. In March 2020 when the public voted in favor of his James Brown tribute mural, The Spirit of Funk, Phail got to work immediately.
The mural includes lyrics from many of James Brown's hit songs with nods to various stages of the beloved singer-songwriter's career. But painting the mural itself is only one step in a multi-phase process to take a mural from conception to completion. Phail worked with several sponsors including Master Productions to create videos throughout the mural creation process.
Preparing the Wall
Mural prep includes pressure washing, cleaning and priming the building's surface before the creative process can start. The prep services for The Spirit of Funk mural were donated by Color World Housepainting.
Sketching the Outline
Once the wall was adequately cleaned and primed, Phail began tracing the mural's details using a projector to cast his drawings onto the wall. The drawings were sketched in place and used as a guide to paint the mural. Because of the projector, the sketching could only happen in the evenings when it was dark enough to project the images onto the wall.
Painting Begins
Phail worked on the mural for several weeks, completing the mural in October 2020. There were many times that Phail was stopped by members of the public and asked about his work. He talks fondly about all the new friends he made during this process.
"This whole process has been such an amazing experience," Phail said. "The many stories I've heard and the people I've met that knew James has made this experience so much richer."
This public art project was managed by the Greater Augusta Arts Council, and has been made possible through a grant from the Augusta Convention and Visitors Bureau, with a matching fund component from the City of Augusta. In addition, through their in-kind investment to the All In Augusta campaign, Yancey Brothers has provided a scissor lift to be used in the work. Yancey Brothers is the "Nation's Oldest Caterpillar Dealer" and a Georgia company since 1914. Yancey Rents is the division from which the equipment rental was received. Evette Hunter, of Color World HousePainting of Augusta, donated the prep and priming work and Sherwin-Williams has donated paints and materials for this project. Mr. Rafik Bassali, as the owner of the building has graciously agreed to allow this mural to be placed on his property.
To support ongoing public art efforts please visit the Support Arts page to make a donation or to learn more.