03 Jul

WORK BEGINS ON NEW JAMES BROWN MURAL IN AUGUSTA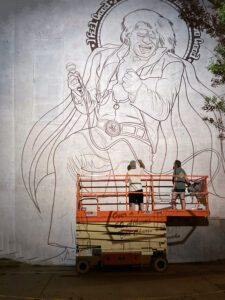 WORK BEGINS ON NEW JAMES BROWN MURAL IN AUGUSTA
Cole Phail won the community's votes to create his mural, "The Spirit of Funk," in early 2020 and has begun work to complete the mural. Please note that traffic between Broad Street and Jones Street will be closed during the next several evenings to facilitate this project.
"It is exciting to see the James Brown Mural come to life in Downtown Augusta," said Brenda Durant, Executive Director of the Greater Augusta Arts Council. "The location, on the corner of Broad and 9th Street, allows us to watch the progress on a daily basis."
There are several ways to enjoy Phail's art and creation process. The Greater Augusta Arts Council is the organization administering the creation of the mural; it will publish and promote videos showing the mural completion online via the Arts Council's social media accounts. During the early evenings over the next few days Phail will be projecting the mural's image, weather permitting, and community members are welcome to observe the process. The Arts Council strongly encourages social distancing and the use of face masks.
This new public art has been made possible through a grant from the Augusta Convention and Visitors Bureau, with a matching fund component from the City of Augusta. In addition, through their in-kind investment to the All In Augusta campaign, Yancey Brothers has provided a scissor lift to be used in the work. Yancey Brothers is the "Nation's Oldest Caterpillar Dealer" and a Georgia company since 1914. Yancey Rents is the division from which the equipment rental was received. Evette Hunter, of Color World HousePainting of Augusta, donated the prep and priming work and Sherwin-Williams has donated paints and materials for this project.