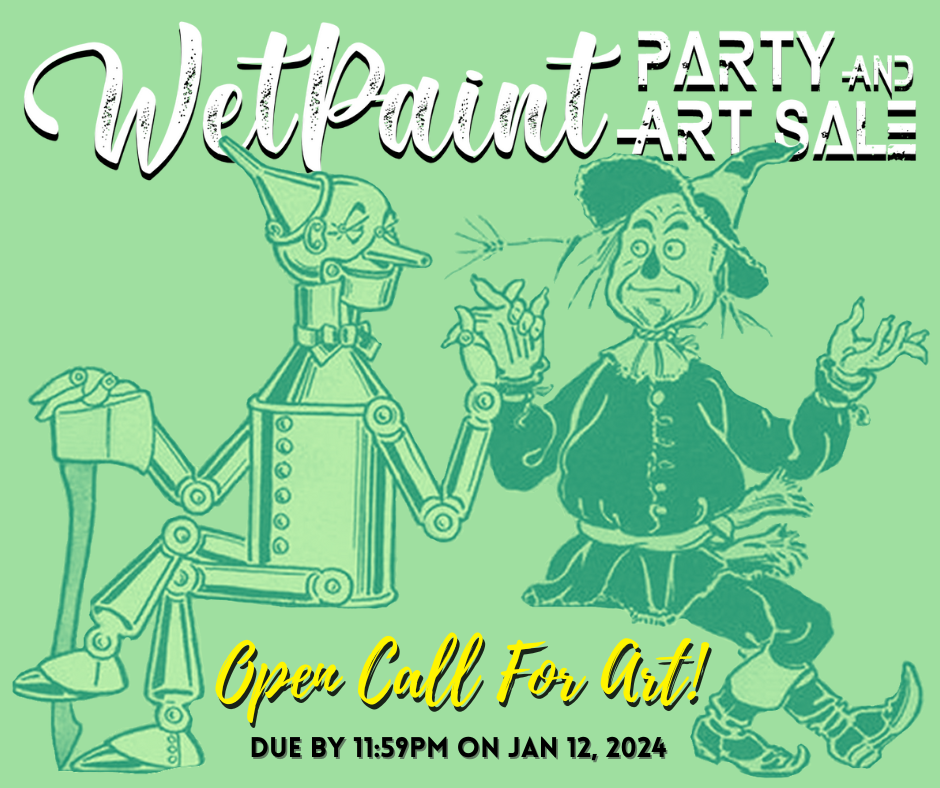 06 Dec

APPLY | WetPaint Party and Art Sale 2024 | Due Jan 12, 2024

Submit to the Greater Augusta Arts Council's Annual WetPaint Party and Art Sale!

The Wet Paint Party & Art Sale is an event held by the Arts Council as part fundraiser, part soiree and part art auction. Held annually, this gathering of arts lovers, supporters and artists occurs in late February to early March. Those with Supporter Level Membership & higher are able to attend at no additional cost. The purpose of this event is to bring together artists and patrons, to foster funds for participating artists through arts sales via the silent auction, and to raise funds for the Arts Council's mission to further the vibrant arts and culture in the Augusta River Region. Many WetPaint Party events have also seen live fashion show components and, in recent history, dazzling models dressed to fit the event's theme – this year is the Wizard of Oz!

The artwork does not need to be in the event theme, but does need to be recent (made within the last year).

Artist members of the Greater Augusta Arts Council who are up to date on their annual dues are able to submit artworks into this showcase. If you are not a current member, you will need to pay a minimum of $35.00 to submit work. This fee will earn you a membership with added benefits such as a feature on our Artist Directory, access to the Arts Council Technology Lending Library, members only rates for select programs and events, and more. You can follow the link in the form below to sign-up.

Deadline to submit is January 12, 2024 by 11:59pm

The Greater Augusta Arts Council processes all sales. Artists receive 80% of listed sales of their work, with 20% going to the Arts Council as commission. If a piece is bid up from the asking price, the Arts Council receives any bids over the asking price set by the artist. This is all to help cover the cost of putting together this amazing annual event.

The Arts Council is excited to welcome auctioned service packages again for the 2024 auction.

If you are an artist that would like to list a package of your services in the auction, in lieu of a physical work, we would be thrilled to include your talents! Examples might be pet portraits, tattoos, professional headshots, graphic design or business logo creation, arts lessons such as painting, instrument or dance lessons, and interior design consultations.

Event Date: Saturday, March 9, 2024
Location: the Sacred Heart Cultural Center at 1301 Greene St. Augusta, Ga 30901

Below are required to participate in WetPaint:

1. Due to limited space, only one complete artwork or package may be submitted per artist.

2. Artwork must be recent work completed within the last calendar year.

3. Selected artists are required to attend drop off the morning of this event. More details on this will be sent out upon acceptance. Drop off is normally scheduled for 9am-11am. If you cannot attend drop off and your work is accepted, please plan to have a representative, friend or family member deliver your work, along with a signed contract and W9. Please let us know in advance if you are unable to bring your work yourself.

4. Participating artists are required to attend this event and stay through to the end. If their work does not sell, the work must leave with the Artist or a representative of the artist. To ensure the artwork's safety and security, artworks must be checked out with an Arts Council WetPaint team member.

5. Pieces must be no larger than 48″ in any direction. This includes the frame.

6. The average sale price for this event is $400 or less. Artists should consider this, and the commission, when determining pricing for their piece. There are no set pricing requirements.

7. All mediums are accepted, including sculpture, ceramics, painting, photography, etc. Packages (such as instructional sessions or credit for future services) can also be submitted below, with a description and some kind of demo image.

8. Participating artists will be required to fill out a W9 and contract. This can be done prior to but by no later than, drop off day.

9. Artists at the basic membership level do not get a plus one for this event. Please encourage any friends or family who would like to attend to purchase a ticket to help support the arts.

10. Artists should plan to bring their own display easel for their artwork. The Arts Council has a very limited number of easels artists can reserve upon acceptance.

Contact us with any questions as to suitable art or service packages for submissions. Email Heather at [email protected]
Submit in the link below!
https://augustaarts.info/SubmitWP2024