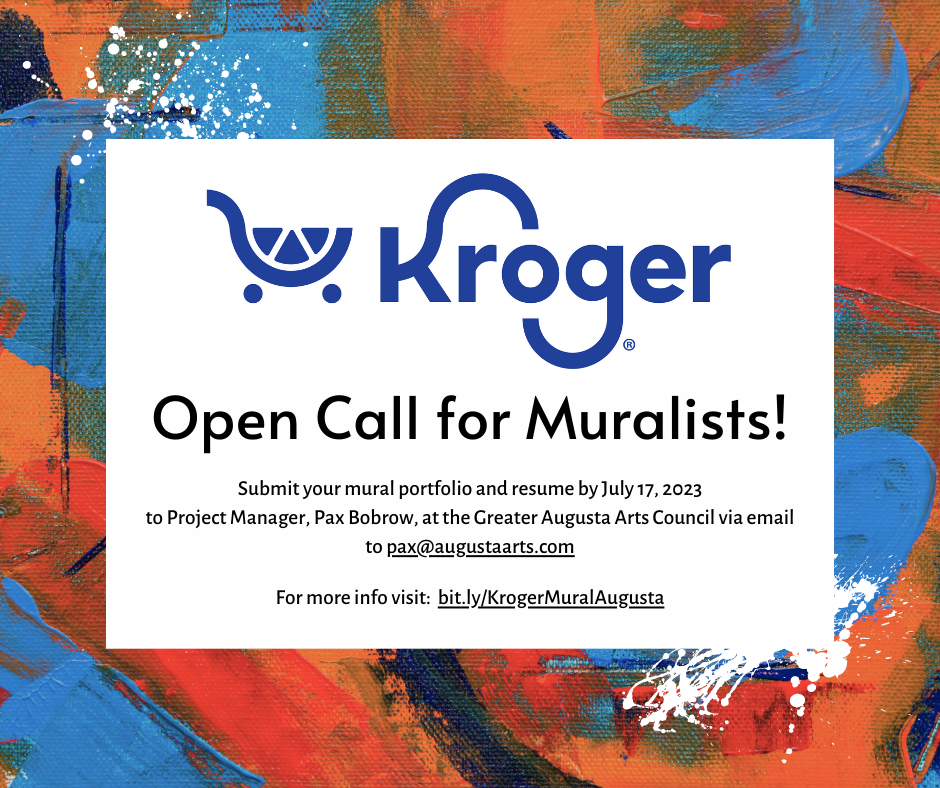 02 Jun

Call for Artists: Indoor Mural at New Kroger

Indoor Mural at New Kroger

3942 Harper Franklin Avenue, Augusta, GA 30309

This is a 2-step call:

-Deadline to submit artwork portfolio and qualifications: July 17, 2023

-Invitation to three (3) artists to submit proposals: August 1, 2023

-Deadline for 3 invited artists to submit proposals: September 20, 2023

-Artwork creation: December 1, 2023 – February 23, 2024

-Artwork installation: March 1, 2024

-Artist Stipend: 3 finalists will be paid $400 to create proposals, winning

proposal artist will be paid $10,000 to complete mural

The Greater Augusta Arts Council, on behalf of The Kroger Co. is seeking local artists interested in creating a large-scale, indoor mural celebrating Augusta, GA at a new Kroger that will be opening in March 2024, near Fort Eisenhower Gate 1.

Local artists are asked to submit:

-3 to 6 examples of their work (reproductions only, not the original pieces)

-a list of completed commissioned works with dates & locations

-a brief bio that includes an explanation of the artist's connection to Augusta

-a professional resume/cv

All applications will be reviewed by The Kroger Co., and three (3) artists will be invited as finalists to create design proposals. Finalists will be paid $400 for their submitted proposals.

From those finalists, one (1) artist will be selected to create the mural, after some expected finalization of the design with Kroger. The selected artist will be paid $10,000 for the creation of the chosen mural design.

About the mural:

The mural will be displayed in the cart vestibule as one enters the store. The size of the artwork will be 24 feet wide x 8 feet high. The artwork needs to occupy the space, but can be any shape and contain gaps, if desired.

The preferred method of mural creation will be on durable panels that can be delivered to the store in a completed state, so that the mural doesn't get damaged during store construction. If an artist wants to work directly on the wall, The Kroger Co. may be able to accommodate.

The artwork must be original and one-of-a-kind. Digital print or photography that can be reproduced will not be accepted as a medium. Any physical medium, such as paint, tile, metal, glass, or other durable, easily maintained materials will be considered, so long as the materials are well affixed to the panels and the panels do not warp.

How to apply:

Artists wishing to apply should send their application materials to Pax Bobrow, Project Manager at the Greater Augusta Arts Council.

Application materials may be emailed to

[email protected]

or delivered by hand during regular office hours (9:30 am – 4:30 pm M-F) at the Arts Council's offices in the Sacred Heart Cultural Center, located at 1301 Greene Street, Augusta, GA 30901.

No late applications will be considered. Do not try to hand-deliver materials outside of office hours.

For more information, please email

[email protected]

or call the Arts Council office at 706-826-4702.