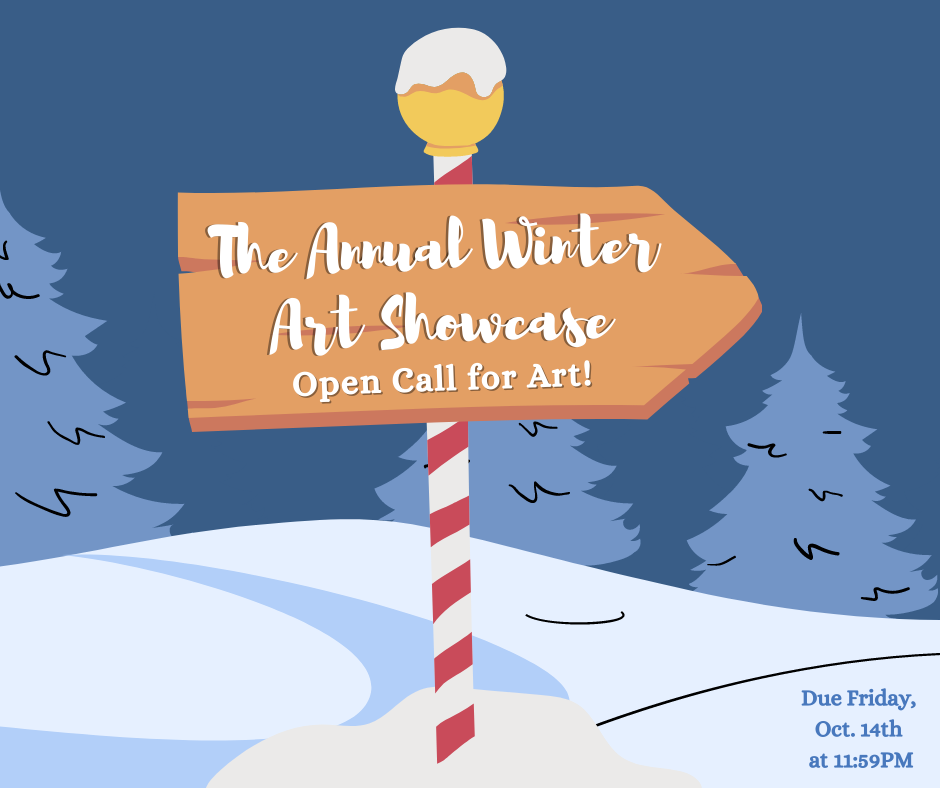 22 Aug

Open Call for Art! The Annual Winter Art Showcase at Augusta & Co. and City Gallery

Thank you for your interest in showing artwork in the annual Winter Art Showcase! This exhibition is organized to showcase locally made artworks with holiday gift giving in mind. All works are priced to sell at $200.00 or less!

This year's showcase will be an art takeover of both the City Gallery and the Augusta & Co. Gallery. With the City Gallery running from November 2nd, 2022 – February 1st 2023. Augusta & Co. Gallery from November 3rd, 2022 – January 5th, 2023.

All selected artworks will be due to the Greater Augusta Arts Council Office by Tuesday, November 1st at 3:00 PM.

The Greater Augusta Arts Council, along with Gallery Director Heather Dunaway, curates these visual arts galleries in partnership with Augusta & Co and the City of Augusta. They do so with a goal to support local artists by showcasing their artworks in a high traffic location for locals, city officials, and visitors alike to better understand the vibrant arts we have in Augusta's River Region.

The deadline to submit for the Winter Art Showcase will be Friday, October 14th by 11:59 PM. Submissions can be new or older works. Works DO NOT need to be Winter or Holiday themed. We encourage artists to submit pieces of all 2D mediums. If 3D will need to be wall hangable.

Artists that have been selected will be announced on Friday, October 21st by 6:00 PM.

To be considered for this showcase the following must be met:

1. Artworks must be family friendly. Works may not feature nudity or violence of any kind.

2. Artworks must be made by the Artist submitting.

3. Artists must live in the Augusta River Region.

4. Artworks may not be larger than 36 " x 36″ or 3ft x 3ft (before framing). We have limited space available.

5. All artworks must be hangable from a Walker System, which is a rod-rail system that utilizes 4″ wide, vertically adjustable French cleats on rods suspended from a rail system.

6. All selected works must be finished, dry, presentable and ready to hang (from wire) by drop off. Please, no hole, claw or single ring hangers on frames. Works that are not compatible with the Walker System will not be hung in this showcase. All works must be labeled on the back with artist's and artwork's information.

7. All artworks must be for sale at $200.00 or less. Please keep in mind, the gallery's commission is 60% / artist, 40% / gallery. Pricing provided should reflect this. There will also be a State Sales Tax of 8% added for each sale.

There are no fees to enter, but a 60% artist / 40% gallery commission will be remitted from each sale. This commission helps to cover the cost of organizing, hosting and promoting the exhibition.

All gallery sales will be processed through the Augusta & Co. Shop and the Greater Augusta Arts Council. The Augusta & Co. Gallery operates on a quarterly pay processing system. Meaning sales made through Augusta & Co. will be cut and mailed at the close of the showcase. Checks for all sales will be mailed to the address of each artist (provided on their W9)..

This being a holiday sale, works will allowed to be taken upon purchase. Any sold works will be distributed to the buyers by Augusta & Co. and the Greater Augusta Arts Council. Any unsold artworks will need to be picked up by the artist or a representative of the artist in the week following the close of the exhibition. For Augusta & Co. Gallery's artworks, this will be the week of January 9th. For the City Gallery, this will be the week of the week of the 6th. All works will be picked up from the Arts Council offices.

Upon acceptance into this showcase, artists will be informed as to which gallery each of their selected works will be on display in. If submitting more than one work, artist may have works between two galleries. Gallery selection for artworks is based off submissions themes, available space, and the overall feel.

Space is limited! Each artist will be able to submit up to four works to be featured. This does not guarantee that all works will selected. This depends on the amount of wall space, submissions, and general feel for the show. We encourage all artists interested in showing to visit the City Gallery and Augusta & Co. Gallery prior to submitting.

Artists who have artworks selected to be featured in this exhibition must plan to fill out a W9 form, sign a Gallery Contract and provide a complete inventory of artworks.

Follow the link below to apply!