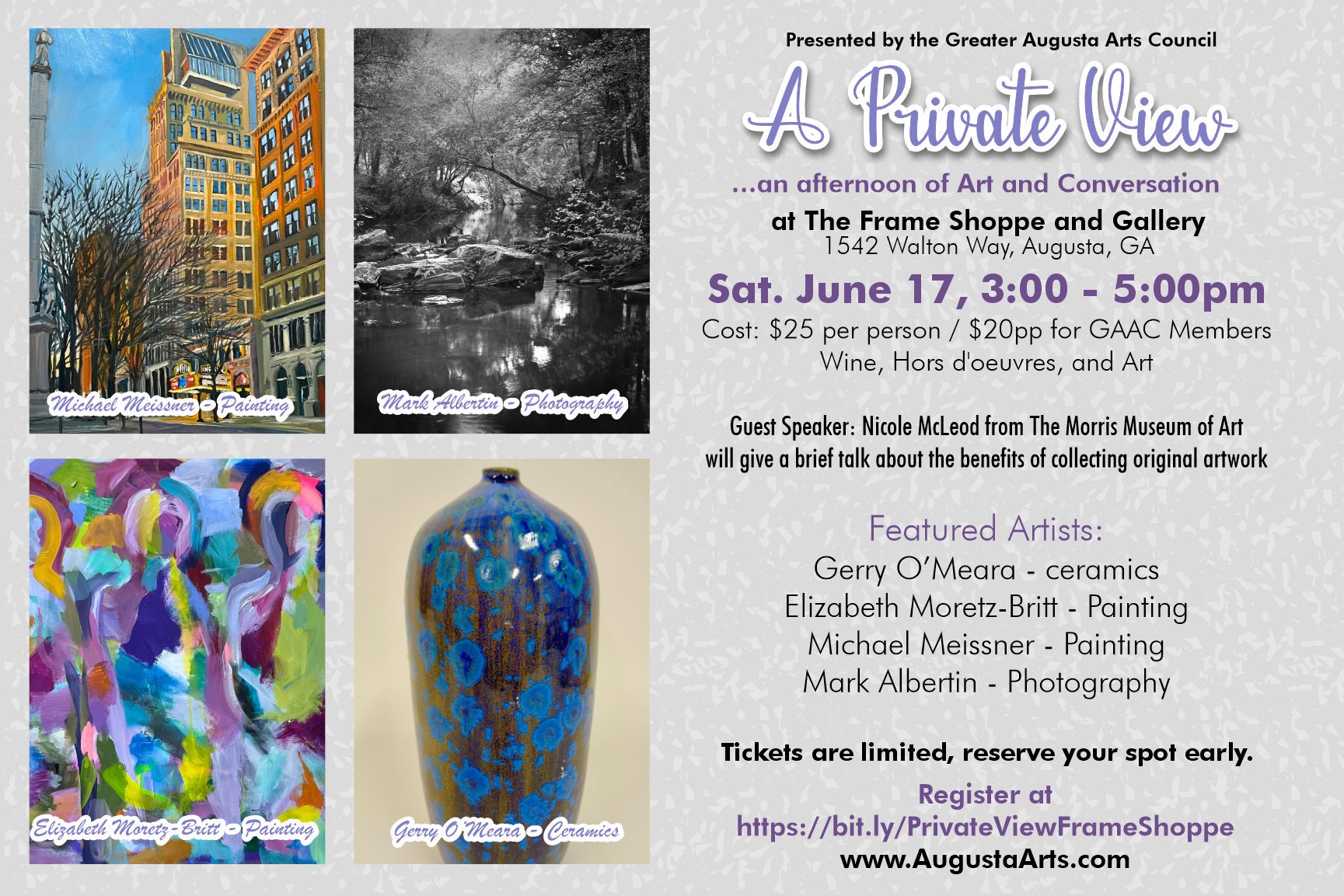 17 May

A Private View at the Frame Shoppe June 17, 2023

FOR IMMEDIATE RELEASE
Augusta, GA

May 17, 2023

A Private View – An Afternoon of Art and Conversation on June 17, 2023

 

The Greater Augusta Arts Council has a new Private View' event scheduled for Saturday June 17th (3-5pm) at the Frame Shoppe and Gallery located at 1542 Walton Way. Cost is $25 per person or $20 per person for GAAC Members. Wine, Hors d'oeuvres, and Art will be served.

Nicole McLeod from The Morris Museum of Art will give a brief and informal talk about the benefits of collecting original artwork.

Featured artists include:
Gerry O'Meara – Ceramics
Elizabeth Moretz-Britt – Painting
Michael Meissner – Painting
Mark Albertin – Photography
Gerry O'Meara's preferred process is throwing on the wheel with the primary intent of creating functional pieces that are both unique and aesthetically pleasing.  Nature inspires her palette and surface designs. www.instagram.com/gerryomearaart/
Color and light play a strong emphasis in Michael Meissner's work. Oil is the medium with brush and occasional palette knife work to accent and emphasize important shades, Michael covers a wide range of landscape subjects. Scenes of the Augusta, Georgia area are the main focus, but Michael like to explore the scenes of the American west with its wide vistas of red rocks and open sky. www.meissnerfineart.com
Mark Albertin has always loved working with film. There is something to be said for spending time in the darkroom and adjusting light on paper to get the desired result. With decades of experience working with film and the analog process, he began seriously taking fine art photographs in 2016. Shooting with multiple camera formats ranging from medium format to 4×5, 5×7, and 8×10, he creates large negatives which give extreme resolution, tonal range, and clarity. All processed from negative to archival print in his darkroom. He is currently working on a book that features his film work from across Georgia and South Carolina.
Elizabeth Moretz-Britt commented about her art, "The richness of growing up in my family here in Augusta is hard to overstate. As the years have gone by, I have come to realize the magnitude of what I have received. As a third generation artist I am thankful for my BFA degree in Drawing and Painting from U.G.A., drawing weekly from life models and presenting to the viewer an experience of colorful, intuitive figure paintings – joyful and energy filled."
Tickets are limited, reserve your spot early. Register at https://bit.ly/PrivateViewFrameShoppe
or visit www.AugustaArts.com for more details.
# # #
Media Contact: Rhian Swain, RedWolf – [email protected] 706-414-3116