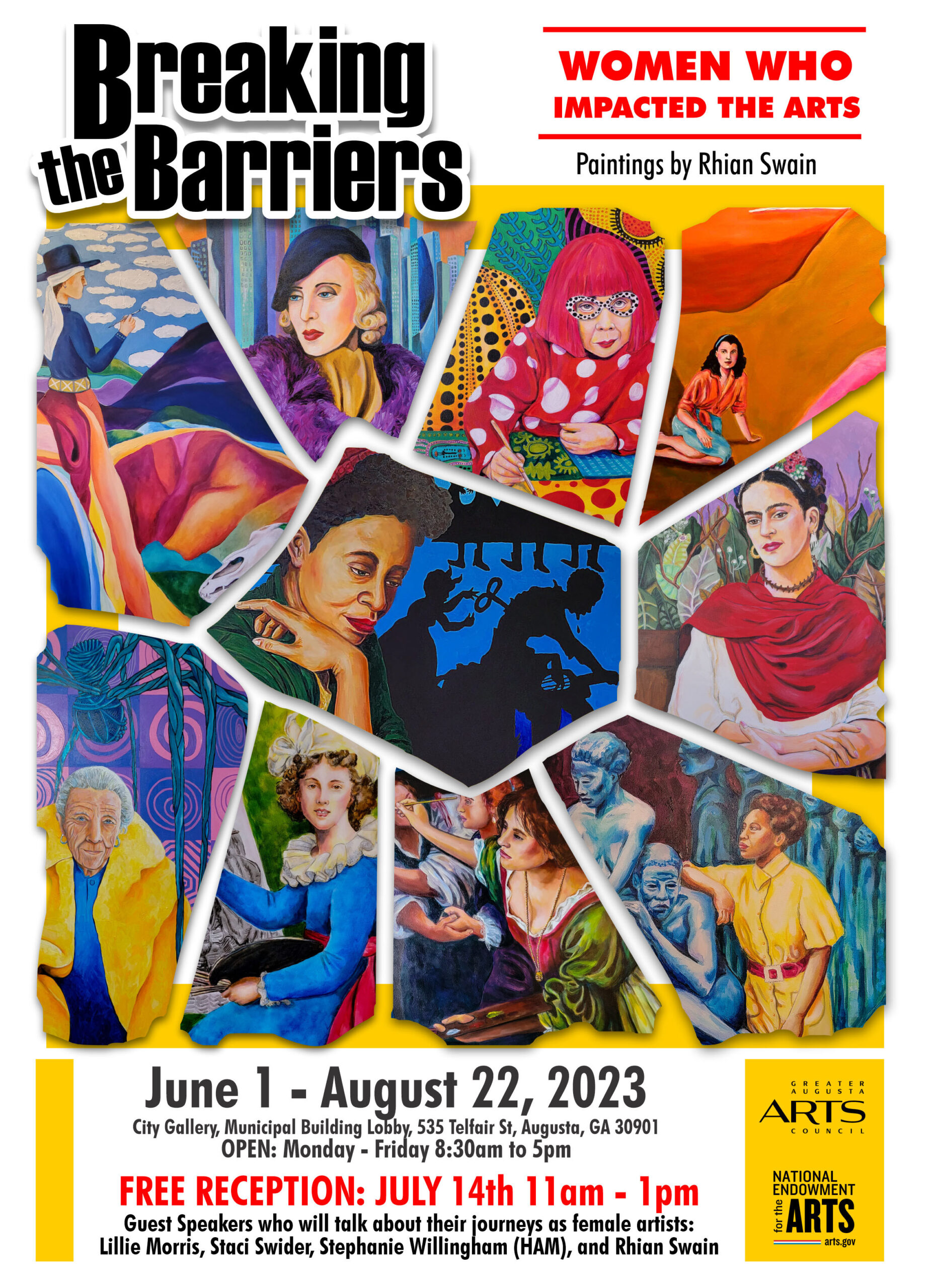 05 Jul

Breaking the Barriers Reception July 14th from 11:00 a.m. – 1:00 p.m.

FOR IMMEDIATE RELEASE
Augusta, GA

July 5, 2023

Breaking the Barriers: Women Who Impacted the Arts Exhibit Reception July 14

The Greater Augusta Arts Council is pleased to present the Breaking the Barriers Art Exhibit Reception at the Municipal Building, located at 535 Telfair Street on July 14, 2023 from 11:00AM until 1:00PM. Light refreshments will be served with a short panel discussion by local women artists.

Breaking the Barriers is a collection of portrait paintings that pay tribute to famous women artists by Augusta-based artist Rhian Swain. The free reception will feature local artists who will speak about their journeys as women artists. Speakers include Lillie Morris, Staci Swider, Stephanie Willingham, and Rhian Swain.

Ask most people to name some famous artists and many can probably name Van Gogh, Picasso, Leonardo Da Vinci, perhaps Banksy; and one or two might even mention Frida Kahlo or Georgia O'Keeffe. When adults and children are queried about "famous" artists, women artists do not typically come to mind.  Yet women have been groundbreaking artists, as talented and impactful as their male counterparts.

 

Breaking the Barriers is a traveling exhibit that includes 13 portraits of female visual artists who have made an impact on the arts throughout history, as well as locally. The series of paintings shine a light on some of the women who have had remarkable achievements in the visual arts. Louise Bourgeois is recognized as one of the most important artists of the 20th Century and is best known for her enormous spider sculptures and installations. Sculptor Augusta Savage was one of the leading artists of the Harlem Renaissance. Berthe Morisot, a French Impressionist, who was the only woman invited to show in the very first Impressionist exhibition in 1874. Iconic 94-year-old Dot Queen Yayoi Kusama continues to astound the world with her Pop art. Those are just a few of the many portraits to be seen at the exhibition.

Rhian Swain received an NEA grant from the Greater Augusta Arts Council to help fund the creation of the painting series.  Rhian Swain has a Bachelor of Fine Arts from the Atlanta College of Art. She is a painter, photographer, designer, illustrator, writer, and former talk show host. She has participated in many local exhibits, including shows in the Community Gallery of Augusta, at the 4P Studio' Gallery at 600 Broad St., at Le Chat Noir, The City Gallery at Augusta Richmond County Municipal Building, Private View, Annual WetPaint Party and Art Sale, Sacred Heart Cultural Center, Augusta Cotton Exchange, D'Timms, and the Lucy Craft Laney Museum of Black History.  Rhian is also owner of RedWolf Advertising, an Augusta-based agency that was established in 1997.  She serves on numerous arts-related committees and is currently serving as President of the Greater Augusta Arts Council Board of Directors.

# # #

Media Contact: Rhian Swain, RedWolf – [email protected] 706-414-3116

Greater Augusta Arts Council :: 1301 Greene St. :: Augusta, GA 30901

The mission of the Greater Augusta Arts Council is to enrich the quality of life for citizens and visitors of
Augusta's River Region by advancing vibrant cultural arts.