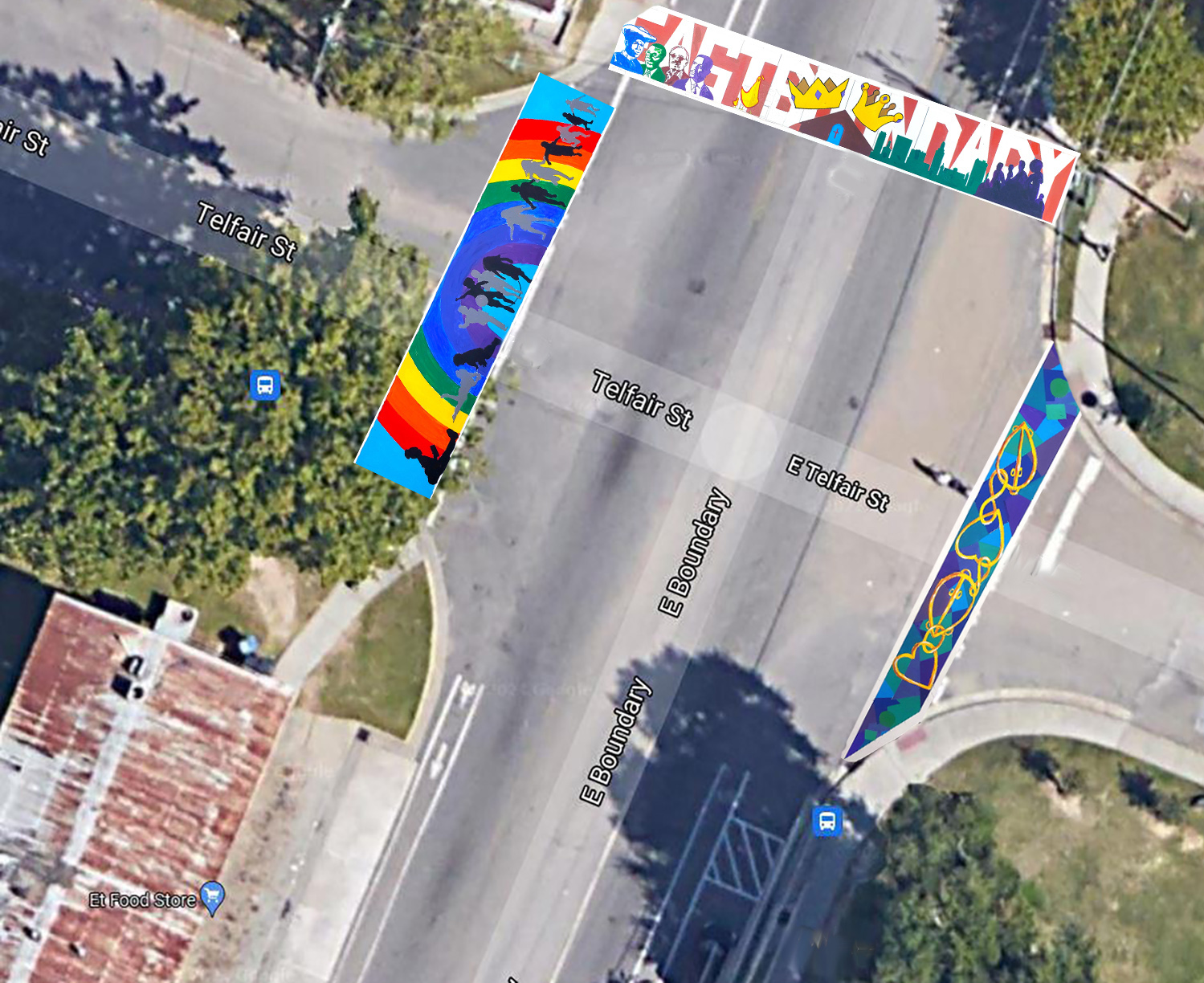 01 Jun

East Augusta Community Mural Celebration on June 10th!
East Augusta Community Mural Celebration on June 10
On June 10, 2023 District 1 Commissioner Jordan Johnson will host an East Augusta Community Block Party to celebrate the completion of new crosswalk murals in the East Augusta community. The Block Party is organized with the help of the Greater Augusta Arts Council, Felicia Rhodes of Magnolia Court Apartments, Angela Bakos of Resourced Augusta and Chef Cassandra Loftlin of Goodness Gracious Grocery. It will be from 11:00 am until 3:00 pm. The block party will include local vendors, food trucks from K's Wings and Maryland Fried Chicken, Kona Ice and Ice Cream, live music, dancing, and a fresh fruits & veggies giveaway by Goodness Gracious Grocery. The event is free to the public.
In addition, Commissioner Jordan Johnson will present the Community Champion Award to local community leaders: Wayne Lanier, Dolly Jones, Bishop Rosa Williams, Rev. William Blount, Rev. Johnny Hampton, and Rev. Brendolyn Jenkins Boseman.
Augusta's Public Art Advisory Panel used pedestrian safety data and AARP study to determine that the intersection of East Boundary and Telfair Streets is hazardous to people attempting to cross between houses on one side and businesses on the other. In 2023 The Greater Augusta Arts Council received a prestigious South Arts Cross-Sector Impact Grant (one of only 16 recipients in 2023 across a nine-state region) for crosswalk art in the East Boundary and Telfair intersection.
Local artist, Ray Sturkey led a series of community conversations to determine how residents in the East Augusta neighborhood, next to the intersection, would want to be represented in murals on the crosswalks. The community and Ray worked together for 5 months to create designs that feature the themes of PEACE, LOVE, and TOGETHERNESS in East Augusta. With the help of several residents of the nearby Magnolia Court Apartments and surrounding area, Ray will paint the mural designs into the newly striped crosswalks during the first week of June.
Augusta Traffic Engineering put in new ADA ramps at one corner of the intersection, re-striped existing crosswalks, created a new crosswalk where there had not been one across East Boundary Street, and installed pedestrian activated crossing beacons so that people crossing can signal to drivers to slow down and give them time to cross.
This project is funded, in part, by a grant from South Arts in partnership with the National Endowment for The Arts and Georgia Council for the Arts, with matching funds from a private Augusta donor.
About Ray Sturkey
Ray Sturkey is a Ceramic and Arts Teacher at Evans High School.
"As an artist, my creative practice is driven by a deep commitment to artistic excellence, innovation, and community. I strive to create new works that push the boundaries of contemporary art and challenge viewers to engage with complex ideas, perspectives, and dialogue. With the support of organizations, the Greater Augusta Arts Council, I can share my work with diverse audiences and foster vital intellectual exchange that promotes social and cultural engagement. Finally, my focus on public connection aims to inspire and educate diverse audiences, breaking down social, cultural, geographic, and economic barriers through meaningful collective experiences."