23 Oct

GRADY ABRAMS RETROSPECTIVE EXHIBIT NOW ON DISPLAY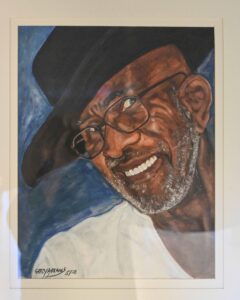 GRADY ABRAMS RETROSPECTIVE EXHIBIT NOW ON DISPLAY
former commissioner and community activist's work showcased at Municipal Building
Augusta, GA – The Greater Augusta Arts Council is proud to announce the Grady Abrams Retrospective exhibition, coordinated with the May 1970 Augusta Riot Observance Committee and the City of Augusta. This exhibition is available for viewing Monday through Friday from 9am to 5pm at the Municipal Building in Downtown Augusta through November 20, 2020.
Grady Abrams is one of the pivotal figures in the story of the 1970 uprising in Augusta. An Augusta native, Mr. Abrams' legacy is firmly tied to two things: his love of painting and community activism. The latter found him in the middle of a turning point in Augusta's history: The uprising of May 11 – 12th, 1970, most remembered as the 1970 Augusta Riot.
Mr. Abrams was one of a few African American city councilmen at the time of the riot. He formed a grassroots, civil rights watchdog group dubbed "The Committee of Ten" by the local media. Led by Mr. Abrams, Leon Larue and other activists, the Committee of Ten initiated social action measures to include voter registration drives and community rallies that called attention to the problems plaguing many of the African American communities in Augusta.
There are 20 of Abrams's paintings on display in the gallery that depict scenes of daily life, including one portrait of the Committee of Ten. Each piece is available for sale and can be purchased online. The paintings can also be purchased by calling the Greater Augusta Arts Council and arranging payment.
This exhibit will be in place until November 20, 2020. At that time the majority of the paintings and pieces will be taken down and given to their respective buyers. If visitors to the area wish to purchase a painting before the end of the show, the Arts Council can make special arrangements to have pieces sold on site.
The Greater Augusta Arts Council would like to thank Mr. Abrams's family for allowing this showcase to take place. The exhibit is a powerful look into social change and activism both in Augusta and throughout the nation.
###