16 Oct

JAMES BROWN 'SPIRIT OF FUNK' MURAL COMPLETION & UNVEILING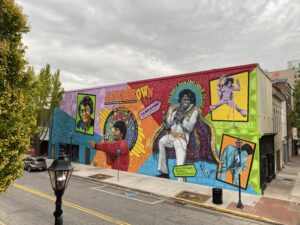 JAMES BROWN MURAL COMPLETION & UNVEILING
Augusta, GA – The Greater Augusta Arts Council is proud to announce that Cole Phail's mural, "The Spirit of Funk," has been completed.
The Greater Augusta Arts Council, the Augusta Convention & Visitors Bureau and the City of Augusta welcome the community to a public unveiling and press conference on October 27, 2020, at 2pm. This event will take place at the newly completed mural located at 9th and Broad Street. Several key community leaders will speak, including a City of Augusta Representative. Please note that masks are mandatory and six-foot social distancing rules will be in effect at this gathering.
"This whole process has been such an amazing experience," said Phail. "The many stories I've heard and the people I've met that knew James has made this experience so much richer. I will miss all my new friends but plan to visit downtown more often."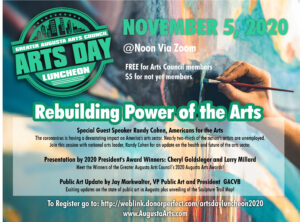 This new public art has been made possible through a grant from the Augusta Convention and Visitors Bureau, with a matching fund component from the City of Augusta. In addition, through their in-kind investment to the All In Augusta campaign, Yancey Brothers has provided a scissor lift to be used in the work. Yancey Brothers is the "Nation's Oldest Caterpillar Dealer" and a Georgia company since 1914. Yancey Rents is the division from which the equipment rental was received. Evette Hunter, of Color World HousePainting of Augusta, donated the prep and priming work and Sherwin Williams has donated paints and materials for this project.
To support ongoing public art efforts please visit the Support Arts page to make a donation or to learn more.
###