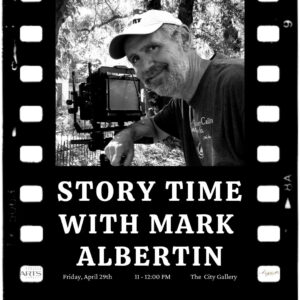 The Greater Augusta Arts Council is excited to showcase Augusta Artisans on Film by Mark Albertin now through May 4, 2022. The exhibit is open Monday – Friday from 9 – 5:00 PM at the City Gallery, which is located on the ground level of the Municipal Building at 535 Telfair St. in downtown Augusta, GA.
In creating the photography series, Albertin's goal was to capture a few of the many craftspeople who make up the Augusta River Region. His focus was film, not digital photography, utilizing a craft that is rarely seen in photography anymore: prints produced from negatives on fiber photo paper. In all, Mark Albertin photographed a husband-and-wife luthier team, a jewelry artist, a metalsmith bike frame maker, a potter, a paper card artist, a charcoal/watercolor artist, a brewer, and finally a chocolatier.
In addition, a special closing reception for Augusta Artisans on Film will be held May 7th at Riverwatch Brewery from 5-7:00 PM. Food and drink will be made available for purchase through Riverwatch Brewery and a TBD Food Truck. Both the exhibit and closing reception are open to the public at no cost. The artworks on display are not for sale, but prints may be made available upon request and can be purchased through contacting the Greater Augusta Arts Council for the duration of the exhibition.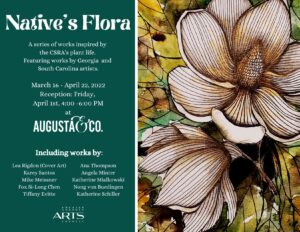 The Arts Council is also pleased to announce a new group exhibit Native's Flora by Georgia and South Carolina based artists, including Lea Rigdon, Karey Santos, Mike Meissner, Fox Si-Long Chen, Tiffany Evitts, Ana Thompson, Angela Minter, Katherine Mialkowski, Nong von Buedingen and Katherine Schiller. These artists have been inspired to create works of the plant life that we see here in the Augusta River Region. Native's Flora will be on display at Augusta & Co from March 16 to April 22nd with an opening artist's reception April 1st from 4-6PM at Augusta & Co, 1010 Broad Street.
If you are interested in purchasing any of these works, see the front desk at Augusta & Co. or visit their website. For more information on local art shows, public art and art happenings here in Augusta, please visit www.augustaarts.com.
The next exhibition at Augusta & Co. will be Landscapes, which is a body of work completed by the seniors at the Georgia School of Innovation and the Classics. Focusing on iconic buildings and monuments from all around the Augusta River Region, these students have a unique view of our city and have translated that into beautiful artworks. This showcase will be April 22nd through May 20th, with an opening reception April 23rd from 2 – 4:00 PM.
The next showcase in the City Gallery will feature works by Michael Meissner. Titled ESCAPES, this series of oil paintings will be up from May 4th through July 6th with an opening reception and live painting with Michael Meissner on Friday, May 6th from 11:00 AM – 1:00 PM.
If you are an artist interested in showing your work at Augusta & Co., please email Heather Dunaway at gallery@augustaarts.com.