18 Sep

Art Adventures: 4P Studio Show with Francie Klopotic
Art Adventures: 4P Studio Show with Francie Klopotic
By Brenda Durant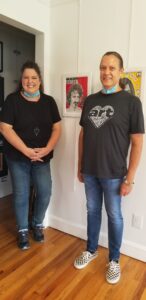 Francie Klopotic was The Arts Council's featured artist just a few weeks ago.  But when Rhian Swain and I heard she has her FIRST one-woman show at 4P Studios in Martinez we knew we had to attend.  We met on a weekday afternoon, greeted by Francie and her husband Dean.  Mary Schroer, President of the Greater Augusta Arts Council Board of Directors also joined us, making us a merry band of five art adventurers.  Francie gave us a tour of the show as she talked about her inspirations and creative processes.
I teased Francie that she is a rule breaker.  Francie will announce, on Facebook, "I think I will try watercolors" or "I think it's time I write another book." I've noticed that many people will expend all their energy talking about the 'doing' that they should reserve for the act of 'doing'.  And then the actual doing never gets done. But, Francie… Francie constantly surprises me.  She embarks on a new novel and shares updates as she progresses. And voila, a novel is done. She announces she's going to take her first drawing class and suddenly she has an entire one woman show of portraits. She decides to explore color, takes her first watercolor class, then produces an entire series of paintings based on music.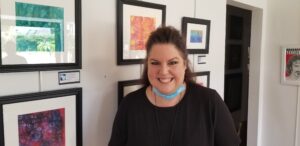 Francie has Synesthesia*—she sees music as colors.  In a lovely twist, Francie's husband Dean is a musician. Their daily life is often Dean in his home studio playing music while Francie is next door in her studio painting what she hears. The only word for it is magical.
At age 10, Francie taught herself to draw portraits.  Two years ago she rededicated herself to her art and picked up a pencil.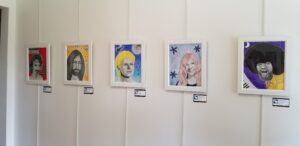 Now she is creating amazing work again. Her current series pays homage to musicians and artists – I saw many favorites including: Janice Joplin, Warhol, Dali and Jimi Hendrix. There is a wall of pencil drawings and a series of watercolors and college.  I loved it all.  The current show is worth a visit.
The 4P Gallery space is small, which is why our merry band of art adventurers avoided the opening and chose a week-day afternoon for our field trip.  We masked up, spaced ourselves apart, and had a great time getting to know more about Francie. Seeing her scope of work all in one place was a treat.  I am glad I went and I hope you go too!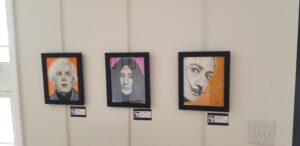 Phantasmagoria
Show up until Saturday October 3
4 P Studios
3927 Roberts Road
Martinez GA, 30907
(Behind Edmunds BBQ
706-267-6724
*Synesthesia is a perceptual phenomenon … projective synesthesia: people who see actual colors, forms, or shapes when stimulated by music.