09 Aug

Augusta Art Adventures: The Morris Museum of Art
Augusta Art Adventures: The Morris Museum
By Brenda Durant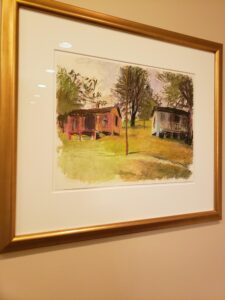 Last week I decided to visit one of my favorite places in Augusta—The Morris Museum of Art.  I love walking thru the Museum, especially when the galleries are quiet; I can lean in, look at the art up close, back away and see how things look  from afar…without feeling awkward or pretentious to any casual observers.  Best of all, I can meander at my own pace, and read every painting's label description with all the time in the world.
So, let's begin.  Don't rush up the stairs to the second floor without pausing to take in the Wolf Kahn paintings in the stairway.  It's a great reminder to slow down and begin a journey with awareness into the museum.
I admit to being a tiny bit obsessed with age.  When Wolf Kahn painted 'Two Shacks at Shatley Springs' (see photo) he was 75.  I can't exactly explain why I find that so appealing. Maybe it has something to do with the potential of being great at any age. The reason that is so personally appealing… well, we don't need to go into.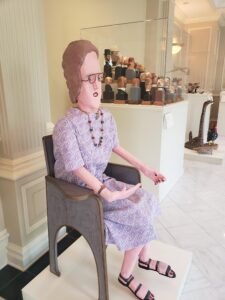 Next, I said hello at the registration desk, used hand sanitizer, adjusted my Van Gogh-Go mask, and went in to the 'Modernism in the New South' exhibit. This gallery is located next to registration. I walked around the room a few times, thinking about the risk these modern artists were taking, thanking them (silently) for creating these beautiful works.   In the front Gallery overlooking Riverwalk is a really fun Folk Art Show. I made friends with Articia Gene, (see photo)  a creation of Noah Kinney, who is best known for his animal carvings.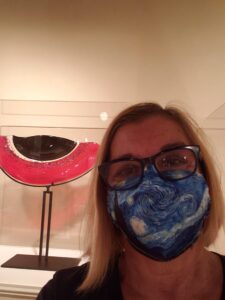 Walking into the main galleries I immediately noticed changes due to Covid-19.  The gallery is now one way in and one way out.  I followed directions and walked the serene walk from galley to gallery, stopping to visit old favorites and to peer at new arrivals.  The Eugene Fleischer Art Glass Collection is now in the main gallery (see photo).  I love looking at this glass collection. All the pieces, large and small, are intensely beautiful.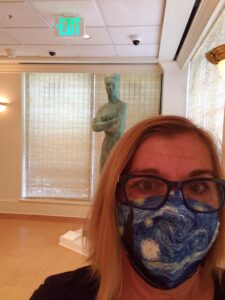 Taking the outside route back to the beginning I took a photo with a very disapproving "Figure Dedicated to Peace" looking over my shoulder. (see photo) I don't think she liked being in a selfie.
On my way out I ducked into the Cheryl Goldsleger exhibit. It's in the small gallery on the first floor, on the left, once you're down the stairs.  Cheryl just moved back to Athens after completing her term as Morris Eminent Scholar. She will be missed in Augusta.
If you work downtown, it's a nice break from stress and routine.  If you are slowly starting to get back out and do public activities, it felt like a safe and soothing place to visit.  Did I mention the Gift Shop is 40% off? It is.  Did I mention the Museum is free this summer thanks to a Bank of America Grant?  It is. So go forth and meander to your heart's content. Just make sure you start at the bottom of the stairs.
Morris Museum of Art
#1 10th Street
Tuesday –Saturday 10-5
Sunday 12-5
Free daily now-August 31
Virtual Tours available