26 Aug

CALL FOR ARTISTS: Public Art Sculpture on the Augusta Canal Trail – extended deadline 11.10.2020
CALL FOR ARTISTS: Public Art Sculpture on the Augusta Canal Trail
EXTENDED DEADLINE: November 10, 2020
Georgia Rehabilitation Institute, Inc. in association with the Greater Augusta Arts Council and the Augusta Canal National Heritage Area, will commission the creation and installation of one exterior public art sculpture on the Augusta Canal Trail. Proposals will be accepted provided that the artwork is durable, meets City of Augusta Engineering Department safety regulations, and can remain installed with minimal maintenance for at least 15 years.
Application can be found online at: https://augustaarts.wufoo.com/forms/m10pdjkt1805vml/
Eligibility: Artist applicants must be at least 18 years of age and current residents of the Augusta River Region
Total budget: $15,000
Deadline (exteneded): November 10, 2020
PROJECT SUMMARY
Proposals for a single, freestanding sculpture are being considered. This call to artists is open only to individuals and teams of artists and/or design professionals living in the Augusta River Region. Works submitted must be of a scale and made of material(s) suitable for long-term outdoor display. Minimum desired height for the final sculpture is 12' or more from ground, (inclusive of any installation base). Alternatively, a horizontal composition may be a minimum of 12' horizontal and minimum 6' vertical (inclusive of installation base). All proposed work must be designed to withstand an outdoor, unmonitored, high traffic environment that will require minimal maintenance throughout the duration of its desired 15-year lifespan. The work must be securely anchored to the ground in some way. All finalists will be subject to a technical review by a certified engineer and the City's Public Art Advisory Panel.
MISSION
Georgia Rehabilitation Institute, Inc. (GRI) is a not-for-profit corporation that serves to better the lives of persons with disabilities and elderly population in the Central Savannah River Area (CSRA). To increase access to the arts for those without easy access to indoor art installations, GRI will support the fully accessible installation of public art in Augusta, GA.
The mission of the Greater Augusta Arts Council is to enrich the quality of life for citizens and visitors in the Augusta River Region by advancing vibrant cultural arts. As the Public Art Agency for the City of Augusta, the Greater Augusta Arts Council facilitates the creation of new public art installations.
The goal of this project is for citizens and visitors to be able to encounter art in public places, made to be accessible regardless of disability.
EXPECTED TIMELINE:
Application deadline (extended):           November 10, 2020
Application scoring:                                  November 18, 2020
Arts Council board approval:                   November 20, 2020
Decision announced:                                 November 24, 2020
Contract negotiation:                                December 1-10, 2020
Work may begin, 1st payment:                December 14, 2020
Mid-project review, 2nd payment:         February 1, 2021
Work completed, last payment:              by March 15, 2020
 ELIGIBILITY
Artists who are at least 18 years of age and reside in the Augusta River Region are eligible to submit proposals; those under age 18 must be part of a team led by an adult. All artists/artist teams shall be considered regardless of race, color, religion, sex, sexual orientation, gender identity, national origin, age or disability. Employees of Georgia Rehabilitation, Inc., The Greater Augusta Arts Council, or their project consultants are ineligible to apply.
 SELECTION PROCESS:
A Selection Panel, composed of the Public Art Advisory Panel, a representative of the Canal Authority, and a representative of Georgia Rehabilitation Institute, Inc. will evaluate the submissions. The Selection Panel will score all proposals using the following scoring rubric:

Eligible/Ineligible status: (those determined to be ineligible will not be scored)
Proof of age requirement (18+ years old)
Proof of residency in one of the following GA/SC counties:
Aiken (SC), Burke (GA), Columbia (SC), Edgefield (SC), Glascock (GA), Jefferson (GA), Lincoln (GA), McCormick (SC), McDuffie (GA), Richmond (GA), Taliaferro (GA), Warren (GA), Wilkes (GA)
Scoring criteria (20 points each, 100 maximum total points):Strength and originality of the design
Appropriateness to the site, including aesthetic content, installation plan, and public safety
Feasibility given timeline and budget
Durability – the artwork's ability to withstand weather and human interaction
The artist's past work and experience
ELEMENTS THAT WILL BE CONSIDERED:
Proposals may incorporate a designated, accessible seating element into the sculpture, as long as that seating element is safe and does not encourage climbing or alteration/destruction of the piece.
Proposals that are up to 30 feet in height will be considered, but must be structurally sound at that scale and not able to be easily climbed on.
Proposals that secure the sculpture to the ground either by incorporating a base, or burying a significant part of the work underground in a way that will remain stable, safe and secure for a minimum of 15 years.
PROPOSED SITES
In cooperation with the Augusta Canal National Heritage Area, there are three possible sites where a proposed sculpture could be placed: (a full Canal Trail map can be found online at https://augustacanal.com/)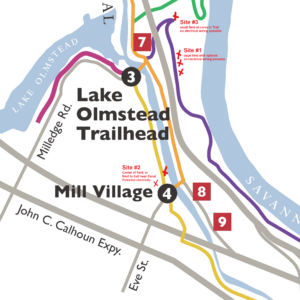 Site #1:    On the River Levee Trail, approximately 1 mile (walking on the trail) from the Lake Olmstead Trailhead, in view of the Riverwatch Parkway, there is a large field. This site could potentially house multiple sculptures over time of varying scales.
Site #2:    On the Mill Village Trail, in the area where the Canal Fest is held, and in view of the Stone Boat sculpture, there are two potential locations.
The center of the grassy area on the left on approach to Canal from parking area. Here has potential for electricity.
The grassy verge of the trail by the Canal, just by the trail map.
Site #3:    On the River Levee Trail, approximately .5 mile (walking on the trail) from the Lake Olmstead Trailhead, in a small field at a sharp bend in the trail, past the expressway overpass.
APPLICATION INSTRUCTIONS
1. The application is available online at https://augustaarts.wufoo.com/forms/m10pdjkt1805vml/
2. If you experience any technical difficulties with the application, please contact Pax Bobrow at [email protected] and she will help.
3. Receive a confirmation email. *PLEASE NOTE* If the artist does NOT receive a confirmation email, they should not consider their submission complete.
4. Announcements of award winners will be made by November 24, 2020.
 DOs and DON'Ts
DO

Artwork must be original by the artist applicant.
Artists must be able to create in synergy with partner organizations.
Artist must include an installation plan, including either a base, or underground anchoring system.

DON'T

Projects must not include any breach of intellectual property, trademarks, brands, or business names.
Artists may not submit work that has been sold or reproduced in any way.
The artwork created may not be used for advertisement or to promote a business or product.
 APPLICATION CHECKLIST
The application can be found online at https://augustaarts.wufoo.com/forms/m10pdjkt1805vml/.
The online platform will not save your application as you go. We highly recommend that applicants get all application materials ready ahead of time.
We can read ONLY the following file formats: .doc, .pdf, .jpg, .png, .xls, .ppt, .bmp
Title and description of your proposal: A written and visual description of your concept (color rendering must be included).
Letter of intent, your background and your interest in this call.
Installation plan: A written description of installation plan and equipment needed. (If selected, this will be reviewed by an engineer and can be revised before final acceptance.)
Professional artist resume: https://bmoreart.com/2009/05/best-professional-practices-for-artists.html (Article on how to make an artist resume)
List of three (3) references: Name, relationship, email, phone #
Portfolio image list: Image identification list indicating artist name, image number, title, medium, dimensions (HxWxD), location, and year created
High quality images of your work (up to 7): You MUST save each image labeled as ARTISTNAME_IMAGENUMBER.(readable file format extension)
Budget: Itemized, estimated cost of all materials, equipment, subcontractor and artists' fees.
Proof of liability insurance: Minimum $1 million coverage
Proof of residency (State issued ID/Driver's License -or- 2 alternate forms of proof)

alternate forms of ID for GA and SC are listed at