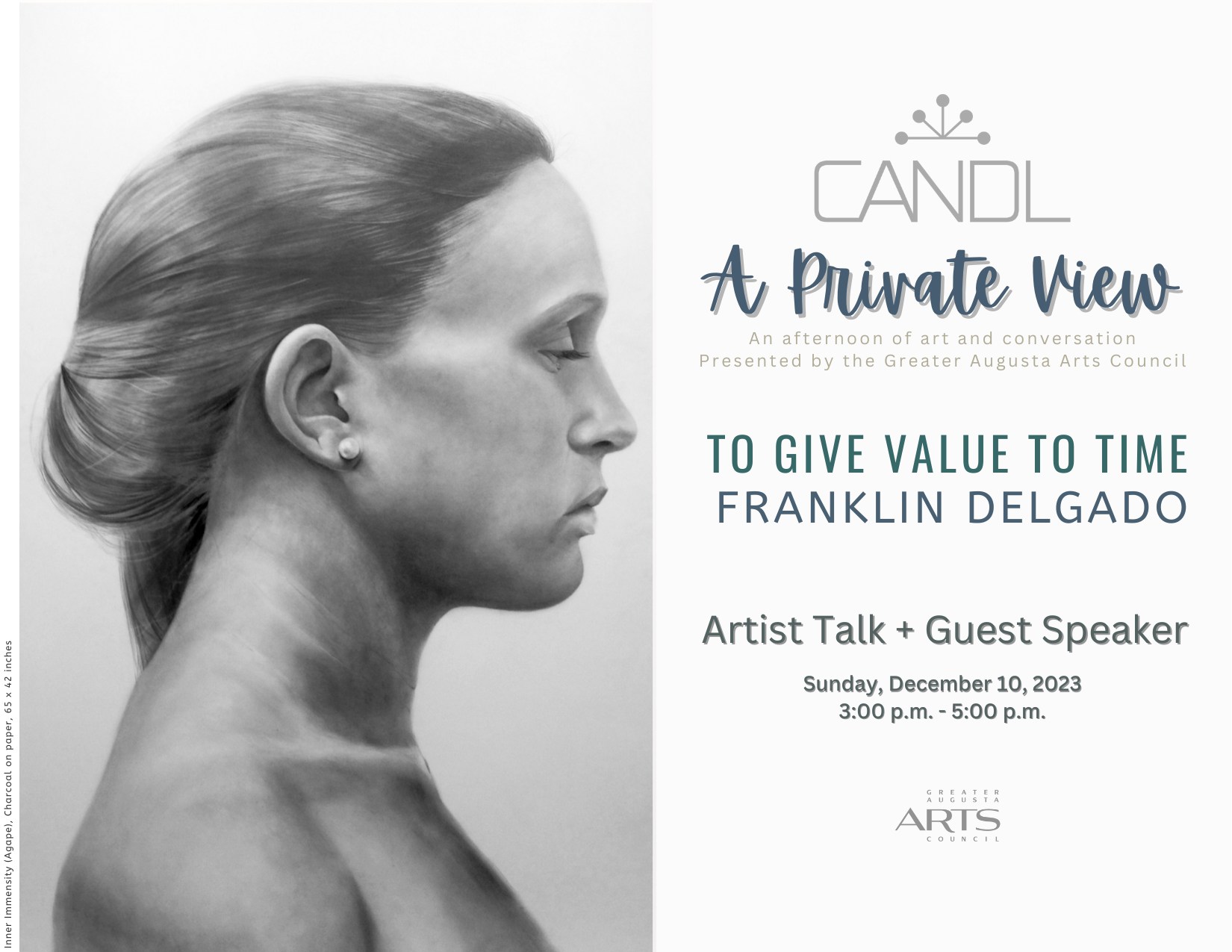 14 Nov

A Private View: Franklin Delgado at CANDL

On Sunday, December 10, 2023 from 3:0 – 5:00 p.m. join the Greater Augusta Arts Council and CANDL Fine Art Gallery for A Private View of local artist Franklin Delgado's solo exhibition "To Give Value To Time" at 1128 Broad St. Augusta, GA 30901 (CANDL Fine Art Gallery). Featuring an artist talk and guest speaker (TBA) on art collecting.

$10 for Arts Council members
$15 for not-yet members

About the Artist:

Franklin Delgado is a visual artist and art educator residing in Augusta, GA. He received his Masters of Fine Arts in Painting at Savannah College of Art and Design in the summer of 2016 and is a native of Tegucigalpa, Honduras. Delgado's work is hyper real depictions of the world based on meticulous observation of contemporary life and nature. He often creates large format portraits and landscapes with precise, realistic detail. He has exhibited within the United States and internationally, at locations including The National Gallery of Art, Tegucigalpa, Honduras; National School of Fine Arts, Tegucigalpa, Honduras; S. Tucker Cooke Gallery, University of North Carolina, Asheville, North Carolina; Collins Art Gallery, Grand Rapids Community College, Grand Rapids, Michigan; The Davenport House Museum, Savannah, Georgia; Kalamazoo Institute of Arts, Kalamazoo, Michigan; The Museum of Contemporary Art of Georgia, Atlanta, Georgia; Westobou Art Gallery, Augusta, Georgia; Aiken Center for the Arts, Aiken, South Carolina; Gutstein Gallery, Savannah, Georgia, and more.

About CANDL Fine Art:

CANDL Fine Art, located on Broad Street in Augusta, Georgia, is dedicated to showcasing local artists from the greater Central Savannah River Area. Their focus is on artists whose works are not often seen in the region but are recognized in national and international collections worldwide. By sharing these significant collections, CANDL Fine Art aims to foster community and encourage discussions on visual arts. The gallery believes in supporting and honoring artists who have dedicated themselves to their craft, emphasizing the importance of exposure to working artists. They showcase a diverse range of mediums, styles, and subjects, catering to discerning collectors and art enthusiasts. To learn more about CANDL Fine Art, you can visit their website at

https://candlgallery.org/

.