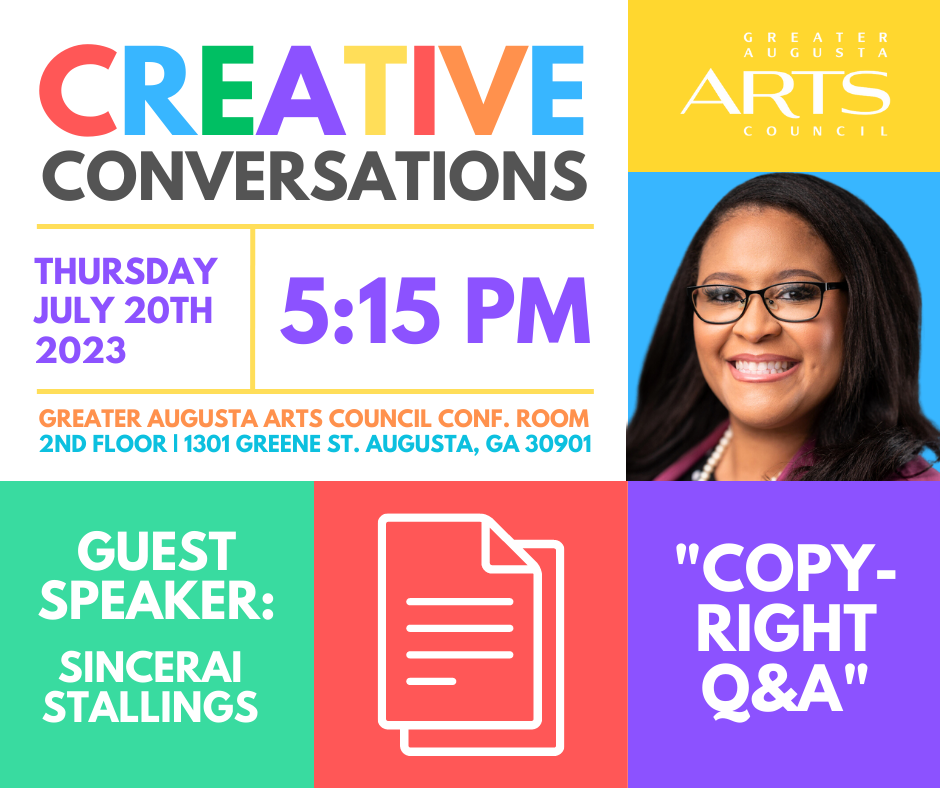 03 Jul

Creative Conversations: "Copyright Q&A" with Sincerai Stallings | July 20, 2023

Join the Greater Augusta Arts Council for a Creative Conversation on "Copyright Q&A" with Attorney Sincerai Stallings of Hull Barrett Law Firm.

Sincerai D. Stallings was admitted to the Georgia Bar in 2008 and to the South Carolina Bar in 2018. Ms. Stallings has negotiated major agreements representing artists, songwriters, producers, and production companies in the entertainment industry (music and tv/film) with various companies, distributors and networks including Song Music, Universal Records, Universal/Def Jam, Atlantic Records, Columbia Records, Warner Chappell, HBO/Time Warner, WeTV, Bravo, E1 Entertainment and Hyde Park Entertainment, She has experience as in-house counsel for a boutique music label located in New York City's Manhattan Center and recently has been handling business formation and corporate contracts, Non-Profit formation and organization, commercial and residential real estate transactions and related matters.

Sincerai was awarded:

The 2015 Telly Award (T.V./Film Industry)
The 2017 RIAA Certification (Rihanna 100Mil Sold, Cash Money Records 100Mil sold) And was selected as 2020-2021 Super Lawyers Rising Star
And participated in the Leadership Columbia County Class of 2019

She is has spoken at and is published in:

● Alabama State University (March 2011, February 2013, March 2015) Guest Panelist: "Women in the Entertainment Business"
● Power 107.7 "Talent Takeover": Guest Judge (March 2011)
● Sister CEO (Nov. 2009) Guest Panelist: "Real Talk: Women in the Music Business" ● Augusta State University (April 2008) Guest Lecturer: ASU Cinema and Film Class● Augusta Housing Authority First-time Homebuyer's Seminar Presenter/lecturer (2017-Present)
● Various First-Time Homebuyer Workshop presenter for Synovys Bank, Prime Lending, Navy Federal/Remax True Advantage/Berkshire Hathaway Beazley Home Realtors
● Realtor training and educational class lecturer/pressenter for various brokerages, including Berkshire Hathaway Beazley Home Realtors, ReMax True Advantage, Southeastern Residential
● April Southeast Filmmakers Conference special guest speaker (April 2020)

Learn all about what copyright it means for Artists in 2023!

FREE for Arts Council members at any level
$10.00 for not yet members.