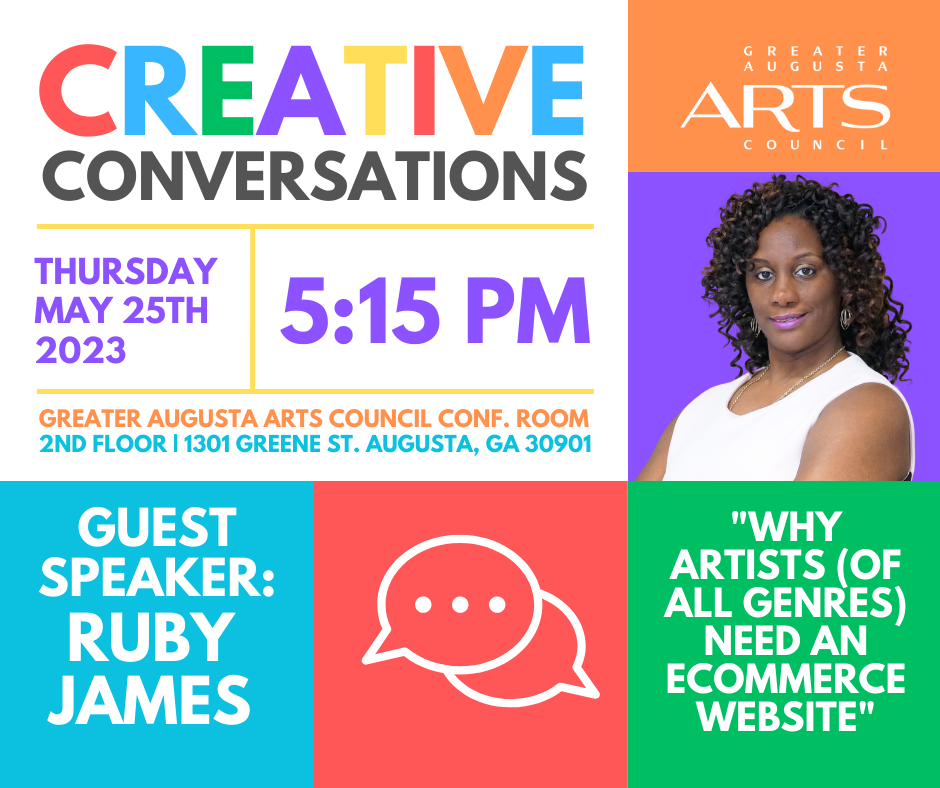 05 May

Creative Conversations with Ruby James – May 25, 2023

Join the Greater Augusta Arts Council and Ruby James of Exousia Marketing Group in discussing the importance of web presence, including an ecommerce website, for our May iteration of Creative Conversations.

Creative Conversations is a monthly series of round-table-talks with local artists, arts professionals, marketers, business managers, and more hosted by the Greater Augusta Arts Council in the Arts Council Conference Room, located in their office on the second floor of Sacred Heart at 1301 Greene St. Augusta, GA 30901.

This series is FREE for members to attend!
For not-yet members, it is $10 per person.

As an artist in today's digital age, having a strong online presence is crucial to succeeding in your career. We will explore the significance of website marketing for artists and provide insights on how to establish and leverage a website to increase awareness and take your career to the next level. We will cover topics such as why website marketing is crucial for artists, examples of successful the importance of ecommerce, website marketing strategies, common misconceptions around website marketing and more!

Whether you're a painter, musician, writer, or any other type of artist, this will provide you with valuable knowledge and skills to harness the power of website marketing and achieve your goals.

About Exousia:

Web & Graphic Design has been one of Ruby's strongest passions for years. As a military wife who proudly supports her husband and country, Ruby has acquired an extensive global perspective of diversity and innovation in web design needs from working internationally. As a result of their multiple military relocations, Exousia has become a resilient and thriving business in every business cycle and economic transition, giving her an advantage and competitive lead in the Web & Design market industry. Finally, Exousia strives to meet its vision as a leader in web design and marketing to make every customer and client STAND OUT! Exousia Marketing Group has since provided federal government agencies, small to medium-sized businesses, and ministries around the world from Europe, Korea, and all across the US, with marketing services including social media, web design, web hosting, web development, training, book cover designs, business cards, flyers, banners, brochures, bookmarks, travel accommodations, event marketing, and support. We've hosted business-to-business networking conferences and expos to provide extra networking opportunities for entrepreneurs.