30 Jan

Vendors for Earth Day Augusta | Phinizy Center

ATTENTION ARTS AND CRAFTS VENDORS: Due March 31, 2023

The Phinizy Nature Center is hosting their annual Earth Day celebration and are in search of performance artists and arts and crafts vendors!

This event is FREE to the General Public:

​


Event hours: 10 am – 3 pm:  Celebration with vendors, classes, and presentations @ Phinizy Swamp Nature Park located at 1858 Lock And Dam Rd, Augusta, GA 30906

On April 22, 2023, Augusta University, the City of Augusta, and the Phinizy Center for Water Sciences

(PCWS) are hosting the annual Earth Day Augusta Celebration event in keeping with the

worldwide Earth Day movement (

www.earthday.org

) to promote sustainable living. This annual

event is free to the community and hosted at Phinizy Center for Water Sciences from 10:00 am to

3:00 pm. This event offers family activities, entertainment, eco-friendly business vendors, sales of local

Earth friendly re-purposed arts & crafts, and food services will be available.

All vendors/exhibitors selling any merchandise/goods will be required to pay a $50.00
registration fee unless t he vendor/exhibitor is a non-profit organization and can provide an
Up-to-date W-9.

Vendors/exhibitors must represent environmental awareness & sustainability and are required to offer a demonstration/engaging activity and/or giveaway (such as a raffle drawing, a free sample,
or a free small gift, etc.) that is in line with this mission.

This signed document must be returned no later than March 31, 2023 to:

Kim Dillard

1858 Lock & Dam Road

Augusta, GA 30906

Email:

[email protected]

Phone: 706-396-1418

ABOUT EARTH DAY

Earth Day is an annual event, celebrated on April 22, (though Earth Day Augusta will take place on the Saturday after) on which day events worldwide are held to demonstrate support for environmental protection. It was first celebrated in 1970, and is now coordinated globally by the

Earth Day Network

, and celebrated in more than 192 countries each year."




The first Earth Day on April 22, 1970, activated 20 million Americans from all walks of life and is widely credited with launching the modern environmental movement. The passage of the landmark Clean Air Act, Clean Water Act, Endangered Species Act, and many other groundbreaking environmental laws soon followed. Twenty years later, Earth Day went global, mobilizing 200 million people in 141 countries and lifting environmental issues onto the world stage. More than 1 billion people now participate in Earth Day activities each year, making it the largest civic observance in the world.

This year marks the 51st Anniversary of the Clean Water Act.  The Clean Water Act is considered one of the Unites States' first and most important current environmental laws.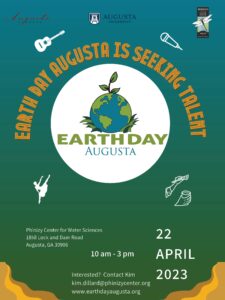 Any questions, feel free to call Phinizy Nature Center at (706) 828-2109 from M-F between 8am – 12pm.